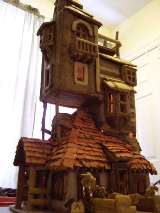 Ahhh Christmas time & the end of another year; where everyone it seems to want to take a few minutes to look back fondly on. Personally I am more for looking forward and hopefully spreading a little festive cheer.
This will be our 140th post for the year and also the last one for this year. Have no fear as we will be continuing our series on Going Off-Grid in the 21st Century and Air Sealing & Insulation next year. We will hopefully be adding a new series for an upcoming project we are doing with the Athens Habitat for Humanity as they build their 6th LEED home and shoot for their 3rd Platinum. Besides the LEED goals, this home will be unique as it will not be a traditional stick built one, but be the first one constructed out of ICF's & include a concrete ceiling to replace a home destroyed by the tornados back in April.
SLS Construction

&

AlaGBS

:

With places like Vestavia Hills already adopting the 2009 IECC & Alabama looking to follow suite state-wide, the Energy Efficiency Testing & Consulting work has really started to pick up. Couple this with Alabama Power's Earth Cent's program (coming soon) & the current Huntsville Wise Gold program spreading to include the city of Athens, Cullman, Morgan & Limestone counties it appears that this state might just be looking forward. We are also slated to have a booth at the Huntsville Building, Home & Remodeling Show in March, so if you want to mark your calendars, we would love to see you.
& a Merry Christmas to all, and to all a good night…
In 2009 we started with 'Twas the Night before Christmas DIY Parody…
In 2010 we went with a montage of festive cheer from around the web….
So who are we to break with tradition? With that said, from my family and all of us SLS Construction / AlaGBS, we would like to wish everyone a very Merry Christmas, and a Bountiful New Year. Now for a few of our favorite finds…
Best Parody of the Year:
Birmingham Point aka John D. Poole's "A(n Energy Efficient) Night Before Christmas"
And what to my bloodshot eyes should appear, but Allison Bailes in a sleigh,

Pulled by eight squirrel-reindeer!

"Your fiberglass batts are improperly laid,

"And your leaky old duct work is in need of many band-aids.

"Your flues are so dirty, there could well be a fire,

"And with ambient CO levels so high, you're soon to expire.
Best it helps if you have a little more egg-nog parody:
Musings of an Energy Nerd aka Martin Holliday's "Macbeth the Builder: a play in three acts"
Act 1, scene 1. An empty lot near Scotland Drive.

Thunder and lightning. Enter three sisters, all RESNET-certified.

First rater:

When shall we three meet again,

In thunder, lightning, or in rain?

Second rater:

When the drywall work is done,

When the zoning battle's won.

Third rater:

The lawyers sure are having fun!
Best Build of 2011: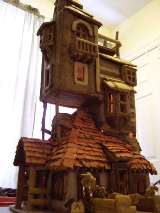 The Weasley's Burrow by Mezcraft on Instructables — Ok, I admit it, I love the Harry Potter series, but even if you don't the work on this is amazing. Make sure you visit the page to see the full size image, and to even learn how you can do-it-yourself.
Best why you should hire a pro of 2011: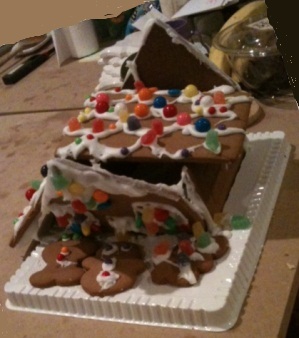 Building Collapse in Northport, Long Island via Remodel Crazy — Yes this can happen to you when you deal with shady contractors, where code & license enforcement is non-existent and the Building Inspector is either clueless or possibly in collusion.
Best I think I learned my lesson:
Things I Have No Business Doing by Ann Flair: I just love her posts, as they are almost guaranteed to make me laugh. From Gingerbread Iced Snow Flakes to Bike Riding I am sure you will see why this one get's top billing.
Best are you flipping kidding me of 2011:
Santa accused of being health and safety bad influence — Seriously?
A team of health experts have accused Santa of promoting obesity and drink-driving. They say a fat, tipsy Father Christmas with no regard for health and safety sends out the wrong message to children and they want to give him a makeover. 'We propose a new image for Santa to ensure that his influence on public health is a positive one,' said researcher Dr Nathan Grills of Monash University in Melbourne, Australia."
Oh, but wait it gets better, as they list all the supposed charges at the bottom. Maybe they should just concentrate on switching the country over from leaving Sherry out to milk… though come to think of it, I am sure he just uses it for cooking like everyone else…
Best thank goodness article on why bureaucrats don't work on the Holidays:
How OSHA Nearly Killed Christmas! via OSHA Training Services
Every December, my wife and kids beg me to put Christmas lights on our house, like all the neighbors do. But I cannot for the life of me figure out how to do it in a way that is both safe and affordable, or that does not violate at least 23 OSHA regulations. After all, I'm a safety professional, and I've gotta set a good example. So I gave them a made-up story about how our home owner's insurance policy has a "special rider" that disallows Christmas lights because they're considered a fire hazard, and that got me off the hook for one more year.  But this year, I also began to wonder; how would Santa Claus comply with OSHA regulations?  So I did a little research…
Finding or making perfect gift:
Our friends at One Project Closer I think nailed it this year: Making homemade Rumtopf (sorry the latest you should have started this was back in October), and for other quick and edible, drinkable &/or homemade craft projects. Other notables include;
Christmas or Happy Holiday Pictures:
Nothing beats seeing a bunch of Christmas lights with children playing in the snow, but for many that won't be happening this year (must be that global warming thing…). So what do you do for that perfect holiday picture – well you can always take a look at how they handle things in Florida… The Traditional Florida Christmas & a unique Christmas Tree via Ginny Powell @ A Cracked Door. (sorry you will have to click the links – I can't just give it away)
A reminder:
Thanks to all those serving & their families – God Bless & Merry Christmas
…