To be fully honest, I laughed when I first saw this, but now I am getting more and more upset as I keep looking into this and the more I think about it. Before we go into what has gotten my blood boiling, let me start from the beginning. I have been kicking around the idea about an article for watching out for bad advice given over the internet. There are so many bad posts & videos on how to install ceramic tile, or anything else you can think of it boggles the mind.
Well, today via Twitter – up comes this post from Remodeling_Show "Almost 1 million books / 9 DIY titles recalled due to fire hazard and shock potential" National Ledger Link. My first thought was, you are kidding right, I mean what in the world, would cause a book to be recalled? After I read the quick article, I decided it might work out pretty well with the article about bad information on the internet. In fact, this will tie in nicely with that one video on wiring a receptacle that contained a combination of over 15 mistakes. (omissions, wrong information, and simply doing it wrong)
Well before I make a fool of myself, I decided to make sure this wasn't a joke someone posted. I first decided to pull a search for this term "associated press book recall lowes." In the results page I get a link directly to Lowes Consumer recall site. Well guess what, it was not listed on their site, so just maybe the article was a joke, and I should not have retweeted that link so fast. Well, Lowe's was nice enough to put a link on their page to CPSC (Consumer Protection Safety Commission). If anyone were to issue a recall, it would go through them, so I decided to take a quick look. Hmm, second link under most recent recalls is Home Improvement Books.  Well, well, there it is -9 books are being recalled, 2 from Lowes, 6 from Sunset & 1 from AmeriSpec.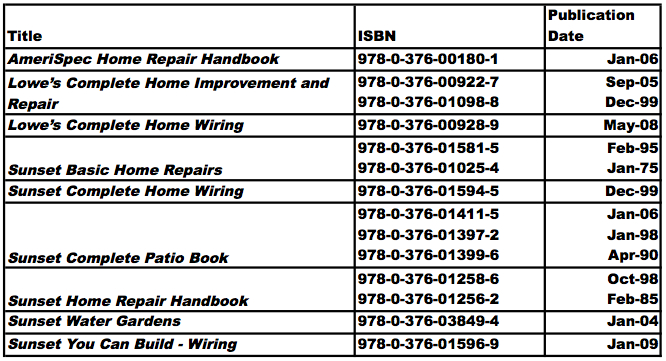 Well the recall is legit, and maybe Lowe's just hasn't gotten around to updating their site – I wonder about Sunset. Well to make a long story short – none of the books being recalled is on either of their sites. Amazingly also missing from both their sites, is an apology or any information on a recall taking place.
Now I was left with, who is AmeriSpec? Well come to find out, they are a large company that does Home Inspections. Surely, they couldn't have put out bad information like that could they? Well surprise, surprise – the book is not listed on their site, but I found it mentioned on one of their franchisee sites. Hmm, no apology or notice on their site also.
By this time, I am starting to get really steamed, especially when you consider, that this probably could have easily been avoided with an apology & the posting of the correct data on their websites. I don't know about you, but have you ever seen a perfect book yet? Sometimes there are a few spelling or grammatical errors, occasionally a diagram is labeled incorrectly, a step was left out, etc… This type of stuff happens almost all the time. In some cases, it is caught just after the book goes to press and they add what is called errata. In some cases, it is not caught until the books have started being sold. In these cases, they fix the next published version and the company will put out an apology and the corrected information on their web site. In order for a book to be recalled, one has to wonder, why did they refuse?
In case you might be wondering about the publishing company – Oxmoor House, well they get some kudos for actually addressing it at the bottom of their main page. Maybe not the most looked at place, but at least the information is there.
In closing, if you are doing something for the first time or it has been a few years, I recommend that you review and follow the manufacturer's directions. This is especially true if the item is under warranty, and you need to return it. In some cases, you might even want to check on the manufacturer's site to see if there are any updated directions or additional tips. As for information found in books, on the web, etc… take it with a grain of salt. Consider how old is the information, have the codes changed since it was written, is this really a best practice that should be followed, is it accurate, and who actually wrote it?
To view the books affected, book covers & to get your money back – http://recallqa.com/sunset/_cs/supporthome.aspx?sSessionID=