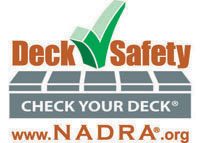 While we love building wood decks, many customers are opting to go with composites & vinyl decking materials due to the reduced maintenance that is involved. There are a few items that we stress / i.e. bust a few common myths like there is no such thing as a no-maintenance product. The next big item is that every product can be damaged &/or stained. With that in mind here are 7 of the most common items that one should avoid using or storing on any deck. The final 3 are some of the more interesting ones, but yet a common item that can cause issues with certain manufacturers finishes.
Sunscreen lotions & sprays
Insect repellants (especially with DEET in them)
Bubble Blowing liquid
Charcoal Lighter – if you are cooking on the deck we recommend buying one of those specialty mats that go under the grill & will help protect the decks from the grease & other spills
Abrasive Cleaners &/or Scouring Pads – read the manufacturer's directions for cleaning
Gasoline, Oil, WD40, Paint Thinners & Removers
Toe Nail Polish & removers – do we really need to say this can also apply to lipstick, mascara, etc…
Citrus Based Cleaners  – always remember to always test any cleaner in an inconspicuous area first)
Rubber Backed Mats or Rugs – generally ok on most decks if clean & you don't drag them
Vinyl based items like tarps, kiddie pools, flower pots, garden hoses, air mattresses (short term is generally ok, it is the long term)
Please note, these are not the only items that can damage your deck & one should always utilize common sense and consult the manufacturer's care and directions if you have a composite or vinyl deck.