Whew, what a way to start of the year; the insurance company finally came through on the one project which we almost have wrapped up, the Habitat project is in full swing, IBS was a blast, and we are finally ready for the Huntsville Home & Garden Show (better be seeing it is next weekend). This doesn't include a 6 hour presentation I did for Alabama High Schools Trade Teachers, attending the ABLE conference & then the one yesterday from Inline Electric & their 2012 Energy Efficiency Expo (wow, talk about a great location to hold an Expo / Conference).
Unfortunately with this schedule it has not only been hard to keep up with articles, but left me with a glut of things to write about. With that in mind, here is a quick recap of thoughts, musings & tidbits…
Alabama Codes:
(ABLE) In case you missed hearing it, Alabama is rolling out a statewide code based on the 2009 IRC & IECC which we will be covering more in depth in an article later. So far the only known date is when the mandatory Duct & Air Leakage testing begins which is July 1st, 2013. One of the biggest questions the teachers asked was, when does it take effect? While I was hoping we would find out during ADECA's presentation the answer is still elusive. They are hoping that it will be adopted during their next meeting (March 12th) which would mean it would be effective May 1st if memory serves me properly on the way the statue system works.
The best method for trying to keep up with statue changes is via the Alabama Administrative Code page which is updated monthly. One other interesting question, that no one seemingly has an answer to is, just who is going to enforce this in the counties, etc… The Home Builders Board is in the dark on this along with the other boards. Who knows maybe this might just be the catalyst needed to eliminate the 20 or so different boards & bring them all together as a single licensing & enforcement agency?
Tornado's:
(ABLE) You know those kids bicycle helmets, well in case of a tornado warning it would be a good idea to put them on your kids. 46 out of 56 kids checked into just one hospital were the result of head injuries with the bulk of them said to have been preventable. Do I really need to say you should wear one also if you have it handy?
HVAC & a 1.5 ton ducted unit?
(ABLE) As an ENERGY STAR verifier, it was interesting hearing about ACCA's quality assurance program & their targets which exceed ESv3. It appears though that there are now 2 in this state certified to work on ESv3 homes which could be interesting. The instructor comes from Alabama Powers HVAC Training Center which seems to have a pretty good reputation. One of the biggest challenges for properly sizing system is that the smallest available is 2 or 3 ton units. Well Daikin US actually has a 1.5 ton ducted system that is available in our area.
Doug Rye:
(ABLE) Talk about a character, I mean who else would have a golden caulk gun… He does make a lot of great points like the greenest BTU is one that is never used & I agree with quite a lot of what he advocates; cellulose for walls, hot roofs, air sealing, marathon water heaters, 2 ACH, etc… With that said for one that encourages others to open their minds it does appear that his is closed in a few regards. He doesn't appear to be that big of a fan of solar, but has no problems specifying a 20 to 30K geo-thermal system. He also appears to be a big fan of radiant barriers in all climates along with those Heat Pump Water Heaters. For the last two items I am just going to say, location, location, location…
Alabama Power EarthCents:
(ABLE) Alabama Power along with some local RESNET Raters have been working on the EarthCents program for almost 9 months now. While this program officially kicked off January 1st, the marketing has not started yet due to the new Energy Code not being fully adopted. This program name was based off their GoodCents program from the late 70's to 80's & was created to help builders market more energy efficient homes that are verified. In order to qualify the primary heating sources must be electric (Water heater & heat pump). Beyond that the house has to have a 78 or better on the HERS index.
Alabama Saves Program Extension?
(INLINE) Rumors in the air… while the program was set to end at the end of June this year it appears that it might be around till the end of this year. With that said if you are a commercial company looking at making some major energy improvements, you might want to get your ducks in a row as there is no guarantee that it will be & 2% financing  is tuff to find.
LED's:
(INLINE) You have come a long way baby… Back in 1962 the first LED managed a whopping 1/10 of a lumen per watt with the newer generations producing almost 100 lumens per watt (based on testing not marketing). Getting a 100 watt replacement bulb is still is technically out of reach but with predictions of generating 400 lumens per watt within the next 5 years… One of the main issues with a 100 watt replacement is a part called the driver which is why they need heat sinks. For every degree that the driver is above its design temperature, the life of the bulb is shortened by 10%. (and know you know why that bulb in a walk in freezer never seemingly quits, but the ones in the green house seemingly only survive for a year)
Speaking of testing in case you might not have spotted it but some LED manufacturers have been de-rating their lights from 50K hours to 10K or 30K hours based on the new IES & ENERGY STAR testing procedures. In some of their cases they simply state that it is easier & cheaper to de-rate than go through all the additional testing and costs associated with the newer test protocols. With that said if you don't want to get taken for a ride by some knock-offs, make sure you for IES LM79 & LM80 test results.
Measuring & Verification:
(INLINE) There were quite a few nice little gadgets and equipment for measuring & verifying actual energy usage at the show. Interestingly a company that does sell this equipment had an interesting benchmark /goal that they use – the cost to measure & verify should not exceed 10% of the predicted savings.
Room for improvements / are you serious?
Both shows did a great job putting on their events, but with the overlap between them (not to mention RESNET & a few other national ones) affected how many people could attend. I know of at least one company that was slated to exhibit at both & had to choose after they realized they had an issue. If both shows can work out those details & maybe add in some more marketing to others outside their direct circles, I think both shows would have a more vendors & attendees.
ABLE did great at getting people into the classes quickly, but gets a B- on scheduling with at least 3 slightly different variations of the schedules. INLINE gets major props for the classes but a D for getting people into them quickly as they made everyone attending fill out a sheet. Maybe just a listing for your name, badge # and do you need CEU's would be better if they want to keep the paper route though bar codes & scanners work better (generally)
Ok I really am confused – why in the world, with a place known for everyone drinking sweet tea, do you only put out unsweetened tea? Seriously, why? If someone wants fake sweetener, let them add it to a small batch of unsweetened tea while you serve what almost everyone else wants just think of all the money you will save on sodas… (INLINE & quite a few others)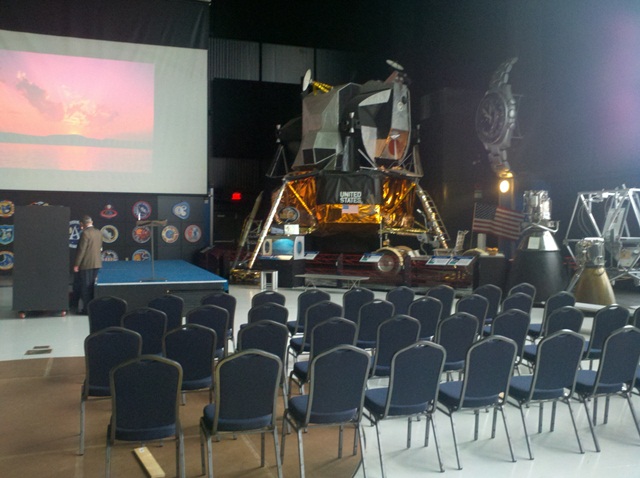 Location wise, wow could beat the Space & Rocket Center, though I heard that INLINE also does one at McWane Science Center also… I would also like to send a shout out to Alagasco, talk about a refreshing setup. Nice simple setup, a few brochures, plenty of seating and you simply choose to serve refreshments for everyone. If someone just wanted to sit for a minute there was no harassing sales person, but if someone had a question you had all the time in the world. Having been to enough trade shows, etc… let me just say thanks & well done