This year the Remodeling & Deck Expo returns to Chicago – this time they moved up the street about a mile to the Navy Pier. Another change, well you now also get to add JLC to the title which I will get to below.
The name of this ship was aptly fitting for the early part of the morning, come noon though the weather outside was beautiful.
Products:
Ok my duct tester might be getting jealous as I was eyeing the new version… Interesting that Retrotec was actually looking at creating a battery pack for it which would help those of us doing Rough In Testing. While they did drop it, if you check out their manual they do have some recommendations in it.
Ever wonder what one looks like inside…
Looks like clear cases are in vogue – FanTech is showing off an exterior mounted Radon fan which can be used for new & retrofits.
Speaking of Fantech – a few pics of their new Make Up Air System for range hoods. Filtered air with heater attachment which allows for the exact amount of air required to be pumped in.
The obligatory "eye-candy" door (this years is from Nick's Building) – they had quite a few but as I had to choose just one…
Grabbing attention can be tough, one way add some water
Rubber slate that looks great close up… no way. $280 a square… nahh As easy to install as shingles…
Concrete tiles for a deck – you bet. Light they are not so make sure you're framing is up to snuff (DekTek Tile)
Generally there is at least one "over the top" truck at each show… Well this years honor goes to Dodge though I am not sure it really qualifies for over the top.
A saw horse is always… not any more – The Tri-Horse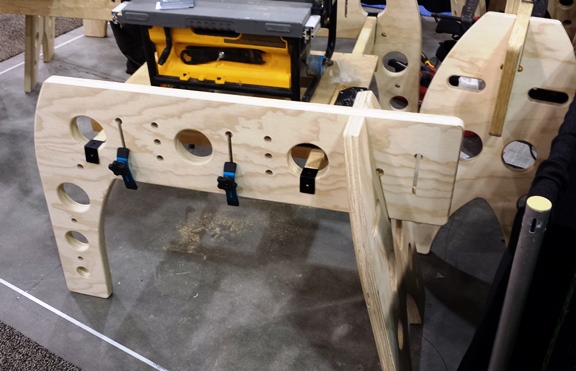 Best SWAG giveaway – goes to Elias Woodworking of Canada. Unlike many companies that export the manufacturing to China, they employ over a 100 employees turning out some great looking work…
THE JLC impact:
JLC is now a big part of the show & you can definitely see it on the show floor. Take for example that there are now 3 deck areas, a new roofing area, and at least three or so on getting exterior details & other building enclosure areas done right.
Always glad to catch up with friends – you might recognize Mark from My Fix it up Life doing one of the newer JLC style best practice sessions on Outdoor Projects.