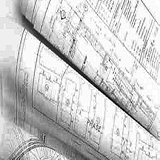 When you design something, you look at its intended purpose, ease of use, durability, and who will be using it (target market). When you start dealing with houses the purpose is simple; to provide a healthy, safe, and comfortable place to live so that people will be glad to get home. While the purpose might be "simple" how do you design for multi-generations, the when life comes at you fast moments, or…?
Do we keep with the status quo of basically designing houses with a 30 year shelf life or targeted group like seniors, or design them to last & be used for generations?
The Power of Five:
Five is an important number to remember & utilize for not only walkways, turnarounds, but around hot areas.
5' of space should be left open in front of a grill
This allows two people to walk by without getting burnt or bumping into it.
If one is grilling and it flares up, you need room to step or leap back
This allows for one person to tend the grill while allowing someone to pass by without knocking into them
Code minimum for ramps with a transition or resting area is 5'x 5'
A 4' wide ramp allows for two average people to walk past each other while 5' can accommodate the same with one person in a wheelchair or using crutches
Most wheelchairs need approx. 5' to turn around in
Curb Appeal:
Low-maintenance exterior – there really is no way of getting out of doing maintenance work, but some materials require a lot less & last longer
Landscaping – from xeriscaping to smaller patches of grass while still allowing the kids to play soccer, football, etc… is a great way to cut down on the maintenance & watering required while encouraging everyone to get outside & enjoy nature
Keep bushes & shrubs away from the house prevents areas of rot, damage, rodents & hiding places
The Entrance:
At least one entrance to the home should be accessible without any steps & a minimal threshold – forget the wheelchair for a second, how about rolling luggage, moving furniture, little kids falling down the stairs, etc…
A small bench by the entrance door is great for not only setting down groceries on as you go to open the door but a place to relax outside
Lever handles makes it easy for anyone to open an unlocked door that has been shut – do you really want to put your sleeping baby down which you finally got to sleep or try fumbling with a knob with your arms full of groceries
Doorbells should be mounted about 3' up so that your kid or someone in a wheelchair can easily reach it
"Don't open that door to strangers…" Can I ask just where your peephole is located? Consider having two – one high & one low. Other options include door scopes which one can see outside without being directly at the peephole, a periscope peephole, a camera, or a sidelight.
Lighting:
Proper lighting (preferably motion based & LED) is key when you come home late at night – it can not only prevent unwanted visitors looking to surprise you but prevent a nasty fall or you freezing as you fumble around with your keys
Most people of course have the lights shining out making it easier for people walking up to the house; just don't forget to make sure that the lock area & house number is also well lit
Walkways & steps should be lit to prevent people from twisting their ankles or tripping
Stairs & Ramps:
Graspable handrails are required by code almost everywhere now & even if they are not…
Slip-resistant stairs and/or ramps (preferably covered) is helpful for everyone, especially after it rains or snows
The slope of a ramp should be no greater than 1 inch rise for every foot in length while 1 in 20 is better.
The power of 5 again, a  5-foot landing should be provided at the entrance once one reaches the top of the stairs or a ramp
Ramps should have a 2" curb for safety (the simple ramp below was one we did for free via the Ramp-a-Thon project)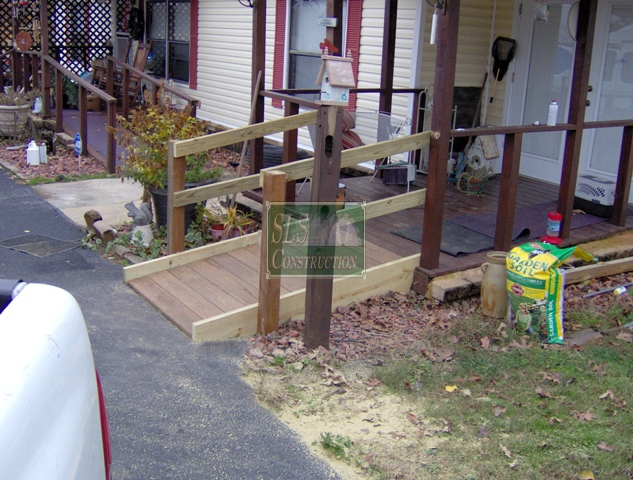 Decks, Patios, Balconies:
Decks, patios, and balconies should be no lower than ½" below the interior floor height or if a step down is required it should be right at 7". This simple measure helps eliminate tripping hazards & with the first allows someone with a walker, crutches, or even a wheel chair the ability to go outside & watch the kids play.
See above – the power of 5
Garages & Carports:
Who doesn't need extra space in their garage? If you add an extra 5' or so to the side you can pick up some much needed storage & just in case the worst happens, you have the a covered area to be able to get into & out of the car
Consider a taller garage door – this works great not only for SUV's & trucks or maybe even your car with a bike on the top, but also for the worst case – a vehicle with a wheelchair lift (though I dare say if I did that to my bike that would be worse case for me)