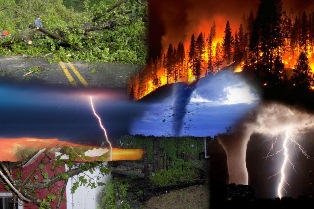 Bam, the power goes out & and you just passed the 4 / 24 hour rule of thumb before it clicked back on… so does that mean that all the food is bad or might some be good? What about the food in the pantry if lord forbid a fire breaks out or you find your house flooded. When it comes to food the most important rule to remember is that perishable food needs to be kept below 40 or above 140 to prevent bacteria from growing.
The 4 / 24 Rule of Thumb:
If the power goes out the standard rule is that a modern refrigerator with the door left closed can keep the food safe for up to 4 hours. A half full freezer with the door kept close will keep items below 40° F mark for approx. 24 hours while a full freezer might make it 48 hours. Dry Ice is one item that can help hold the temperature but you do require quite a bit if you go that route – for an 18 Cubic Foot freezer you are looking at needing a pound an hour or basically a 25# block a day.
Refrigerator & Freezer Settings:
As a general rule we like to keep the refrigerator right above freezing (34° F) & the freezer at 0° F. While some advocate keeping the refrigerator at 40° F we think this is a little fool hardy as every time the door opens up you are potentially bringing the food up above the 40° F mark. If & when the power goes out you have no buffer zone so the food temperature automatically starts climbing.
Taking the temp:
So you have popped into the refrigerator or the freezer a couple of time & the thermometer reads 45 – does that mean the food is gone? Not so fast as air is a terrible insulator and the temperature of the food could be a lot lower than what is indicated. For frozen food one can pretty much tell by feel but refrigerated product is a little harder & the only way to check is to actually take the temperature of the food.

Professional Kitchen Tip: Don't put a thermometer in the refrigerator by itself, grab a container of water & insert a thermometer in the container so you are taking the true temperature & not the air temperature which can be affected by the unit cooling down or artificially warm from the door being opened.
Quick FAQ's:
Flood waters covered…  Do not eat any food that may have come into contact with flood water which includes homemade canned goods as there is no way to sanitize them. The only ones possibly safe are regular canned food with no signs of damage or retort / hermetically sealed pouches, but they need to be sanitized.
Remove the labels, if they are the removable (try to come up with a system so that you can remember which label goes with which can)
Thoroughly wash the cans or retort pouches with soap and water (preferably hot water) eliminating any dirt or silt
Rinse the cans with water that is safe for drinking
Sanitize them by immersion them in one of the two following ways
Place in water and allow the water to come to a boil and continue boiling for 2 minutes
Place in a freshly made solution of 1 tablespoon of unscented, liquid chlorine bleach per gallon of drinking water for 15 minutes
Air-dry for a minimum of 1 hour before opening or storing
Hopefully you remembered what was what & you can re-label them with a permanent marker (including the expiration date if known)
We had a fire… Discard any food that has been near a fire as it can not only be damaged by the heat but also the smoke fumes, and chemicals used to fight the fire.
Can I put the food from the refrigerator and freezer out in the snow since we lost power… While this sounds like a good idea the answer is no, not really. Frozen food can start thawing doing to the radiant heat from the sun which means refrigerated food may become too warm and foodborne bacteria could start growing. This doesn't include the unsanitary conditions and animals that may affect it. Consider making ice & using that help keep everything cool. One can use anything from buckets, empty milk cartons, jars or cans to make homemade ice (do we really need to mention doing this in the shade or overnight).
These following charts are courtesy of the Food Safety & Inspection Services of the USDA & they answer the age old question – do I really need to toss everything if it is above 40° F & can I refreeze food that has thawed…
Refrigerated Foods – When to Save and When to Throw It Out
FOOD
Held above 40 °F for over 2 hours
MEAT, POULTRY, SEAFOOD
Raw or leftover cooked meat, poultry, fish, or seafood; soy meat substitutes
Discard
Thawing meat or poultry
Discard
Meat, tuna, shrimp,chicken, or egg salad
Discard
Gravy, stuffing, broth
Discard
Lunch-meats, hot dogs, bacon, sausage, dried beef
Discard
Pizza – with any topping
Discard
Canned hams labeled "Keep Refrigerated"
Discard
Canned meats and fish, opened
Discard
CHEESE
Soft Cheeses: blue/bleu, Roquefort, Brie, Camembert, cottage, cream, Edam, Monterey Jack, ricotta, mozzarella, Muenster, Neufchatel, queso blanco, queso fresco
Discard
Hard Cheeses: Cheddar, Colby, Swiss, Parmesan, provolone, Romano
Safe
Processed Cheeses
Safe
Shredded Cheeses
Discard
Low-fat Cheeses
Discard
Grated Parmesan, Romano, or combination (in can or jar)
Safe
DAIRY
Milk, cream, sour cream, buttermilk, evaporated milk, yogurt, eggnog, soy milk
Discard
Butter, margarine
Safe
Baby formula, opened
Discard
EGGS
Fresh eggs, hard-cooked in shell, egg dishes, egg products
Discard
Custards and puddings
Discard
CASSEROLES, SOUPS, STEWS
Discard
FRUITS
Fresh fruits, cut
Discard
Fruit juices, opened
Safe
Canned fruits, opened
Safe
Fresh fruits, coconut, raisins, dried fruits, candied fruits, dates
Safe
SAUCES, SPREADS, JAMS
Opened mayonnaise, tartar sauce, horseradish
Discard if above 50 °F for over 8 hrs.
Peanut butter
Safe
Jelly, relish, taco sauce, mustard, catsup, olives, pickles
Safe
Worcestershire, soy, barbecue, Hoisin sauces
Safe
Fish sauces (oyster sauce)
Discard
Opened vinegar-based dressings
Safe
Opened creamy-based dressings
Discard
Spaghetti sauce, opened jar
Discard
BREAD, CAKES, COOKIES,PASTA, GRAINS
Bread, rolls, cakes, muffins, quick breads, tortillas
Safe
Refrigerator biscuits,rolls, cookie dough
Discard
Cooked pasta, rice, potatoes
Discard
Pasta salads with mayonnaise or vinaigrette
Discard
Fresh pasta
Discard
Cheesecake
Discard
Breakfast foods –waffles, pancakes, bagels
Safe
PIES, PASTRY
Pastries, cream filled
Discard
Pies – custard,cheese filled, or chiffon; quiche
Discard
Pies, fruit
Safe
VEGETABLES
Fresh mushrooms, herbs, spices
Safe
Greens, pre-cut, pre-washed, packaged
Discard
Vegetables, raw
Safe
Vegetables, cooked; tofu
Discard
Vegetable juice, opened
Discard
Baked potatoes
Discard
Commercial garlic in oil
Discard
Potato Salad
Discard
Frozen Food – When to Save and When To Throw It Out
FOOD
Still contains ice crystals and feels as cold as if refrigerated
Thawed.
Held above 40 °F for over 2 hours
MEAT, POULTRY, SEAFOOD
Beef, veal, lamb, pork, and ground meats
Refreeze
Discard
Poultry and ground poultry
Refreeze
Discard
Variety meats (liver, kidney, heart, chitterlings)
Refreeze
Discard
Casseroles, stews, soups
Refreeze
Discard
Fish, shellfish, breaded seafood products
Refreeze. However, there will be some texture and flavor loss.
Discard
DAIRY
Milk
Refreeze. May lose some texture.
Discard
Eggs (out of shell) and egg products
Refreeze
Discard
Ice cream, frozen yogurt
Discard
Discard
Cheese (soft and semi-soft)
Refreeze. May lose some texture.
Discard
Hard cheeses
Refreeze
Refreeze
Shredded cheeses
Refreeze
Discard
Casseroles containing milk, cream, eggs, soft cheeses
Refreeze
Discard
Cheesecake
Refreeze
Discard
FRUITS
Juices
Refreeze
Refreeze. Discard if mold, yeasty smell, or sliminess develops.
Home or commercially packaged
Refreeze. Will change texture and flavor.
Refreeze. Discard if mold, yeasty smell, or sliminess develops.
VEGETABLES
Juices
Refreeze
Discard after held above 40 °F for 6 hours.
Home or commercially packaged or blanched
Refreeze. May suffer texture and flavor loss.
Discard after held above 40 °F for 6 hours.
BREADS, PASTRIES
Breads, rolls, muffins, cakes (without custard fillings)
Refreeze
Refreeze
Cakes, pies, pastries with custard or cheese filling
Refreeze
Discard
Pie crusts, commercial and homemade bread dough
Refreeze. Some quality loss may occur.
Refreeze. Quality loss is considerable.
OTHER
Casseroles – pasta, rice based
Refreeze
Discard
Flour, cornmeal, nuts
Refreeze
Refreeze
Breakfast items –waffles, pancakes, bagels
Refreeze
Refreeze
Frozen meal, entree, specialty items (pizza, sausage and biscuit, meat pie,convenience foods)
Refreeze
Discard