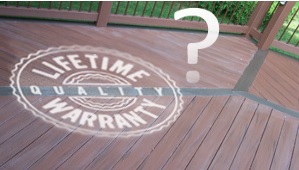 Recently some calls out for help have been made on some homeowner / DIY friendly boards about forming a class action lawsuit. The culprit? Why it is some composite decking manufacturers & in particular AZEK, Correct Deck / GAF, TimberTech & Trex.  With the exception of AZEK (the start), it appears that most are in the, please let us find enough clients, err I mean potential stage.
On one site in particular a TimberTech deck was claimed to have "cupped, split, pulled away from itself and it is moldy, messy looking and has been treated, cleaned and taken care of." Per this poster who was representing one her design clients & loves a "good fight," she called the company rep… "Of course the result of that was the deck was lovely and it was all the clients fault."
Unfortunately with these calls for help us make you rich, this has led to much confusion. Interestingly 3 of those products are ones I have no issues actually recommending. So with that let's take a look at the merit of the claims, the issues & whether one should consider using the products at all.
Some Basics First:
For simplicity sake, there are three main types of composite / synthetic  decking materials out there.  The first is called "composite" because it is generally comprised of sawdust, plastic & a binder. The second type is called "cap stock" which has a core primarily made of composite but then the top (or the whole board) is wrapped in a protective coating which is generally plastic. The final is not a composite at all, but rather all "plastic."
In some cases, manufacturers of the first two types will substitute other items (like recycled carpet fibers) for the sawdust &/or plastic. This can be a very good thing if one experiences a major manufacturing issue (like Trex did many years ago) or due to installer or homeowner error allowing the sawdust / wood to be exposed. Once the wood is exposed mold can actually start feeding off of it. This is one reason why many manufacturers state you should not power wash or use abrasive cleaners while cleaning your deck.
The "plastics" / AZEK claims:
False advertising is their main driving force. For example they rail against its "stain resistant" claim because suntan lotion, bug repellent and a number of other things can cause discoloration. They also take issues with its "scratch resistance" but do not elaborate on this. They also claim issues with it fading over time…
Interestingly they posted some photos showing some of these issues;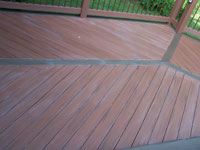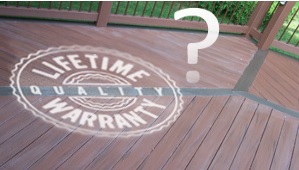 These two are taken from two different lawyers sites (see above for links) – amazingly it appears to be the same deck. Fortunately one of the sites actually has full sized images available which you can see here, here & here.  Below are three areas I would like to highlight from each of those pictures…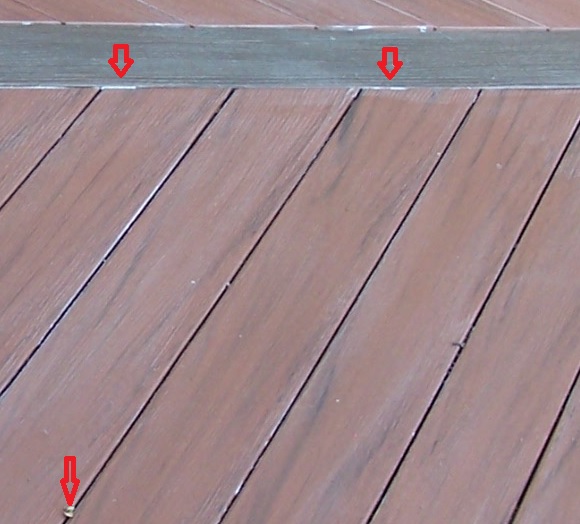 This first one is a taken from the two above…  interestingly that appears to be rocks on the decking (though I see no scratches) & some sort of gunk in the cracks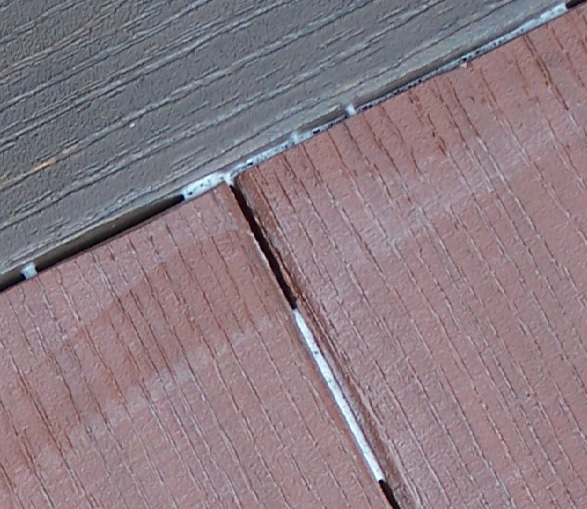 The second one really shows off the gunk stuck in the cracks & really makes one wonder if that "discoloration" issue is just a homeowner that could only be bothered to lightly wipe something up & then decided to scream foul.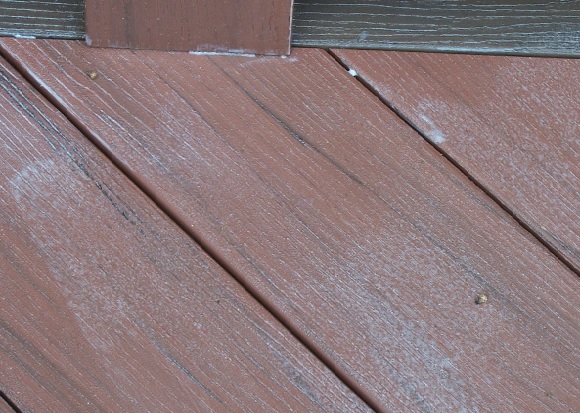 The third one… well I will let you decide & see what you think
The "composite" & "cap stock" issues:
Basically all three are accused of mold issues, mildew, discoloration, rotting, cracking, and difficult upkeep. Unlike the AZEK one listed above there are no supporting pictures.
Breaking it down:
Cracking: Having worked with two of these products it is really hard for me to see how they would simply crack without a major installation error or someone dropping an engine block on it.
Mold: Mold was a big issue with TREX before as I mentioned which also allowed for rot other issues. While it could possibly still be caused by a manufacturing issue, many companies learned from TREX's issue & have some strict QA procedures to make sure they don't have the same issue (even if the product is mishandled). This actually brings up two good side points;

If it sounds too good to be true… it probably is – as I recall about 2 years ago, TREX failed a whole batch of decking and sold it off for other uses or was having it transported to a dump. Yeah, well let's just say there was a warning that went out about buying a semi trailer's worth of said product at a price too good to be true
Don't use composites that are not designed for dock areas for docks or around water features. Do your research & use the appropriate product in the appropriate area. If you do, at least make sure the ends are sealed or you are using a higher end brand (yes Trex & TimberTech have differing types).

Mildew / Surface Mold: sorry folks this will develop anywhere under the right conditions – the nice thing about synthetic decking is how easy it is to clean up. One reason why we recommend using a leaf blower instead of a broom is so you can get the pollen & dirt out from the simulated grain patterns which are there for not only looks but to aid in slip resistance
Discoloration / Scratches: You know just because they add an inhibitor, or use the word resistance does not mean that your deck will look the same forever. UV light takes its toll on everything, dragging a chair across a deck can scratch it, and so will using a chemical that attacks the polymers or resins used. For years not only have the decking companies said this can be an issue but you can even find the warnings on some of the products.
Difficult Upkeep: Really? As compared to a typical pressure treated wood deck which requires staining almost yearly, etc…
Some quick closing thoughts:
I am sure there will be some out there that will dismiss any point or counter point made claiming I am biased. Well that's fine because I actually believe that people need to take responsibility for their actions & use some common sense. When there is an issue that is the manufacturers or installers fault, of course they should deal with it. But just because someone hears low or even no maintenance, that doesn't mean that you still don't have to take care of it. There are cars now that don't need tune-ups for 100k miles, but I bet you still run them through a car wash & vacuum out the inside.
For anyone considering purchasing a deck, do your research but beware as most people don't really know what was installed. I was reading one thread railing against a product & nearly spit coffee on my screen towards the end of this tirade. You see at the end, he claimed that if the manufacturer wouldn't stand behind their product at least Home Depot should. The funny thing is when that was written, not only was Home Depot not carrying that brand, but they couldn't even special order it if they wanted to – oops.
Along those lines, be careful of terms seen like black mold. As we pointed out in one of the articles above, there numerous types & without testing one doesn't know what they have as mold spores are everywhere & only a few are unhealthy. Another item is the numbers, for example the one firm that did file a suit – it is based off of two claims. Two claims against how many thousands of decks built with that product?
In the end it all comes down to what you are looking for – just like many other things involving your house there are pros & cons to everything. Maybe some of the stories scared you away from synthetic decking & pressure treated really isn't for you. Well there are numerous other options out there from redwood, to cedar, from IPE to actual stone. Find a reputable & knowledgeable builder & your chances of ending up with a deck that will last will greatly improve. (Sorry but yes, you will still need to clean it)