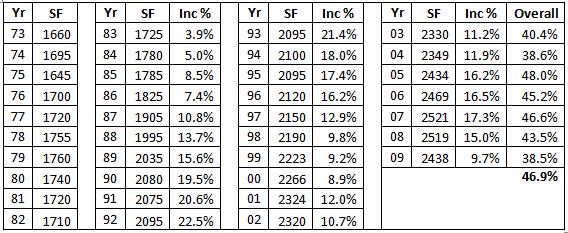 So what happens when you combine a bunch of designers spread out across the country that have their own blogs, with Twitter? The inventible – a blog-off where great ideas are shared amongst the group and everyone knows who won… (Individually: I did of course, but everyone else's was really good)While I really cannot hold a candle to their thoughts (or even their writing styles) on tile bathtub shoes, and other great posts this week's blog-off struck a chord with me. The general theme is building or living smaller the next big thing?
The instigator: Paul Anater at Kitchen and Residential Design, Is Living Smaller the new Living Large?
Veronica Miller at Modenus,  A Small Life is Good, but Slow Down to enjoy it! 
Richard Holdschuh at Concrete Detail, Small is Beautiful but Relativity Rules
Rufus at DogWalkBlog, How much does it cost for you to exist one hour? Size matters.
Nick Lovelady at Cupboards Kitchen and Bath, Is Small Really Realistic?
Becky Shankle at Eco Modernism, Is Living Smaller the New Living Large?
Saxon Henry at Chair Chick, Living Small (and Getting Shagged!)
Cindy Fruen-Wuellner at UrbanVerse, Living Large and Small: Trading Hummers for PUMAs Ain't the Whole Story
And 1 belated late entry; now while I cry unfair advantage – it is still a great piecs by Steve Mouzon at the Original Green, The Luxury of Small
I have to admit, they are really good wordsmiths & it is interesting to see their takes and reasoning's on this subject. As a remodeler / builder, I have a slightly different take, as this issue (among other ones) seemingly pops up every few years.  But first, let us take a look at the numbers from the Census department that everyone has been talking about.
The Numbers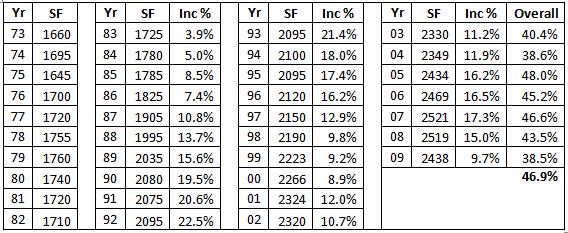 This spreadsheet is based off the US Census numbers starting in 1973. These numbers only include new single family dwellings built in that year; not existing houses, apartments, townhomes, condo's or other multi-family structures. The "Inc %" is the percentage increase from the houses built a decade before, while the "Overall" is the 3-decade percentage increase. Based off these numbers, you can see that year after year the size of new houses has increased approx. 1.3% per year or 46.9% over the entire span of time.  
Apples to Apples or to Oranges:
I guess one has to wonder which numbers they are using when they compare us to the French or the British. I can take a pretty good guess that it is the one that includes all the housing stock built and possibly includes the older homes. Do I have any takers on this?
Why the increase?
Generally, no one looks at why the size of houses keeps on growing, they try to point the finger; a homeowner blames the builder and/or architect – "it's all that they build, or what they designed"; the builder blames the architect and/or – "I build what they design or wanted"; followed up by the Architect blaming the homeowners and/or builder – "they said they wanted…" Amazingly, no one is to blame and no one answered the question –you have got to love modern America.
Part of the reason for the increases is the simple ethos that most Americans grow up with; we have the power, we can build it bigger, better, stronger…  Unfortunately, most people forget, that bigger is not always better. Another popular one is the desire to keep up with Jones's, in terms of possessions, etc… While a small part of the population maybe fanatical in this area, the biggest problem lies with the architects and builders. Every year, if not every quarter, certain groups run a poll on what would you like to have in your next house. Needless to say, when you see 60% of the people want a great room – you will make sure it is there. My favorite one is a larger closet in the Master Bedroom – that notion in itself has turned a simple 6×8 walk in closet, into a room that requires 2 HVAC ducts and is larger than most Master Bedroom's in older houses.
The challenges of going small:
The challenges are numerous on many fronts, and we as a society or even just individually have to make a conscientious decision to buck the trend. In some cases, there are actual legal issues that prevent one from doing this as shown in this article from GreenBiz.com & they need to be addressed.
For architects; can you accept that your next project can be smaller, but still better? Bob Borson, one of the architects I like to follow actually had a great article on the challenges involved "Low Cost Modern House Challenge." I can honestly say, it is achievable but it does take some thinking on one's part to make everything not only fit in a space, but to be livable & comfortable. (Double Mother in Law Cabin Articles)
For designers; can you truly make a small space feel & look large, while utilizing all the space? If any of them need some idea's, I would point them  to check out some of the tricks that are used in modern RV's, boats, and planes where space is at a premium.
For Homeowner's; the challenge is really up to you – can you find a builder, designer, or architect that can make your vision a reality? Can you really fit all your belongings into a smaller place, or handle the choices you might have to make? For some other great advice on this, you might want to review this article found on MSNBC on "Cut your Square Footage in Half."