As seen on Daily5Remodel: If I had to choose my favorite project to date, it would be this 1879 renovation. My first thoughts were, Ummm, wow, this ought to be interesting. There was vinyl siding on the exterior, one floor was about ready to collapse, an addition had sunk six inches, water was flowing back into the house from the front porch, the layout caused poor traffic circulation, and all three stories of were crammed full of items. Rear of home, before remodel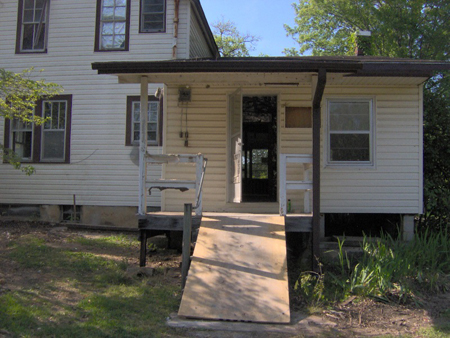 Converted porch, during renovation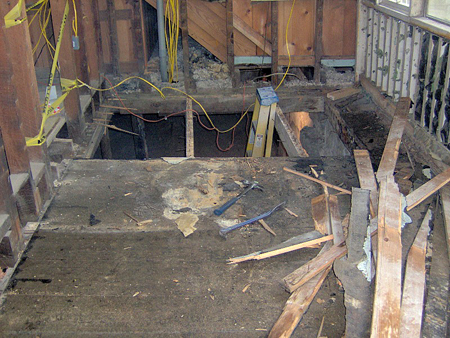 Well, four 40-yard dumpsters later, the home's true beauty started to show. While not everything was plumb, level or square, the framing was in great shape for the original house and kitchen addition. In the rooms where we were not placing ceramic tile, the hardwood floors were also in excellent shape, requiring only an occasional patch and refinishing. We had to strip most of the downstairs walls to the studs, and what a mess: plaster, wallpaper, cheap paneling, wallpaper, drywall, more wallpaper. Thankfully, we didn't have to disturb any of the original woodwork in the stairway or upstairs areas, and most of the upstairs plaster walls were in great shape. Rear of home, after remodel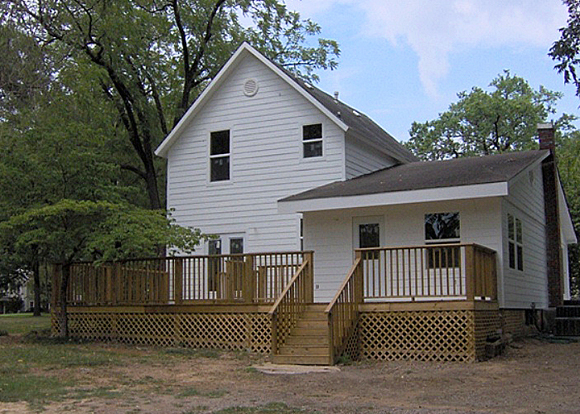 In order to solve the circulation issues, we added a new doorway between the two main entryways by the staircase. By doing this and adding a half bath under the stairs, we were able to enlarge the master suite and eliminate a cacophony of doors (five!) in the narrow hallway that one had traverse to get anywhere in the house. We also changed out one bank of windows on the very back of the suite to a set of French doors, allowing the owners to walk out and enjoy their new deck.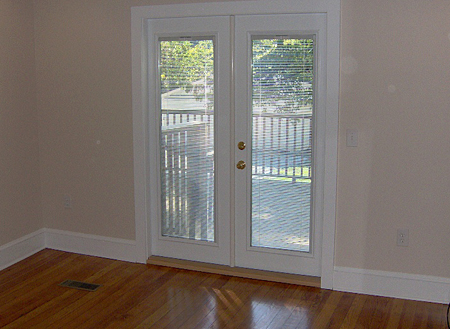 Amazingly, this house was insulated with a wool-type product that had held up quite well. It stayed in the walls even after stripping the plaster as well as after stripping the outside and sheathing it. Besides insulating the attic with cellulose, the only major insulating item we did was air-sealing, where we used about two cases of fire foam. We also sent five tons of old wiring, metal, etc. to the scrap yard. Many of the older windows and doors went to a salvage yard. Converted porch, completed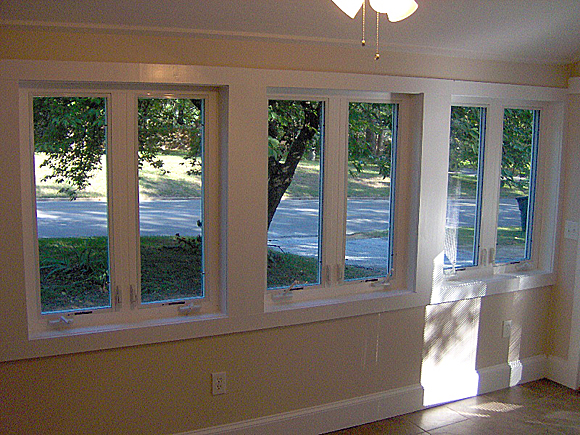 While the water issues were not the biggest challenge, the work required to fix them and prevent them from happening in the future, I think, made for the most dramatic change to not only the exterior but the interior. With just a little care and maintenance, I can easily see this 132-year-old house being around for another 130 or more years.