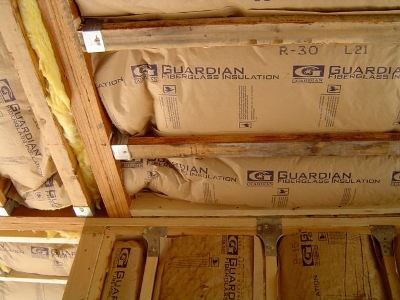 *** UPDATED – I swear, some companies remind me of a bunch of kids – nanny nanny boo boo – that stinks – does not – does to – well you stink so I am going to give you a swirly…  Ahhh, welcome to another "Let's Blog Off" where this week's topic is based on the question "What did you want to be when you grew up?" As you might have guessed, we decided to turn the question around a little bit. So be forewarned, if you do not like opinionated scorn being heaped on a company that stepped on its own crank, you might want to scroll to the bottom where the list of all the participating bloggers is. Either way, we encourage you to check out the other participants as some are some great wordsmiths.

While there are plenty of companies & manufacturers that act down right childlike, the icing on the cake this last week goes to Guardian Fiberglass. On October 19th, Allison Bailes who not only holds a PHD, but is one of my go to guys for Building Science information wrote an excellent and factual article entitled, "A Visual Guide to Why Fiberglass Batt Insulation Underperforms."
Imagine my surprise this Saturday when I see the article being re-tweeted with this note "Yes, Guardian will succeed in getting me to change that article, but I will NEVER recommend their products." I had a pretty good idea what he was talking about when I opened the article and saw all the blue lines on the pictures (as shown below with original file name.) Fortunately, the good folks at Green Building Advisor, helped fill us in with the rest of the story… ***This article was completed on Sunday – AB of EV wrote more about this which includes a copy of the full letter HERE
On October 21st Guardian Fiberglass's lawyer Michael Metz sent a letter to Allison stating "Guardian disagrees with [the] assertion that it is difficult to install fiberglass insulation well. …It is Guardian's position that these comments by your company together with the picture of Guardian's products constitute libel, slander, and commercial disparagement. …Guardian demands a response to this letter within ten days with regard to (i) Energy Vanguard's agreement to cease its negative advertising, and (ii) evidence of Energy Vanguard's statements and their sources. Guardian will aggressively pursue its remedies to the fullest extent permitted by law, and any further conduct by Energy Vanguard of a similar nature will be dealt with accordingly."
Seriously, you want to go that route? While I am not a lawyer I did spend a week at a Holiday Inn Express, so let me first remind you that for libel or slander to take place the statement(s) in said piece have to be false. Nice try as one could easily point to numerous professionals, articles, and even rating standards to back him up. Now onto the commercial disparagement – let's just ignore the fact that the statement(s) also has to be false, but one must prove that the author or publisher intended or should have reasonably recognized that said party would be caused a financial loss AND a financial loss does in fact result. Well if anyone here is causing said financial loss, I would dare say it is Guardian's childish claims and bullying tactics.
While I know this might be hard to take, but if you are so worried about your product being shown in such a negative light, you might consider taking your name off the product. Of course if this product was installed in the area I think it was, they should have used un-faced batts. Hmmm, that leaves us with another interesting question, just how did said product make it into that market…
Now on the flip side, could you imagine the response Guardian might have gotten if they had simply commented on the post that their product was obviously installed incorrectly and actually thanking Allison for not only pointing out the potential issues but helping them spread the word about installing it properly to get the best results? Ok maybe that might be over the top for them, so maybe they should consider taking a page out of CertainTeed's book. In the "Letters / Reader Feedback" section in November's Fine Home Building Magazine, Paul Valle – President of CertainTeed Insulation states:
I just read "How It Works" in the August/September issue. I understand that the focus of this article is to educate readers on proper installation. However, I am disappointed by the decision to use CertainTeed fiberglass insulation in the large photo spread to depict unprofessional installation mistakes. Simply by association, we believe your readers my equate CertainTeed with poor product quality in addition to painting an unfair depiction of fiberglass products in general.

CertainTeed provides professional customers with the "Right Way" training video series, a comprehensive primer on insulation installation and best practices for contractors and their crews. We also provide training and support through our highly trained sales reps…
As a quick side note – it would have been great if CertainTeed realized that this magazine is primarily for Homeowners, and also pointed out those resources. Of course, some of the points made in the FHB article, are not in their brochures that are available for homeowners, and one can only hope they are covered in the video. Oh & Guardian, you might want to consider also placing the installation instructions on your site if you decide to grow up & stop trying to scare people with bogus threats. For another great take, I love this one by an Australian Blogger "Building in your Blood – Send lawyers, guns, and money" or this other piece from Energy Circle.
*** Updated: 11.8.11 4:45 PM – this just in, after facing an ever growing "social media episode" and "some serious soul-searching" has sent an official apology. A copy of the full letter maybe seen on the original GBA article while TreeHugger has a new post on this.
With that said, back to our originally scheduled article where we invite you to see what others take on this Let's Blog Off subject is…