When it comes to ones exterior HVAC unit, most people wonder, is there a way to hide it, reduce the amount of noise which is what we covered in our Spring & Summer HVAC FAQ. Once the leaves start &/or snow starts falling the questions change to should I cover it to protect it from them, does it need to be left alone, or what happens if I have a heat pump unit? Well lets see if we can help answer some of these typical fall & wintertime questions and look at some of the reasons behind them.
Should I cover my system during fall or winter?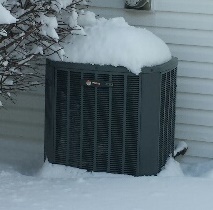 Most units can easily handle the snow loads placed on them so the answer is no. Another reason for that is so that the moisture does not become trapped in the unit inviting unwanted growths or a nice cozy spot for mice & other creatures to nest. Ahh but how about leaves?  In this case the answer is you want to clean out around the compressor for many of the reasons above. If you have a tree right above it, I maybe worth just covering the top fan only to help keep them out of it. However once the leaves are done falling you should remove said cover.
But I have had my unit damaged by snow before…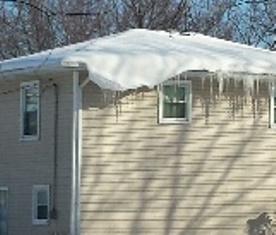 In most cases that is because you had a snow or ice shelf like the small one pictured on the left fall on it. Yes I do say small as that is probably only a hundred pounds or so as larger ones are known to get into the tons. In this case a tarp or piece of plywood isn't going to help. You might wish to consider building a movable open box with a simple shed roof (with metal roofing) that can slide past the unit up to the wall. Just remember that you will have to remove it before you go to use it come springtime / summer.
I have a heat pump system – does that change anything?
Why yes it does – first the unit should never be covered (even against leaves) as it requires air flow when it is operating (just in this case it is extracting heat from the air instead of dumping it). The second is shading, you want this unit to be exposed to as much heat as possible which is great if you have deciduous trees shading it during the summer – shrubbery can hurt in this case. The final issue actually revolves around the snow & leaves – you should make sure that the intake(s) are high enough off the ground where the snow / leaves won't interfere with them.