If given the chance, I will always buy local. With that, there are plenty of times when you can't find what you need locally so "Amazon" here I come. In this case I needed a pool pump / filter for a pretty small pool. Unfortunately not everything sold on Amazon is sold or fulfilled by Amazon which was the case here…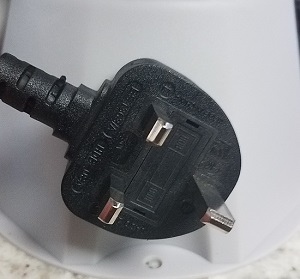 Are you frack'n kidding me? In case you are wondering that is a Type G "Hong Kong" plug. Return it, yeah – not really an option. Use a plug in adapter? Possibly an option but someone posted a review of having the same issue 2 days before I finally got mine & said it doesn't work right. So can one rewire one & just what might the issues be?
Welcome to Tuesdays Tip…
How to rewire a "European" plug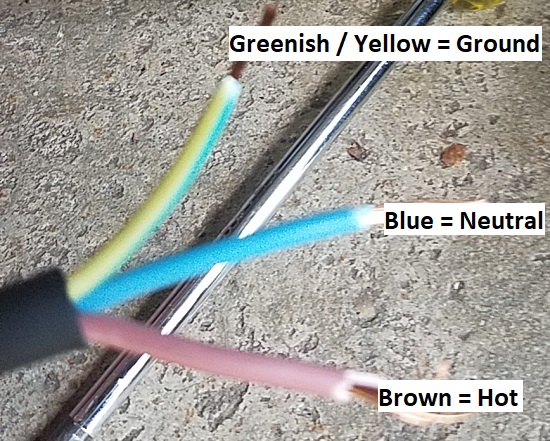 So you cut the plug off, expose the wires & say what? There is a brown wire, blue wire & a bluish / green wire with yellow? No Black, White, & Green / Bare Copper?
No worries, the "Europeans" are pretty standardized. In this case Brown is hot (Black), Blue is Neutral White) & a solid green or green with yellow (just like the US) is ground.
"European" or International?
I have always found it interesting that the generic term for any plug not used in the North America (and even some Northern parts of South America) is considered "European." The reality is that there are 14 types of plugs used Internationally (Single Phase Outlets). Type A (2 prong) & Type B (2 prong with ground) are North American based. As mentioned above the plug you see is a Type G aka "Hong Kong" version which is also used in England and places it had a strong interest in. Most of the rest of Europe & a good portion of the world uses Types C, E, & F. So for the rest of this piece we will drop the term European & stick with International.
The catch on rewiring:
There are actually 2 catches; HZ (Hertz Frequency) & Voltage. In North America, the AC aka Alternating Current is on a 60 HZ cycle (actually a total of 40 countries use this), whereas the International standard is set at 50 HZ. Fortunately most modern electronics and resistance heating devices don't care if the AC is at 50hz or 60hz, but it could be an issue for some motors.
International electricity is also delivered to outlets between 220 to 240 volts in a single phase (for example +230 (hot) and 0 (neutral.)) In North America, while we do have 240 available (specific appliances, water heaters) it is delivered on two opposing phases: 120+ and 120-. For the most part, our outlets and bulk of electronics are based off 110/120 volts on a single phase.
Plug Options?
The first one that comes to mind is the regular wall socket one which is 110 volts (Type A or B). In many cases this might work just fine, but not for all equipment. In fact if you are considering the wall outlet, I would just say go with an adaptor.
However, many International plugs are not polarized (i.e. can be plugged in either way which means that most 230/240 volt appliances are designed to be safe even if power is coming in on the "neutral". Thus, in most cases, it would be safe to just to snip off the plug and install one of the two plugs below.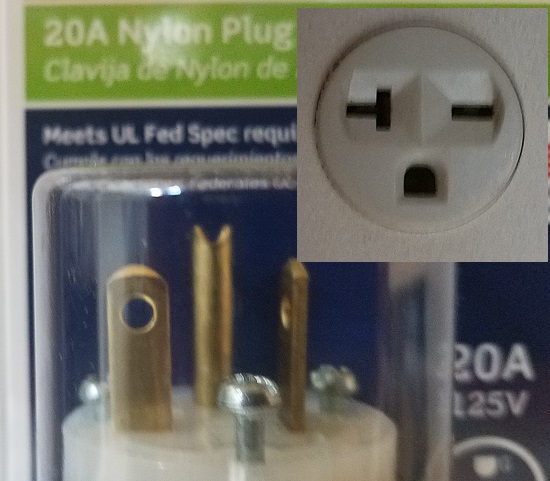 This is a 20 amp plug which is generally not found in the house, only in garages or for specific equipment. Watch the packaging – this one is a 125 volt version not the 220 / 250 version needed.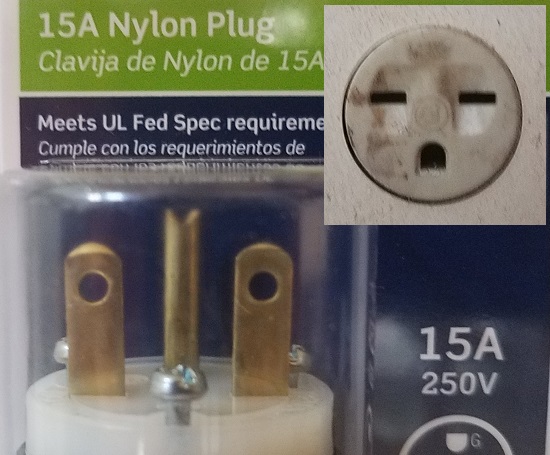 This last one is the preferred choice – a 15 AMP 250 volt plug. This is by far your best option, BUT you will have the same issue as above; this is generally not one you will find in your house though a competent electrician can either add or rewire if needed.
Connecting the pieces: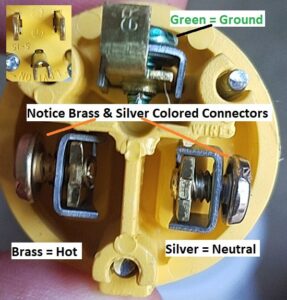 Ok so I am cheating a little – this is the back of a 110 plug but the connections are the same. The blue and brown wire go to the flat blades (i.e. the Hot & Neutral) and the green/yellow goes to the ground pin. Off to the right is a picture of the back of a 240 volt. Plug it in & you should be good to go.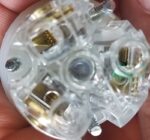 Other Options:
The most popular option is to buy an adapter, like this "universal" one. The catch with these is they can wear out so if you know the specific "Type" you need you can purchase that one which should last longer.
Adapter / Converter: Some electronics don't like the power differences so you might have to find a Step Up or Down converter which will bump up or lower the voltage – it just won't do anything for the HZ range difference.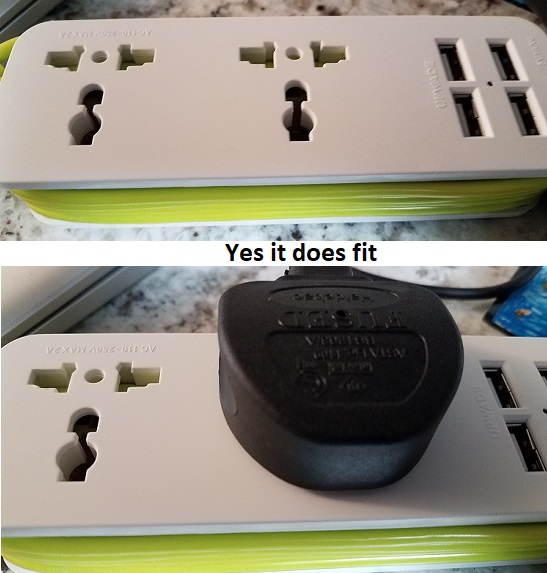 Quick Warning
While black & white is the standard for wiring in North America & brown / blue is the "International" standard a few countries (5) decided to mix things up some.
The biggest one is Australia & New Zealand which will either use Brown or Red for live wires. No big deal but their neutral color can either be Blue or Black.
Brazil likes Yellow & Red – fortunately their neutral wire is also blue.
Interestingly India & Pakistan (yes really great friends) really like messing things up with 2 different "standard" setups. For hot you can have either a mix of Red, Yellow or Blue for Hot with Black being the neutral, or Black, Red & Blue for hot with White as the neutral.