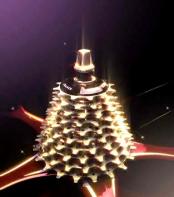 From my family and all of us SLS Construction / AlaGBS, we would like to wish everyone a very Merry Christmas, a Bountiful New Year, and hopefully some festive cheer with some of our favorite parodies, light displays, etc…
Let the parodies fly…
Twas the Night before Christmas – DIY version (2009 – The HTRC / SLS Construction)
The stockings were hung on the mantle with care,
covering the missing tiles that hopefully would soon be there.

The children were nestled all snug in their beds,
with visions of a finished playroom dancing in their heads.

As the night wore on, things started to get hazy,
working on another DIY remodel, I thought I must be going crazy.
Twas the Night before Christmas – mikeroweWORKS style (2010 – MRW & crew)
When, what to my safety-protected eyes should appear,
But a miniature CAT®, eight repairmen & reindeer.
In his hard hat the driver said "repairmen, reindeer, let's go",
I knew in a moment it must be Mike Rowe.

More rapid than engines, mrW tradesmen they came,
And Mike whistled and shouted and called each of them by name:
"Now, Pipefitter! Now, Plumber! Now, Welder and Sparky!
On, Constructor, On, Carpenter! On, Mechanic and Barsky???
Christmas Carols from the Energy Nerd (2010 – GBA / Martin Holladay)
Nothing says Christmas like a few great Christmas carols, and who can go wrong singing some of these all time greats like;
Rudolph the Sloppy Builder
Up on the Housetop
The Blower Door Man is Coming to Town
Grandma got chopped up by a Door Fan
What's that, how can you sing those Carols? Oh yea of little faith, my great friends at Energy Circle have come to your rescue & herein provide you the most requested version: The Blower Door Man is coming to town…

Twas the Night before Christmas – Legal Version (True Author Unknown – Winnipeg Free Press)
Whereas, on or about the night prior to Christmas, there did occur at a certain improved piece of real property (hereinafter "the House") a general lack of stirring by all creatures therein, including, but not limited to a mouse.

A variety of foot apparel, e.g. stocking, socks, etc., had been affixed by and around the chimney in said House in the hope and/or belief that St. Nick a/k/a/St. Nicholas a/k/a/ Santa Claus (hereinafter "Claus") would arrive at sometime thereafter.
Some great web sites:
You have got to love Nick at Cupboards Kitchen & Bath – man this guy sure likes ice cream, cook, and finding out little odd-ball facts about the holidays & history; Christmas Cookies, Santa's of the World, Christmas trees in the US & UK
18 different takes on the "Ultimate Gift" – some great reading from 18 different bloggers in the current Let's Blog Off.
Steve Gray Renovations always seem to come up with a great "Happy Holidays" animation – love the 2008 Reindeer.
Now who doesn't like YouTube…
While I am sure many of us have seen plenty of the light shows with the Trans Siberian Orchestra, why not be a little different? Maybe a little Techno…

or everyone's favorite THX robot…

A few more off the wall Christmas light displays found on YouTube…
Wonder what happens when you combine a song like "I like to move it" with Christmas lights?
Nothing personal, but if I hear banjos (much less dueling banjos) I am looking for the main road – post haste
Ever wonder what happens if a Trekkie fan gets hold of 41,000 lights – Star Trek Voyager theme song
Definitely worth stopping for, listening, and watching – Carol of the Bells
My favorite Holiday Greeting of all time still goes to Specialized.

While I wish I could say, I caught all of this years best of greetings that were sent, I know I missed a few and I wish to say – Thank you all for the great cards, messages, and greetings.