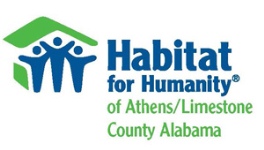 This week I had the pleasure of heading back up to the Athens Limestone area to work on Habitat's newest house with a great group of kids from Ohio State. Unlike the last one which was made of ICF's this one is going with typical 2×4 framing. With that said, they will still be pursuing LEED platinum certification.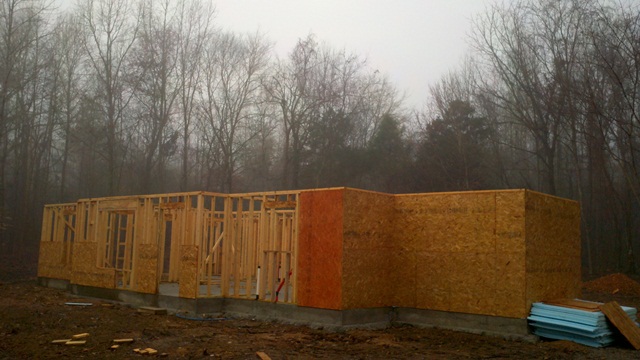 Nice & early on Tuesday morning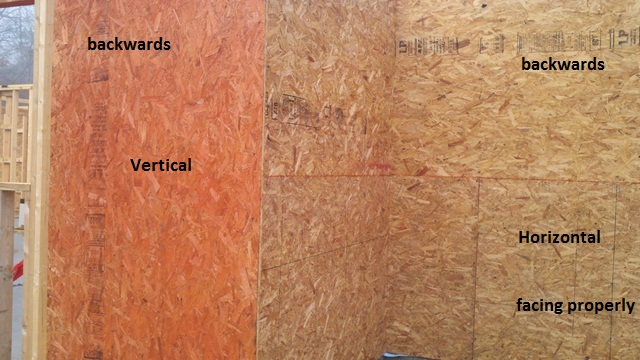 Sheathing is something we will be addressing more in depth later but it is important to remember that sheathing a building plays many parts. While having a few sheets installed backwards doesn't really hurt it, installing it properly makes nailing it in place easier.
Personally I do not like seeing sheets installed horizontally as it leaves you with one or more gaps that run all the way around the building allowing air & moisture movement.  Fortunately they had not fully gotten the gable wall finished so we were able to sheathe the rest vertically, which allowed us to tie the gable truss & wall framing together resulting in a much stronger assembly.
Quick side note – to Tyvek or not to Tyvek was brought up. You might notice the foam sheathing in first picture above, which many feel is an adequate WRB (Weather Resistive Barrier) – it really isn't as it like every other material can expand & contract leaving gaps for air & worse yet moisture to get in. If you wish to use foam only, you would need two layers with all the seams being offset & taped.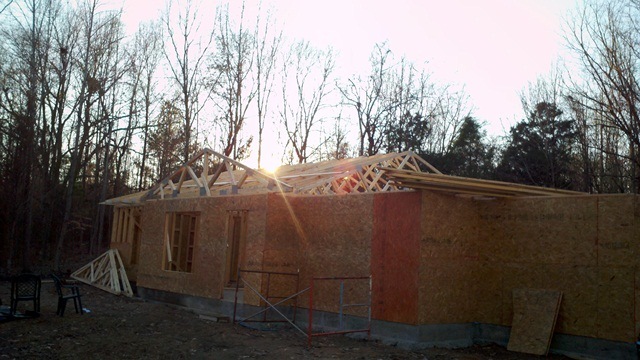 Hand nailing & lifting all the trusses up does take a tad longer – We got a little more than ¾ of the main trusses up & the rest stacked for Wednesday. I love Simpson strong ties & progression – here we got to use the new ledger locks that replace using those hurricane ties (yeah I won't ever be going back to the others now)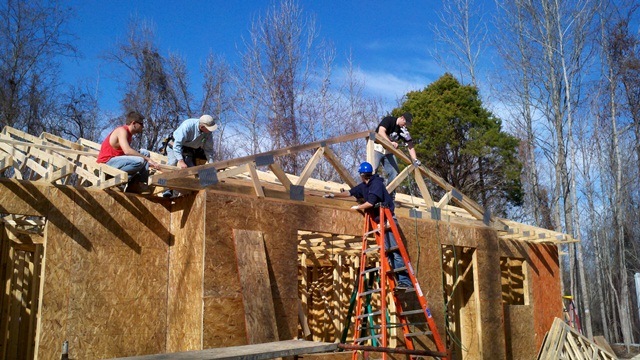 I managed to juggle a few items around & was able to help them get the rest up (minus the ones for the porch) Wednesday morning – this is a shot of one of the regular volunteers & the "truss crew" getting ready to start sheathing the roof as I had to call it a day. The rest were finishing off sheathing & starting the foam install.
Unfortunately I wasn't able to get my cell phone in time (installing trusses is one of the rare times I leave it in the truck) for the group shot & hopefully someone will shoot me a copy later to post here. With that, it was great working with you all & here is to them all safely making it back to Ohio to spend time with their families for Christmas.