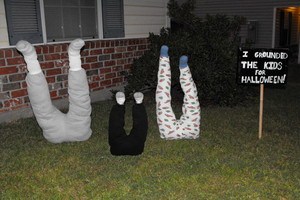 I love Halloween time with all the costumes, kids having fun, and being able to raid the trick or treat bags when the kids were younger. Fortunately none of my kids had any allergies so I never really thought twice about it. A couple of weeks ago I started thinking about it when I was visiting my brother whose little girl is allergic to nuts & listening to all the problems they had with the school & the changes they had to make. It seems that not 10 or 20 years ago we might hear about 1 or 2 people with this type of issue, but it has been growing and schools are now putting in "nut-free" lines.
"My wife is the world's best at managing our daughter's food allergy. It is her mission in life to enable Brianna to have just as normal a childhood as others. We don't isolate her but are vigilant and watch over her." Trace Adkins
Assuming your kids aren't "grounded" how does one allow their child to have a "normal" childhood when many of the "treats" contain items that your child could be allergic to? Well here are a few of our thoughts & others gleaned from places like FAAN (The Food Allergy & Anaphylaxis Network) & KFA (Kids with Food Allergies).  KFA has a pretty interesting PDF with all sorts of Halloween decorating ideas, tips, tricks & even recipes which you might also wish to check out.
Pumpkins contain seeds which might affect those with nut allergies, so instead of having them carve one maybe have them paint the outside with glow in the dark paint.
Remember most kids don't want to stand out due to their allergy so don't make them stand out with you or them asking questions on what something contains or having to say "no thanks"
For those that just touching can be an issue, consider utilizing gloves with their outfit.
Always have your kid's medicine with you & maybe a safe treat if they start getting hungry.
Just like regular trick or treating make sure you inspect the treats before you allow them to have any.
Consider having safe treats to swap with ones that contain items that are not safe or maybe just do a complete bag swap.
Another option is a version of the "tooth-fairy" where you leave the unsafe treats in a pile which gets magically swapped out in the middle of the night with cash or a toy
Be careful on "snack" size treats as the ingredients may differ from the "regular" ones and they may also be processed on a different machine.
 The words "may contain" or is "processed on shared equipment with" something that your child is allergic to, avoid that food — the manufacturer is indicating a risk.
For unsafe treats consider bringing them to a hospital for those that might not have been able to go or to a buy-back program. (Here we have a dentist that buys them & ships them to troops overseas)
Not in the mood to risk it or you live out in the country?
Have a slumber party with a few scary movies
Turn your house into a haunted house (Great tips on Building Moxie)
Have a costume party & best ghost story contest
Go out to the movies
Use your imagination – it is Halloween after all…
A few more "Treats" from around the web…
"Grounded" comes to us courtesy of The Fun Times Guide to Home Building, which has a few more versions that are worthy of checking out. To top it off they even threw in the directions to accomplish this in your own front yard.
Looking for the perfect car for Halloween? Here are some great options from Décor Girl
The ultimate candy trading guide:

Ahhh the perfect trick for Halloween:

A few more YouTube Favorites:

Making good use of a small yard (and who doesn't like the monster Mash)