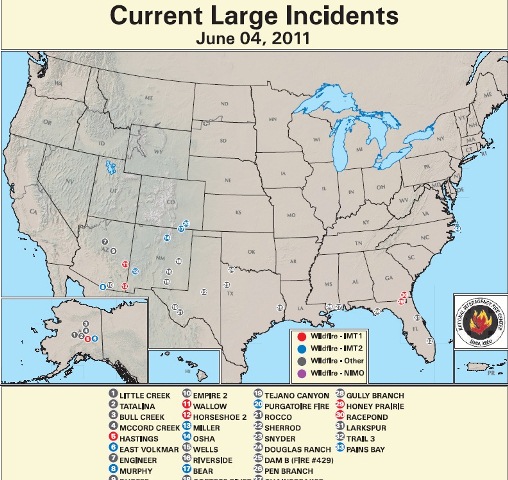 Summer time, camping & a camp fire – what could be better? Unfortunately, in many locations summer time & camp fires are not a great mix and the consequences can get bad, really fast. Just this week – Hundreds flee as fire rages in eastern Arizona, Wallow fire now states 3rd largest fire, and these are just two of 33 shown large wildfires that range from Alaska to Arizona to Florida to North Carolina.  While some fires are still being investigated, and many of Alaska's fires can be blamed on lightning, the bulk of the fires were listed as being caused by; "Human."
Smokey the Bear: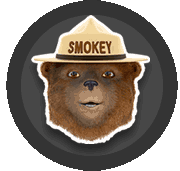 Ahhh, who can forget Smokey the Bear & his simple message of "Only You Can Prevent Forest Fires"? While the comics & everything may seem childish now, the advice given wasn't. Fortunately, Smokey the Bear hasn't fallen behind in the times either, as he not only has his own website, but is also on Twitter aka @Smokey_Bear & even has a "Put Your Smokey On App".  Yes folks, there's an app for that; namely it covers all the required steps from picking a spot, digging the pit, building the fire, and finally how to maintain and extinguish it properly. Unfortunately unlike the flashlight app that provides the light, this one does not provide the fire, water, or shovel one needs, so don't forget to pack that.
Campfires:
Truly there isn't much that one can add to the steps listed above, except to be careful with which rocks you choose. Saturated rocks (aka porous ones) can explode as the water inside is heated & it turns to steam. It might just be better to bring your own ring if one isn't available – like this one from Cabela's. (Just an example – I haven't used that one)
The only other item is to be aware of is your location and weather conditions (both current & future). If you are in the middle of a forest – 10 feet maybe acceptable, if you are in the desert with a chance of the wind picking up some, you might have to increase the size by a factor of 3 or more.  I recall one person scraped everything in a 20' radius, and lit about a third of it on fire to signal for rescue… 10,000+ acres later it was finally brought under control as he was recovering.
ATV's, generator's, etc…
As we brought up in our generator article (Safety Sunday: Top Ten Do's & Don'ts for Portable Generators) you may have to install a spark arrestor on any mufflers if you are in a zone where the potential for fire is good. One other major item to watch out for is the heat given off by the mufflers or engine can catch dry brush on fire quite easily. This point was made abundantly clear one day when we had to drive past a brush fire on the side of the highway, which was caused by a vehicle that had pulled over to change a tire.
Fireworks, Smoking, & Lantern's
Make sure you check with the appropriate jurisdiction where you might find yourself camping (or partying) at. Many locations will forbid certain items like fireworks, smoking outside unless you're in your vehicle) or using any type of lantern besides a battery operated one if conditions warrant it. Speaking of lanterns, those new LED ones look like a good option – no worries about broken bulbs, wicks, fuel, and they also don't attract as many insects.