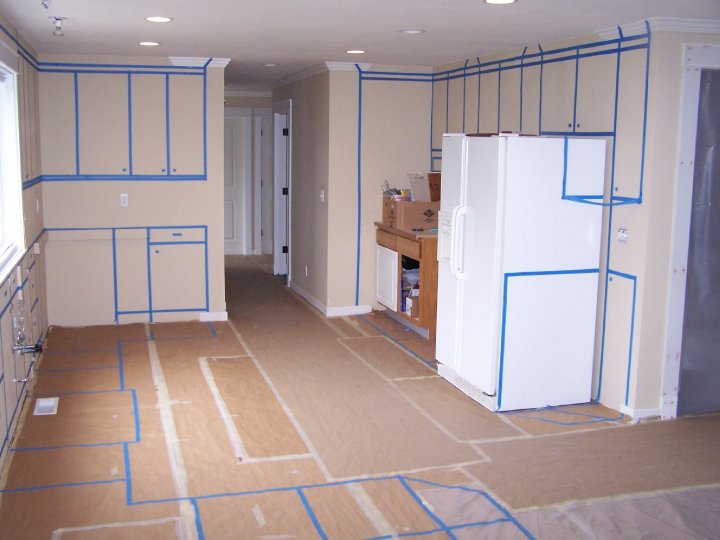 One of the biggest issues people have when they go to remodel their kitchens, is just where in the world should they start & once they get started is dealing with all the myriads of choices. That is one reason why we handed all our potential clients a basic questionnaire to help get them started. While this one was designed for remodels, it can also be used when designing one for your new house to help you, your builder / architect / designer get a head start on what you would like & need.
Budget & Type:
While many people are reluctant to discuss their budget for a variety of different reasons this is needed to help you achieve your goals. Ahh, but doesn't the contractor just raise or lower our prices based on the budget? In some cases, some do; but then you might want to change your criteria as the good ones are looking at all the solutions available & their various price points. For example granite versus a solid surface / all wood versus particle board / dovetails with full extensions versus…
Your Maximum Budget: 
Amount you would like to spend:
Describe what type of Remodel or Renovation you plan on doing; (the higher the level – the more it runs)
Level 1: Simple Facelift, Spruce up my kitchen with maybe a new floor, &/or countertops, &/or fixtures &/or new appliances
Level 2: Gut It and replace everything with new, keeping the location of the new appliances & the new cabinets in the same location as the old, which requires no Electrical &/or Plumbing Changes
Level 3: Gut It and replace everything with new including the layout, while still keeping everything inside the footprint of the old room, which requires no Structural Work
Level 4: Move it or Build It for more space / better views & access e.g. I want access to the Family Room & Dining Room, the kids don't need that closet, etc… 
Lifestyle:
I got to give a tip of my hat to Bob Borson of Life of an Architect for succinctly clearing up the issue on what do homebuyers really want, especially when it comes to lifestyle. Make sure you don't take a fantasy & use it to supplant how you normally live…
My top three reasons for remodeling the kitchen are;
My top three gripes about my existing kitchen is;
How long do you plan to live in the house?
What do you plan on doing when your existing kitchen is unusable? (Take Out is King, I need a Temporary Kitchen setup, I will setup a Temporary Kitchen, Vacation Time)
Who Cooks? (Kids, Elderly, Just one person, etc…) 
What type of cooking do you do? (Quick & Simple, Family Meals, Gourmet Meals, Big Parties, Combination — I don't but I want a high end look with Viking range &…)
Who Cleans Up?
Does anyone have any physical limitations that might be a factor & if so what are they? (Reaching, bending, lack of strength issues) — Designing for Everyone Interior Checklist
Where do you eat now / Where would you like to eat after the remodel is completed? (if you no longer use the dining room, what would you like to use it for)
Do you entertain others or would you like to? (If yes: How many, What style of entertaining – Catered, Formal, Buffet )  
Do you have pets & where do they eat? (Would you like a special spot for them, pull out dining drawer)
Do you buy your food in bulk or as needed?
Do you need more storage & for what area(s)?
What other activities or hobbies might impact the use of the kitchen?  (Homework, Paying Bills, Entertaining Friends, Laundry, Puzzles, Home Office, Family or Casual Dining, Phone or Communication Center, kids running in and out all summer long for drinks & snacks)
Must Have & Wish List Items:
This is a big item even if there is only one cook… Every Member of the family should take a piece of blank paper & write down what they need and would like to see (the wants) in the new kitchen separated into two columns appropriately labeled – for example (small refrigerator by back door for kids drinks & snacks, shelf for cookbooks or a bookcase, area for a phone and computer, family communication area, ability to see TV, etc…)
Material & Item Choices:
One of the best things that happened with the advent of the internet was learning just how many choices were available. The bad thing is the amount of choices… Below is a list separated by major category item & we always encouraged people to circle or number what they were interested in – along those lines we also encouraged them to place an X through anything that they would never consider. By doing this you are saving everyone's time which we all know equates to money.
Appliances: Built In Refrigerator, Dishwasher, Garbage Disposal, Ice Maker, Range Top, Regular Refrigerator, Trash Compactor, Wine Cooler

Oven Features ► Convection  ►Induction ► Double Wall  ► Electric Normal  ► Gas Normal  ► Professional  ► Warming Drawer
Appliance Finishes: Black, Cabinet Panel, Stainless, White

Back Splash: Laminate, None, Same as Countertop, Steel, Tile
Countertops: Butcher Block, Ceramic Tile, Concrete, Granite Stone, Laminate, Solid Surface, Steel, Stone Tile
Cabinet Style / Look: Commercial, Contemporary, Country, European, Frameless, Traditional, Tuscan

Cabinet Body: Hardwood, Melamine, Particle Board, Plastic, Plywood, Steel
Cabinet Door Style: Arch, Flat Panel, Glass, Raised Panel
Cabinet Face Frames & Doors: Cherry, Hickory, Maple, Oak, Same as Cabinet Finish
Cabinet Features: Crown Molding, Dovetail Construction, Drop Down Sink Front, Full Extension, Open Shelves
Cabinet Finish: Dark Stain, Faux Finish, Laminate, Light Stain, Painted, Steel, Therma-foil

Flooring: Tile, Vinyl, Wood
Lighting: Ceiling Fan, Drop-down / Pendant, Fluorescent, Leave As Is, Recessed, Track, Under cabinet
Other Items to consider:

Add or remove Soffit or Tray detail
Appliance Garage
Bread Storage
Cabinets to the ceiling
Change or Add Window
Lazy Susan / pull out shelves / Korner King
Shelves instead of upper cabinets / add a few
Skylight / Solotubes
Last but not least:
If you have pictures of features that you would like in your new kitchen, a picture of your dream kitchen, sketches, or brochures on a certain item you would like, these should be brought to the Design meeting. Just remember this is just the tip of the iceberg, but it will help get you focused on what you are looking for, allowing you to wisely spend your time with the designer not only choosing finishes but also figuring out exactly how you cook so that what you need is right where it should be.