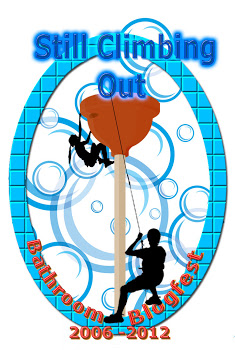 This week we are participating in the 7th annual, week-long, "Still Climbing Out" Bathroom Blogfest. This year (which is our first) we will be joining numerous bloggers from across the U.S., Canada, Dubai, and the U.K. who have signed up to participate. It does appear that there are actually two topics this year, customer experience and bathroom design for those living with cancer. While I dare say that the two are linked in many ways, I don't think I could do justice trying to tie the two together into one piece so I will primarily focus on the cancer aspect.
For those that have just gotten the word, are in the midst of the battle, or even if they have won – there is generally much fear & anxiety. For many a soak in the tub or stepping into the shower and feeling the water splash over them is a relaxing great escape. But wait, isn't that the goal of a good design, anyways? Why yes it is & that is why in almost all respects, designing a bathroom for someone with cancer is no different than designing one when they were "healthy".
Universal Design Principles:
Chemotherapy can leave one feeling very weak and make the simplest things feel like a challenge. For example if you follow the link above on cancer, Lisa M. Smith aka @TheDécorGirl has a friend that has breast cancer & needed some help designing a special shower space for her friend. @SteamTheraphy (who is also participating) & some other designers came up with 4 tips, in which you might notice that 3 out of those 4 all follow Universal / Aging in place designs. The third tip on the other hand, brings us to our next topic…
Water:
As a company that sells Steam Therapy systems, does it really come as a surprise that one of the tips is to "Add the therapeutic benefits of steam?" In all honesty, that is a great tip as not only can it do the things listed, but it can also help flush toxins from the body. There is only one catch with this & it revolves around an individuals lowered immune system and what can be in the water. So our first piece of advice is to make sure you buy your unit from a reputable manufacturer that actually produces steam instead of just atomizing the water.
The second piece of advice revolves around talking to your oncologist about your water heater settings & whether it would be wise to filter your bathrooms water. If he does recommend bumping your hot water heater settings up, don't forget to adjust the tempering valve on the tubs & showers to prevent scalding.
You need a bench or a bathtub:
One of the most interesting items people choose to leave out of their new master baths is a bathtub. While I understand the reasons why many do it, make sure you at least have a bench or seat in your shower area if you go that route. If you really don't want one know, make sure that blocking is installed for later on. Besides the worn down feeling, one additional reason is for those that have a mastectomy – you can't get the area wet for at least a week so you are limited to carefully bathing & sitting in a tub or having a sponge bath.
The Toilet:
Unless it is a kids bathroom, a comfort height toilet (aka ADA Height) is the only type I spec. Depending on the size of the bathroom I also almost always go with an elongated one. Soft close lids are also a nice feature so no one has to worry about it banging closed. For those with colon cancer or having issues, a small foot stool placed nearby to place your feet on may help you out.
Lighting:
While one may feel like death warmed over, there is no sense in looking like that with poor lighting. Natural lighting is always a plus followed up by "warm" lighting used around or above the mirror. Recessed lights should generally be avoided not only for the shadows they may cause but also due to the energy penalty they create.
Flooring:
Besides making sure your flooring is non-slip or you use non slip bath mats, the choice is yours. As for heating the floor if you chose ceramic or stone, going with a radiant heat system underneath will definitely add some comfort. Some people do worry about EMF fields and electronic radiant systems causing leukemia, but I have yet to see any legitimate studies to support that. With that said, if that is a concern of yours consider going with hydronic, another flooring choice or simply use a bath mat.
In closing, while one hopes that no one will ever get cancer the chances are it has either already affected someone you know & will do so again. With the exception of the water filtration, a good designer or contractor will likely have already talked about or installed many of the items listed above leaving you with a comfortable, safe & relaxing bath. For more great tips or ideas I encourage you to check out the #KBtribeChat Transcript & the other great bloggers participating in this year's Bathroom Blogfest.