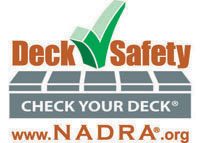 The North American Deck and Railing Association (NADRA) is a non-profit association whose mission is to is to provide a unified source for the professional development, promotion, growth, and sustenance of the Deck and Railing building industry in North America so that members can exceed the expectations of their customers.
NADRA was started back in 2004 after all the problems that came from the mandated changeover of the chemicals used in treating the wood. They also are at the forefront of the industry by promoting National Deck Safety Month in May, helping guide code writing and regulations with ICC (International Code Council), sponsoring the DECK EXPO, and starting programs such as Deck for a Soldier.
NADRA also enforces its own code of ethics, which all members must agree to before joining
To observe the highest standards of honesty, integrity, and responsibility in the conduct of business.
To make all advertising and sales promotions factually accurate with respect to products and services offered; to avoid practices that tend to deceive the customer with regard to pricing, warranties, certifications, financing, licenses, or insurance.
To write all contracts such that they are fair and free of ambiguities or omissions which tend to obscure obligations and that contain warranty terms and provisions that are free of misleading or deceiving terms.
To promptly acknowledge and respond on customer complaints.
To refrain from any act intended to restrain or suppress competition, thereby guaranteeing equal rights and promoting the free enterprise system.
So what does this all mean to you? Well, I am sure that not only do you want a beautiful deck, but one that was well constructed, and that will stand the test of time. As a professional builder, we are always learning, looking for ways to improve our efficiency, while building stronger and safer decks and buildings that look great. By joining NADRA, we feel that they will help us better accomplish those goals and we are proud to have become a member.