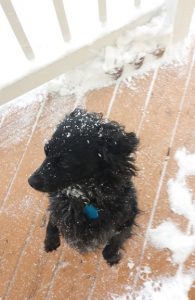 Hopefully, this last snow storm was it for spring (really?) meaning most of us can start getting ready to grill and get back to enjoying the great outdoors. Needless to say for the last few months our decks / patios have been left to the mercy of mother nature, while our grills not only had to deal with the cold temps but the occasional mice that might have been looking for a place to nest. So before you get started, take a few minutes to review this checklist so you can relax & enjoy the grilling season.
Decks & Patio's:
Clean up snow melt residue: While we don't recommend you use snow melt products on a deck any leftover residue on the deck should be sprayed off the deck & if needed use a deck cleaner product meant for your deck with a deck scrub brush.
Clean up roof gravel, dirt, branches: Pick up any big items & then either spray the rest off with a hose or sweep the deck off.
Fix loose nails, screws, or boards: If you notice any loose nails or screws, reattach them. Personally, if you have loose nails, I would lean more towards removing them and using deck screws (not drywall). To pull them place a piece of sacrificial wood beside them & use that for the base of the hammer head instead of the decking.
Check & clean those mats: Don't forget to grab those mats & clean them also. If they have a rubber backing on them (especially if you have a composite deck) time to use those elsewhere & grab one's without that backing (For more: 10 common enemies of composite decks)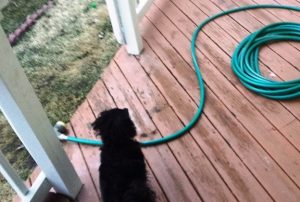 Use the right tools: Yes your best tool for keeping a deck clean is a broom & a garden hose, while you can use a pressure washer we do not recommend it. Be especially careful with composites if you go the pressure washer route as you can blast open the composite allowing water & air to get to the wood fibers leading to a mold & mildew issue.
Check your deck's structure: While there are not going to be any issues with this deck collapsing, for those with raised decks you should check your decks as the water & ice can cause some damage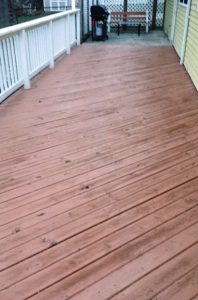 Stain / Paint your wood deck: Depending on where you live conditions might be great to refinish your wood deck. For many of us in the north we need to wait for the wood to dry out & the temperatures at night to get over 50º. Just remember to choose the right products – unfortunately I am stuck painting mine as the prior owner made it impossible to stain it now
Cut back shrubs & other plants: It is also a good idea to make sure you cut back any shrubbery or other items from around the areas
Your Grill / Fire Pits / Smokers:
Check the hoses: For those with gas grills, make sure you check your hoses for any cracks or bent tubing. If everything appears good to go, turn on the gas & use a soap & water mix to ensure there is no gas leaking around the fittings.
Check for any nests: Mice just love hiding in the darndest places (or squirrels like hiding their nuts) so make sure you check every nook & cranny and clean any materials out before you have a fire in a spot you don't like.
Lava / Fire rocks: In most cases simply using an air compressor with a nozzle is enough to help blow any dirt out, in other cases you may have to remove them and spray them down. One item I have used for this is a 2×4 frame with wire netting attached to the bottom so the gunk can run out. Don't forget to let them completely dry out before putting them back.
Clean the grills: Hopefully you put your grill away nice & clean, but the grills will need to be cleaned before you use them, so crank it up & using a wire bristle, make sure it is clean.
Don't forgot propane / charcoal: Nothing can screw with a BBQ worse than running out -make sure you check your levels & buy more.
Clear unused clutter away from the grill: Make sure anything combustible is kept far enough away from the grill which yes includes vinyl siding on the house. Don't forget to look up also for low hanging branches. (For more: 20 Reminders when it comes to grilling)