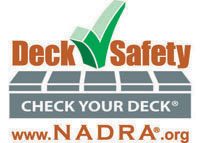 Ahhh, May – the days are getting longer, when it's not to hot or to cool to go outside and spend some nice time reading a book, firing up the grill, or having a party. For many of us, this time is generally spent out on our decks. Unfortunately, this is also happens to be the time of the year when the good times can quite suddenly come to a crashing end. Some of the common reasons a deck will collapse ranges from age of the deck, poor maintenance, exceeding its load capacity to improper building methods. With a little common sense, these deck failures can be avoided.
Some Birthday Party:
A sad time gets worse:
In an effort to help save lives and prevent injuries, NADRA first declared May as "Deck Safety Month" back in 2006. Now in its fifth year, the purpose of the promotion is to increase public awareness of the necessity for regular inspection and maintenance of existing decks, and proper installation of new decks. Per NADRA, more than 75 percent of the people on a deck when it collapses are injured or killed.
Mike Beaudry, executive vice president for NADRA states, "Our number one priority to the public is to ensure that the decks they and their families enjoy are safe. NADRA takes this responsibility seriously and has created campaigns and educational programs for the builders, lumberyards, and manufacturers to improve proper installation practices along with checklists and safety awareness information for consumers to follow."
One item, NADRA has come up with, is the following 10-Point Consumer Safety Checklist, which goes over these 10 items in some detail:
Split or decaying wood
Flashing
Loose or corroded fasteners
Railings and banisters
Stairs
Cleaning & Maintenance
Deck Accessories like Grills & Fire pits
Lighting & Electrical
Deck Furniture
Surrounding Trees
If you do spot some issues, make sure you do call in a professional to look into it. In many cases, we can advise you on how to fix that issue quickly, how to prevent it from getting worse, or take care of it for less than a new deck.
If you happen to own an older deck, it might require a bit more scrutiny as they were built before code requirements were in place requiring the use of bolts instead of nails, etc… If you happen to have an older deck, please make sure you inspect it or have your deck professionally inspected by either an ASHI Certified Home Inspector, or a professional deck builder. (NADRA listing of Professional Deck Builders in your Area)
If you happen to own a newer deck, we still recommend that you perform the inspection and keep up with the suggested maintenance activities. One reason is that the wood used today, is not as strong as the wood we used many years ago. I have also seen decks less than 3 years old that were falling down, due to no maintenance and improper building techniques. Many of these improperly built decks led to problems with the houses structure, as they were not flashed properly. Below is a video, from a deck collapse, just after Christmas. While I do not know what happened with the builder in this case, the owner was just in court on April 22nd to plead "Not Guilty'.
Dec. 26, 2009:
As always, please stay safe; if you feel uncomfortable, do not understand how to complete a task, etc… please call in a professional.