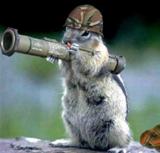 Ahhh, another Tuesday, and it looks like another great Let's Blog Off topic this week. This week's topic revolves around the question on "What makes you laugh?" As per our custom, we will be listing all those participating at the end of this article, and I highly encourage you to check them out; as I am sure some of them are going to be a riot.

Well instead of just simply answering the answer, I think I would like to take a few minutes to look at that famous quote – namely that laughter is the best medicine. Now if you want to read all sorts of boring studies, and scientist's thoughts on the subject – fell free to Google or BING it. Personally, I do not need to research it, as I spent a night in a Holiday Inn as I have been there, done that, and got the t-shirt.
As another popular saying goes – stress kills. This can be an issue, not only for those of us that run a business, but even employees. Now in case you don't want to bother looking that one up, here is an article that came out on this just last Friday (Stress is top workplace hazard, say safety reps.) Now mind you, it was from the UK & based on the second concern (bullying & harassment) it leads me to believe that they actually interviewed a lot of French people on their soil, but the point still stands.
In my case, I was a major Type A person with the desire, drive, and the feeling that I needed to do more, be better, etc… and I was always sweating the small stuff. Laughing was not really in my vocabulary back then. Fortunately, due to a few issues, I managed to actually go and visit a doctor which helped me reevaluate my outlook, see what was important, allowed me to slow down & enjoy life more. I am now a lot happier, laugh quite a bit easier, and have learned to look for the humor in items that would have just infururiated me before.
So back to the original question, I really cannot say there is one thing that always makes me laugh. As you can see by a few of my comments, or possibly poor jokes above, I have a rather dry sense of humor. This might actually explain why I like and can actually understand the British sense of understated humor (Ok – mostly, well… ok, sometimes get…) Along the same lines, I am not really into comedy movies – it seems to be that they try a little too hard to be funny. Ah Twitter, and some of the forums, those can definitely be worth a great laugh occasionally, besides the great conversations.
In closing out this week's Let's Blog Off, I figured I might as well close it out with a Christmas inspired comedy. Hey why not, Christmas is only 50 days or so away and lord forbid that the Christmas decorations are already out – so if we can't change it, why not join em? Oh, might I mention if this is not your type of comedy / easily offended, I recomend that you simply skip down to the posts below for some truly great wordsmiths and probably quite a few good laughs.

Allison Bailes's – Energy Vanguard
Ami's – Multifarious Miscellany
Amy Good's – Thoughts of a Splinter Girl
Becky Shankle's – Eco Modernism
Betsy DeMio's – EgrGirl's
Bob Borson's – Life of an Architect
Cindy FrewenWuellner's – Urbanverse Posterous
Denese Bottrell's – Thoughtful Content
Jane Frederick's – Lowcountry Architect
Madame Sunday's – Modern Sauce
Nick Lovelady's – Cupboards Kitchen & Bath
Paul Anater's – Kitchen and Residential Design
Rufus Dogg's – Dog Walk Blog
Saxon Henry's – Roaming by Design
Steve Mouzon's – Useful Stuff
Tamara Dalton's – Design StudiosVeronika Miller's – Modenus
JB & Barry – Building Moxie
Tim Bogan – Windbag International
Christian McLean