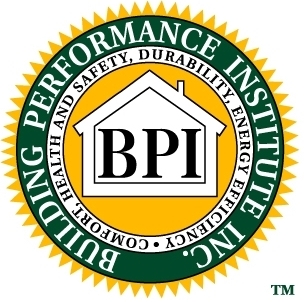 Oops, did we forget some equipment? Today was supposed to be split ½ in the classroom & ½ doing the field training, but without a manometer, there goes any chance of doing any field training. Overall, that was probably a fortunate thing, seeing it was raining all day here in Jersey.  Needless to say, the bulk of tomorrow will be spent in the field, getting everyone up to speed on the BPI field test.
Most of today was spent covering the Combustion Test that is considered BPI's main difference with RESNET. According to the instructor, BPI feels so strongly about it, that 85% of the field test and scoring is based solely on this one item. After running through the whole process, I can see why BPI is so popular in the North East, while the rest of the country has not hopped on board so quickly and probably will not based solely on this issue. I can also see some major issues with certain state's HVAC boards even allowing a non-member being allowed to perform this test.
The Combustion Test:
Set up for natural conditions and measured baseline pressure differential
Created worst case conditions
Correctly measured worst-case depressurization
Checked for worst case spillage of each relevant appliance
Performed worst case draft test – tested Hot Water Heater, furnace/boiler and then both (by drilling a hole in the flue pipe, unless it is a double walled, powered or PVC)
Measured worst-case CO (Carbon Monoxide)
Checked for spillage, draft, CO under natural conditions (only necessary to perform this test if spillage detected under worst case)
Made appropriate recommendations according to BPI standards
Is it important?
Having your equipment serviced and checked yearly is very important, because when you are trapped inside during a blizzard and your oil, coal, fuel oil, propane, or natural gas device is not working properly, CO levels can build up quickly resulting in death. The question though is should this be done by a trained technician or a building analyst that does not fully understand all the components? I am not sure if you have ever seen some of the videos out there on this test, but in many cases, they are drilling into flue pipes that should not be drilled into or creating other problems.
I would say for most of the country, deaths by CO poisoning are more commonly caused by individuals using their ovens as a heat source, smoke inhalation from fires, cars, generators and other devices. With a little common sense and making sure that you have a working CO detector in your house would be a great start.
One of the other catches, which I am supposed to get an answer to tomorrow, is does this test need to be done if the equipment is located on the roof, located outside, in a vented crawl space, or an unconditioned basement? Based on the testing protocols it is supposed to be done on every appliance, but reality states that in most locations of the country trying to get a baseline or worst-case scenario would be a complete waste of time.
BPI catching up to ASHRAE & RESNET:
Yesterday we discussed how the BPI seemingly loves the older ASHRAE standard on .35 ACH, well that appears to be changing. Today the instructor pointed us to the updated standards open for Public Comment. It appears that, that old section is about to get flushed from the standards. (Updated Building Analyst Standard)