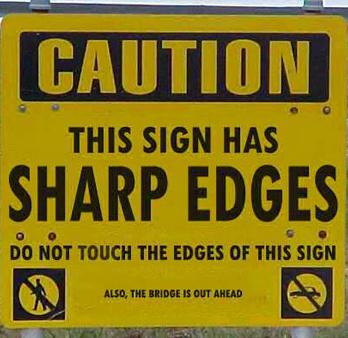 This week's LetsBlogOff asks a relatively simple question; Is there a reason to be optimistic? When I first saw the topic earlier last week, my answer was hell yes. Here comes the weekend & I was simply going, who flipping cares & why bother? Fortunately, I did not write this article during that time, because it simply would not have been me.
The Oxford English Dictionary defines optimism as having "hopefulness and confidence about the future or successful outcome of something; a tendency to take a favorable or hopeful view." By watching the news or reading the papers, one has to wonder, what is there to be optimistic about;
Foreclosure Freeze Could Drag Down Property Values, Housing Chief Warns
A Housing Market Divided
Housing outlook darkens amid foreclosure scandal
Taking Control of Today's Skilled Labor Shortage
With news like this being posted in just the last 24 hours, and hearing about a few of my friends throwing in the towel, I should still be feeling pessimistic, right? Nope, & here's why
Skilled Labor Shortage?
mikeroweWORKS – talk about a great group of guys and gals dedicated to helping promote the trades and eliminate that shortage. When Mike Rowe, put this together there were 11 of us that signed up as Tradesmen – the last time I checked there were over 50 of them dedicated to that cause.
FramingPro – he is not really a professional framer, try a 14 year old with a willingness to learn & be taught. The name is his goal, so not only did he write it down, but he uses as his handle on Contractor Talk as an ever present reminder. The amazing part for some, not only is he accepted on this "Pro's only" site, but encouraged and taught. If you happen to be feeling down & out about today's youth, you might want to check out this 28-page thread on his "Shed"
 It is a dog eat dog world?
Really, besides the two great groups above;
Remodel Crazy – quite honestly, I have never seen a great group of guys that will do almost anything to help someone out, weak in marketing, got a design issue, even if you are a homeowner or DIYer, you will get help.  Just need an encouraging word; well you will get it, probably with a little ribbing to help cheer you up.
The past & the future:
Ah the past, it is a great teacher if you remember to learn from it. The 80's, the S&L Crisis, the Tech Bubble, etc… all have taught me numerous lessons. Fortunately, I managed to learn from those, so that when the banks imploded we were able to pull through it and are now looking at completing our fifth year in business. Looking at all the different numbers, we are definitely heading out of this last little crisis a little wiser and stronger than before. While it is easy to focus on the bad, I know the good is right around the corner and many people are benefitting from it now.
So it is up to you, do you want to concentrate on all the bad news circulating around, or do you try finding some good news? Do you prefer to be pessimistic, or might a little optimism actually help you out? Looking or needing some more inspiration? Well let me recommend what I plan on doing in my spare time today – check out what these other great wordsmiths bloggers below have to say on the subject.

Allison Bailes's – Energy Vanguard
Ami's – Multifarious Miscellany
Becky Shankle's – Eco Modernism
Betsy DeMio's – EgrGirl's
Bob Borson's – Life of an Architect
Bonnie Harris's – Wax Marketing
Brian Meek's – Extremely Average
Chamois Green – Cham Was Here
Cindy FrewenWuellner's – Urbanverse Posterous
Denese Bottrell's – Thoughtful Content
Madame Sunday's – Modern Sauce
Nick Lovelady's – Cupboards Kitchen & Bath (Happy 30th Birthday Nick)
Paul Anater's – Kitchen and Residential Design
Rufus Dogg's – Dog Walk Blog
Saxon Henry's – Roaming by Design
Steve Kleber's – Marketing Home Products
Steve Mouzon's – the Original Green
Tamara Dalton's – Design Studios
Veronika Miller's – Modenus