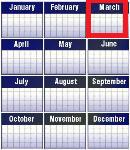 March and the start of spring, is a great time, as it seems to bring out a new life in everything. The trees start to bloom, the animals that were hibernating are coming back out after their long winter naps, and for many individuals (especially up north) they can finally escape their houses without looking like the Michelin® man. The month of March is a really an ideal time to get a jump on those outside chores, and to seriously start planning for our vacations.
Maintenance Checklist
Gutters & Roofing

Clean any debris off your roof, especially the valleys and ridge vents. While you are up there check your roof for any missing or damaged shingles, cracked or missing chunks of tar, rubber or silicone and make any small roof repairs required now.

Now that you are safely back on the ground, it is time to trim any trees, bushes, or other foundation plantings so that they do not rub or grow up against the house. All dead wood, limbs, shrubs, etc… should be removed to eliminate nesting areas for insects. These should be easy to spot when everything starts to bloom.
The Garage – check & tighten all bolts, and lube parts as needed
If things have warmed up enough, now might be a good time to replace those storm windows with your screens.
For those with crawl spaces

Now would be a good time to uncover the vents & really consider looking into a sealed crawl space system
Make sure your vapor barrier is in good shape & there are no slow leaks to the plumbing system caused by the cold weather or other reasons

For those with Basement's

Check your basement for cracks or leaks, and get them repaired.
If you have a sump pump, test, clean and lubricate it.
Check your window well opens properly & don't forget to check the drains and clean out any debris located in them

Clean and inspect your decks for damage or rot – now is a great time of year to re-stain your deck
Check all the hand rails and steps to make sure they are clean, safe, and secure also
While we are still outside, check the siding and doors – caulk & install new weather stripping as needed (HTRC Articles on Weatherization & Air Sealing)
Get your AC system serviced either later this month or early April, so that when it is needed it works.
Gardening & Grounds Checklist
For all the plants and herbs brought inside, make sure you keep them watered or depending on your climate, it may be time to take them back outdoors
Watch out for frost & hard freeze warnings – make sure you cover any plants, shrubs, newly planted seeds or crops that may be damaged & cut back any frost damaged ones
If you grow plants from seeds, it is definitely time to get them started (This can be done inside or outside in greenhouses or cold boxes) Article from ACES on this
Keep maintaining your compost pile, when it is time to start prepping your soil & beds, it can add much needed nutrients to the soil naturally
Depending on your climate, start cleaning up your flowerbeds, garden beds, and edging around them as required.
Start working on a gardening plan, for what goes where – install the necessary trellises or arbors before you start planting
Lawns: also dependent on the climate, may be a good time to give them a quick cut, reseed and fertilize as required.
Other items to consider
Spring Break & Summer Vacations are coming up fast. Start getting them planned & your rooms booked – many popular destinations will soon start filling up and the rates will soon follow
Tax Time – sorry, but if you have not gotten them done yet – you should not put them off any longer. If you owe money, just get it done & set the envelope aside to mail it on April 15th.
While you are working on your taxes – Clean out your file cabinets, get rid of old tax returns, maintenance manuals for items you no longer own, etc… Clean out and recycle all your old magazines, newspapers, and assorted mementos.
February's Checklist had plenty of additional tips for getting a jump on Spring Cleaning
As always, please stay safe; if you feel uncomfortable, do not understand how to complete a task, etc… please call in a professional.