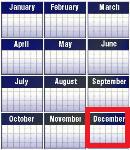 If you have done maintenance work in the commercial arena, you quickly learn about at least two of the three standard types of maintenance work; Reactive & Preventative. For many homeowners and business, the feeling is "if it's not broken don't fix it," which falls under the reactive maintenance category. (i.e. the icemaker line broke, the motor or pump just froze up, etc…) On the preventative side of the house, that is when you are changing the oil in your car at the 3,000-mile mark, repacking bearings, or changing out the smoke alarm batteries. While the oil, batteries or bearings might not have needed to be changed or worked on, you do it anyways so there is not a failure.
This leads us to the title of the article and the third type of maintenance program, which is Predictive Maintenance. So what is Predictive Maintenance? It is a technique to determine the condition of an item in order to predict when maintenance or repairs should be performed. In many cases, you save money by only performing said maintenance tasks when they are warranted, and before major damage occurs. While some organizations use this technique with great success, others just do not seem to grasp the importance of it & simply hire an infrared thermographer for their yearly (generally an Insurance requirement) Infrared Thermographic Survey.
Commercial and Industrial:
Just to use one quick example from the commercial / industrial arenas, let's say the ongoing maintenance costs for an item are around $6000 a year (aka $500 a month), and if said item fails it also runs $6000 to replace. Now to top it off, you have 10 of them in your establishment and based off history, you know that said equipment can generally run for about 18 months before failure is imminent. I think you know what the bean counters will say – it is cheaper to run the equipment into the ground, than it is to maintain it. (Cost to maintain all 10 for 36 months = $180,000 /// Cost to replace all 10 every 18 months = $120,000 (2x in 3 years) /// Savings $60,000 for 36 months, $20,000 a year, or a little over $1600 a month)
Now what happens if you could tell when a certain machine needed maintenance done & only had to work on it then? Utilizing a hypothetical fee of $300 a month for an Infrared Thermographic Survey & maybe $800 for repair parts per machine every 12 months, let's see how the numbers works out using are example above. You are now looking at $3600 per year for the scans, & $8,000 for maintenance per year. The grand total for all three years is $34,800 a savings of over $150,000 over the preventative method & $85,000 over the reactive. Now granted this is a simplified version, but you can see how setting up a predictive maintenance program can benefit a business. There is also that who wants to come in or make the call to fix or replace a broken piece of equipment on Christmas Eve? (Been there – done that – got the t-shirt)  
The 7-Steps of a Success:
With all that said, many businesses just cannot seem to grasp the concept or have problems setting up such a program. With that said let's take a quick look at the 7 steps we use to help business create a successful Predictive Program utilizing Infrared Thermography:
List all your processes, applications and equipment
Prioritize each item on your list in order of the impact a failure would have

Does it impact the safety, environment, incoming revenue, or public image
Is it costly to replace and/ or have difficult / hard to find parts / qualified repair technicians to service

Determine how likely or soon a piece of equipment is to fail (Your records, manufacturer information, etc…)
Map out & label all equipment to be scanned (Bar Codes, physical labels, sharpie, etc…)
Create an inspection schedule based on above items (Monthly, Quarterly, Semi-Annual, or Yearly)
Take baseline images and set up a database or means of comparing equipment images to detect issues over time (See pictures & description at the end of the article)
Perform needed inspections and adjust inspection schedule if issues appear but are not requiring repairs yet (For example – an item is on a semi-annual check and is starting to show that it might need repair soon, but just not yet – it may get bumped to be checked quarterly or monthly until your next scheduled down period or it becomes critical)
Now before you think that Predictive Maintenance is the be-all, end-all program that will solve all your needs, there are still items that fall under the other two types. For example, disposable, non-mission critical tools & equipment might simply be best left on the reactive list – it breaks we replace it. Machinery that has air filters, or other items that need regular cleaning will still need preventative maintenance. The biggest trick many companies have once they start learning about this system is finding the right balance point.
Your Home:
In the case of your home, while Infrared Thermography may be used to help spot some issues, it is not the solution. With that said, many of the items above in the 7-steps arena and the paragraph below it do apply using just your own eyes, a little common sense, and a carefully crafted Home Maintenance Program.  
On the reactive side, if a branch falls on your house causing a leak, your icemaker line breaks, or maybe even a washing machine hose bursts, you are hopefully deal with the water, mop up the mess and get the problem fixed. On the preventative side, you should be changing your air filters, smoke detector batteries, and other items regularly as this not only helps the machines run better, but maybe just save your life. The predictive side gets down to the steps where you check your roof (Granules are almost gone – it needs to be fixed soon), looking for cracks, checking your washing machine and other water lines for deterioration that shows that you should probably be replacing them soon.
I think one of the best items that sums up the three ways you  can handle an issue was brought up yesterday in an article by Allison Bailes of Energy Vanguard: An Easy to Fix Air Flow Problem That Can Save Energy – and Your Life when he discusses the lowly Dryer Vent & issues that a blocked on can cause. In this case – reactive may not be the best option as it may only be noticed after the fire starts. Hopefully though, you will start noticing that it is taking a little longer for the clothes to dry & check it. The preventative standard may also not be adequate based on how many loads you do, age of the equipment, etc… Depending on those factors, you may wish to check it more often (predictive maintenance), and deal with the cleaning as needed. Speaking of dryer vents, if you have one of those plastic flex tubes – please get rid of it & switch to metal – it is a lot safer for everyone.
Predictive Maintenance Example (Commercial):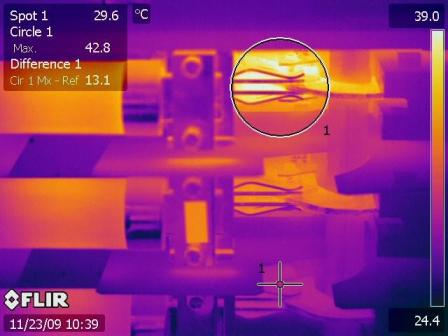 This is a picture taken back in 2009 by another Thermographer of an electrical connection at 110°F / 25°F hotter than the other connections.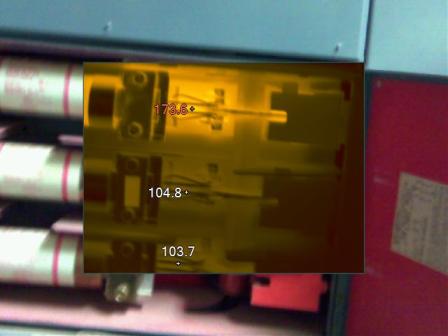 This is the same connection this year 63°F above last year and 70°F hotter than the other two. While this connection and fuse have not failed it does show an item that needs to be corrected by a licensed electrician shortly. Out of 100+ panels, 1000's of fuses we narrowed it down to 4 items that require an electrician to check out. Can you imagine all the time & effort it would take an electrician to go through and check for scoring and that the proper torque was applied to all those items? (Yes folks, torque is important, because if an item is over-tightened, it can damage the connector causing similar issues as one not tightened enough)
The other nice item about having access to all the pictures, is if this one would have been similar to last year's we would know that it wasn't a mechanical connection problem, it maybe a phase issue or just a plain circuit that was pulling more power than the others.