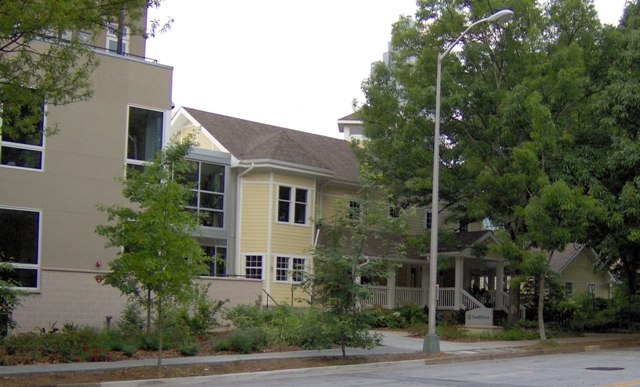 Yes folks, I know it's only Day 5, but I am going to combine tomorrows post into todays. I am going to do this for a few reasons; Number 1 tomorrow is the final test day, and that is all we will be working on. Number 2, there are a few updates on the RRP front that I need to look into before posting about them. Number 3, the day starts early and will involve a fair amount of travel, which will probably preclude any posts being made.
So let's work backwards, Day 6 will start in the field at 7:00 AM – ouch, guess I will be waking up earlier. This will be followed up with our two final tests. We will have two hours to take an online test consisting of 50 questions, followed up by us turning in our final field rating. I am personally not worried about either of them, unless I do something stupid like multiplying or dividing by 100 when it should be 10. Ok I am now knocking on the wood desk…
Today, we mostly worked with the RESNET program followed up by tests on the blower door & duct blaster systems. I easily aced them, once I corrected a small division problem… Lighting doesn't strike twice, does it? For those of us that completed our first field rating in the program, we were able to turn them in also. The nice thing about today was that the first field rating could be done in groups, so a few of us were able to help others out with program and answering questions. I have always found that by helping others, that seems to help me remember those items later on down the line. Now if I could just remember people's names a little better, that would be golden.
I was actually surprised at how well the test house did. It scored a 133, which means that if that exact house were built today to codes (a 100); the rated houses utility usage exceeds it by only 33%. Compared to some of the older houses out there, that is not bad at all. Some of the older houses easily score in the 180's and up.
For a new construction exercise we did today, we used the existing plans and test results from a model house to do the rating. Oops, this house did not even meet the current codes (a 111) and we were tasked as a group to bring it down to ENERGY STAR® Standards (85) or better. We were not allowed to change the 2×4 framing, fiberglass insulation in the walls, and it had to work based on any orientation. For less than $6000 we easily accomplished this (82) using a combination of improved installations (air sealing & insulation installation), improved HVAC, windows, water heater and a few other items.  One of the other nice things while doing this is we were able to reduce the size of the HVAC system from a 4 ton unit to a 2.5 ton unit, which would still outperform the larger units.
On the flip side, if we were to take the Model house, and tried to meet those standards it would definitely cost some more money. While we could replace the HVAC, windows, water heater, etc… that would barely get us half way there and we are talking about replacement costs, not upgrade costs. While we could do some air sealing work, and improve not only the duct sealing work but also the duct insulation for around $1000, we still have a problem with the improper installations of the air barrier, and the wall insulation.  The only way to correct either of those is to go in from the outside or inside of the house. While there are options available on that last area, if you are getting a new house built, it really pays, to make sure it is built properly.
I hope you all enjoyed this series on my training at Southface for the HERS RESNET class. Next week, I will be attending the BPI Building Analyst Class in Trenton, NJ and blogging about it also. (Both of the Atlanta classes were canceled, so I have a log drive in front of me…) I hope that this might help some of you interested in this field, understand not only the differences between the two systems, but the pros and cons of each.