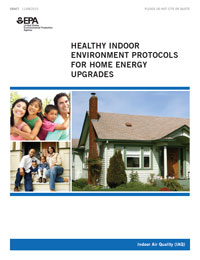 In case you missed it, last week VP Biden announced the new Recovery through Retrofit program. In it there was four main items that were all wrapped together. A new Home Energy Scoring Tool, Financing, DOE's Retrofit guidelines, and an often-overlooked one: The EPA's "Healthy Indoor Environment Protocols for Home Energy upgrades" Seeing that the deadline for responding is the shortest (i.e. December 9th) I thought we would tackle that one first.
As a reminder: The stated goals & 22 page draft are open for public comment until December 9th by using the appropriate Comment Form and either emailing it to [email protected]  or by faxing it to (202) 566-1741 (Attn: Docket ID No. EPA-HQ-OAR-2010-0712)
Way to go EPA:
No, I am not being sarcastic, they did a fine job at putting this one together and quite honestly I am surprised at how well written this document is, for example including OSHA  other affected parties in the writing of this. I for one am glad to see them starting to tie their Indoor airPLUS® program (for new homes) and knowledge into the retrofit market. (Full disclosure: we are an Indoor airPLUS verifier) In the entire document, I only spotted two small issues that we will get to after we explain their reasoning & how they created the document.
The Reasoning:
"There is also the potential for home energy retrofit activities to negatively impact indoor air quality and public health – if the appropriate home assessment is not made before work begins and issues that may impact indoor air quality are not appropriately addressed. These protocols provide guidance for conducting such home assessments and also provide the specific responses necessary to maintain or improve health and safety in conjunction with energy efficiency retrofits or other remodeling activities.
The Breakdown:
This document contains 4 main columns; Priority Issue, Assessment Protocols, Minimum & Expanded Actions.
The Priority Issues are broken into 4 main groups

Containment Sources of Concern – Asbestos, Smokers, the Garage, Lead (RRP), Moisture (Mold, Mildew), Ozone, Pests (Not your relatives – mice, squirrels, insects, etc…), Radon, other Belowground Contaminants
Emerging Issues – PCBs, Drywall (Chinese), Spraying Foam in an occupied dwelling
Critical Building Systems – Combustion Safety, Exhaust Vents, Whole House Ventilation
Safety – Home, Occupant & Worker Safety

Assessment protocols – list the standards & means of checking to see if any of the priority issues above are an issue
Minimum Actions – this is the EPA's recommended minimum standard to address any priority issues found
Expanded Actions – these are additional items that they do recommend be completed
The two issues:
As shown in our Public Comment (PDF file) there are only two minor issues I spotted; listing wrong or non-existent BPI standards in at least 1 Assessment Protocol & one issue with the recommended "minimum action"
Priority: Vented Appliances & others – unfortunately they list a 2009 standard which is not on BPI's site, point to one that is going away, and missed the required information is on the "Gold Sheet"

Currently the BPI CAZ testing is based on a 2005 standard
There is a 2010 BPI-101 standard awaiting approval that contains the actual Section 7 they mention
Referenced venting specs is pointing to the 2005 specs, while it should point to the appropriate Gold Sheet

Priority: Pests – Minimum Action is "Alert owner of any termite infestations and inform of the need to seek assistance from an IPM Greenpro or Green Shield certified professional."

Seriously? IPM Greenpro only has 99 members & not every state has a professional & the Greenshield program only covers 19 states
The standard needs to be changed to read "seek assistance from a licensed and qualified exterminator"
While we have done our own review, we encourage you to look into & leave any applicable comments if you happen to spot an issue: The stated goals & 22 page draft are open for public comment until December 9th by using the appropriate Comment Form and either emailing it to [email protected]  or by faxing it to (202) 566-1741 (Attn: Docket ID No. EPA-HQ-OAR-2010-0712)
Our next article covering the Workforce Guidelines should be out hopefully in early December and we wish everyone a Happy Thanksgiving