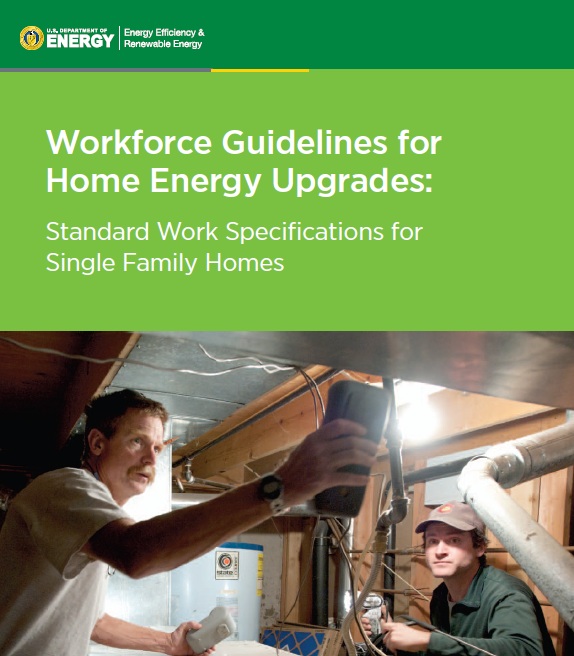 Welcome to the largest topical section of the National Retrofit Workforce Guidelines (oops it is the second – sorry), weighing in at 74 pages (by contrast the entire Mechanical Codes that apply to this, HVAC, etc… found in the IRC comes in at 38 pages). In case you don't know why we are doing this "Clif Notes" version, the email, reasons, the actual document & additional articles on this program can be found here (NRRG – Round 2)
HTRC Series: Combustion Safety, Ventilation, Air Sealing, Heating & Cooling, Insulation, Crawl Space & Basements, Base-Load aka Appliances & Lighting.
Before we get to the Clif Notes portion, two quick thoughts leapt to mind; the first is while I am glad they did combine the "safety protocols" all together, is there a reason we burn through so many pages for the Table of Contents? At the very beginning we have a condensed & detailed version, followed by every section & topic repeating the detailed portion which easily ate up 7+ pages for nothing in just this section alone.
The second on quite simply is – for a guideline designed for Weatherization, Energy Efficiency – aka Retrofitting work, I still have no clue what your standard or guidelines are for. This was made abundantly clear as I went through these topics below; does this apply to only new work or existing? Basically we are still left with one of my first issues I have talked about before, you are trying to reinvent the whole wheel – whereas all you really need to do is maybe add some air and polish the rims up some. Seriously what is wrong with saying all new work must meet the code set out in the ICC Mechanical code chapters 12 – 24 for all new work, and items being modified. If addition, any exhaust fans found need to be vented outside….
Topic: Exhaust (4.2 – 4.12)
4.2.1 Ducts Design & Configuration

Shall be as straight as possible – agreed
Fully extended – seeing they are talking about hard ducts at this moment, I really do wonder
Shortest run possible – agreed
Have no more than one elbow at a maximum of 90° – seriously, one can't use 2 – 45's to get over or around an obstruction and get back to a straight line?
Duct Diameter WILL BE equal to or GREATER than the exhaust outlet – really, most outlets are designed for a slightly SMALLER duct to slide into them which will not impeded the exhaust
No more than 2' of flexible duct maybe used for tight spaces and to reduce noise which may explain the fully extended remark, but nothing about bends, compression, etc…
Alternative; scratch all the above & just run flex; as long as it is a straight run only, fully extended & sized 1.5X as large as the outlet – let me just shake my head for a bit
Amazingly – this & everyone below does not mention codes – staying X feet away from windows, gas meters, etc…

4.2.2 – .5 I don't see any issues with the insulation, support, connections, or duct material types, but I am also not a professional HVAC technician or designer which should already have thought out & spec'd.
4.3.1 – .7 Terminations, again nothing really jumps out, but as some of these "Exhaust" ducts could be for vented heaters, I am surprised that they are not mentioned nor the applicable codes
4.4 – Exhaust Grille Location

.1 Primary Whole-House Ventilation: Grille will be installed in a central location within the main body… Not only NO, but he11 no, let the HVAC designer do his job properly as that may not be the best location
.2 Spot Ventilation: Grille will be installed in the space where odors or moisture vapor are generated – A specialized & dedicated exhaust fan should be in those areas –not any other type of exhaust grill unless the system can handle those materials

4.5 – Surface Mounted Ducted (I don't know why they can't say fart fan or bathroom exhaust fan)

4.5.3: Fan outlet WILL BE orientated toward the final termination location… – folks not only is that not always practical, but with 4.2.1 where you are only allowed 1 elbow you have just relegated everyone to kinked up oversized flexible duct.
4.5.4: Backdraft damper, a backdraft damper WILL BE installed between the outlet side of the fan & the exterior – hmmm, most fans already have that built in, but hey whats another damper?
4.5.5: – seriously if you are going to point to a detail – make sure it exists & while we are on the subject, if you are going to reference a standard or something in the guide, please link to it

4.6 – Inline Fan (basically a bathroom fan where the fan is located in the duct run or at the exhaust location)

I don't see any major issues in this with the exception of the missing detail & backdraft damper being listed again (see 4.5.4 & .5 above)
I also don't understand what is meant by "4.6.3 Fan will be installed remotely by installing ducting from intake grille"

4.7 – Through the Wall Fan

4.7.1: a hole no larger than 1/8" will be cut… – nice try as a through the wall fan could be for a kitchen exhaust & you need to follow the manufacturer's directions
4.7.7: all components outside the thermal envelope must be insulated to R8 or equivalent local codes – wow that's the first they have mentioned codes, and while there is an exception for "continuously operated" fans, I see a few issue there & do not for a second believe it "preserves the integrity of the duct system"
4.7.8: Leakage to the house from other spaces will be prevented (e.g., garages, unconditioned crawl spaces, unconditioned attics) – um, yeah – that is only important now, and does this mean no air leaks anywhere in those spaces/

4.8 – Multi-Port Systems (ERV, HRV, Multiple bathrooms connected to one inline fan are a few examples)

4.8.3: fan will be orientated… duct run as short as possible – nice try but there is generally one small issue that requires all the duct runs to be the same length which eliminates the main "Air Flow" issue listed in 4.8.9
4.8.7 & 4.8.10 – please see above (4.7.7 & 4.7.8 respectively)

4.9 – Garage Exhaust Fans

4.9.1 – intermittent & 100 CFM per vehicle bay per day (listed req)
4.9.2: Air leakage between the house and garages will be prevented by sealing and weather-stripping – what does this have to do with the fan install? If you are going to do this you might want to mention that you need an exterior rated door installed between the house & garage, etc…
Interesting there is nothing about using a licensed electrician (first time), location, code requirements (I know why start now), and the list goes on

4.10 – Dryer Vent

4.10.1- at 35' of "equivalent duct length" you need to install a booster fan, unfortunately they do not give you the means to determine that or the applicable standard – as I recall each 90 elbow equates to 5' of run /// same non-existent diagram is called for
4.10.3 – specific call out for bringing in 200 CFM of air will be provided
4.10.5 – "Occupant Education – consumer will be instructed to keep lint filter & termination point clean"

4.11 – Kitchen Range Exhaust Fan (Very nice to actually see this)

4.11.2 – all kitchen range fans must vent outdoors (i.e. no more recirculating units)
4.11.5 – make up air must be provided if the unit is rated @ 200 CFM or more
4.11.6 – "Occupant education – consumer will be instructed to keep grease filters & termination point clean"

4.12 – Regional Considerations (they break it down to 4 types & special notes – to bad they don't refer to the codes as all this is covered…)
Topic: Supply (4.13 – 4.18)
4.13 – Supply Register Location (counterpart is 4.4 & here we go again)

4.13.1: Primary whole house supply register will be installed in high-occupancy rooms or rooms used for sleeping… hmm let me re-iterate… Not only NO, but he11 no, let the HVAC designer do his job properly as that may not be the best location
4.13.2: Spot make-up Supply register will be installed in the room containing an exhaust device that exceeds 200 CFM of air flow – again, this may not be the best location or how to handle the situation, while I am not arguing that make-up air needs to be supplied, tieing ones hands on the best placement is not the way to do it

4.14 – Supply Intake

4.14.2 – Intake fitting will have integrated collar & be regional appropriate based on weather conditions & locations —- Amen
4.14.4 – at least they label it Damper (if applicable) because not every piece of equipment needs one & one might run into issues with the damper will close when system is off
4.14.8 – Intake location, seriously it needs to be written more like 14.2, and don't forget the locations you left on the exhaust grills above (4.2.1 – very bottom comment)

4.15 – Duct Design (very similar to 4.2)
4.16 – Intake to Forced Air System

4.16.1 – Duct leakage test should be at 10% or less of the air handler flow @ 25 PA – so on the return side only, 200 CFM of leakage is acceptable on a 5 ton system? Funny I don't recall seeing anything for the actual supply ducts to the house
4.16.3: Motorized damper & switch will be accessible for maintenance – sure it is, just climb through the attic, take a right at Albuquerque, or was that a left?
4.16.6 – this will send a few HVAC guys I know into a tizzy – MERV 11 filters or better need to be installed
Interestingly, no mention of Static pressure tests, Manual T or D, and the list keeps growing

4.17 – Inline or Multi-Port Supply

Hmm, not sure how I missed this the first time but we now have a major issue now as they are requiring the same items as listed in 4.8 & many of the ports on an ERV or HRV are on the same side, require specific clearance from each other
4.17.6 – MERV 11 filter again…

4.18 – Regional Considerations – this time they left the Mixed humid one out – but same issue as above
Topic: Whole House Ventilation (4.19 – 4.26)
4.19 (.1 – .3) Air Flow / Ventilation requirements – what a mess & that is putting it mildly, while I am glad to see them using the 7.5+1 system, saying all baths require either a 10 or 20 / 50 CFM is an utter joke (and don't get me started on the 100 CFM for kitchens & nothing for fireplaces) – does the bath have a steam shower, how large is the bath, what is the purpose of the bath are three major questions that have to be answered before spec'ing out a fan — Folks this is why you hire a professional that knows what is needed & why
4.20: Balancing Pressure (Jumper ducts, transfer grills, Indiv. Return Grills, Undercutting doors) must be utilized to maintain a +/- of 3 Pa. with the doors shut &unit running – very nice to see
4.21: Controls – I got nothing to really add to that
4.22: ERV & HRV installation (first thought was, you have already covered this & yes the bulk f it was covered above)

4.22.2: Access (everything) must be accessible for maintenance – well I am sure it will be as that is such a vague description
4.22.7: Exhaust air will not be taken from the forced air system – while I do not have a full argument against that, I really have to ask why not as the ERV / HRV will take that air & temper it against the air coming in (Granted this is for HVAC connected systems only – not stand-alone which I prefer)

4.23: Stand-alone (dehumidifiers) – I got nothing to add to it, with maybe a question on using threaded connections for the condensate line
4.24: Ventilator dehumidifier (pulling outdoor air in) – seriously?
4.25: Regional Considerations – (ok, that is truly a mess )
4.26: Sound Considerations (shouldn't this have been in front of the regional considerations?) – in short you are allowed to have no more than 40 DB of sound from the unit within "5' of any grill", 50 DB for a bath fan, and 60 DB for the kitchen fan.