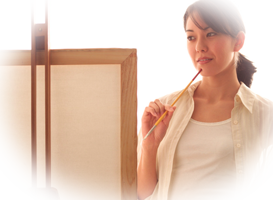 For many people, when one starts looking at completing a "small" remodel or addition, the question arises, whom should I bring in? Do I really need a designer, an architect, a general contractor, or… Does anyone want to guess what many of those parties will say if you ask them if you should use their services, and if they need the other ones? While there are many considerations, including what your definition of small is, I want to just focus on one item that may help start narrowing the field and happens to be the topic of this week's "Let's Blog Off."
This week's Let's Blog Off is about "How do you define creativity? Is creativity the balance between imagination and talent that bring ideas to life? Is creativity a true differentiator though? Do you believe that "uncreatives" exist, or do you believe all of us have a spark of it on some level?" As is our custom, we will include a list of all those participating at the end of this article (many of whom are not only creative wordsmiths but architects and designers that excel in their own fields), and I highly encourage you to check them out.

While each field has its own savants, good apples, rotten fruit, etc… most of this article is based on the generalities of each field and the good apples aka professionals. In most cases for one to succeed in any of these businesses, you have to be creative, have some talent, and use your imagination. Now based on the needs of your project and the type of creativity you require for it can be used as a great starting point for finding the right people. Why, well that is because each field has its own special "creativity" requirement.
Creativity:
So what is creativity? At its essence, creativity is the ability for an individual or a group to create something new that has some kind of value.
General Contractors:
General contractors are pretty well known for taking a drawing and turning it into reality, managing multiple trades and finding solutions when the unexpected shows up. For those that work in older houses, the challenge to make something look right, when nothing is plumb, true, level, or straight is where many of us get to shine. In many cases, a General Contractor can draw up project documents for most basic remodels and additions, but a good one will recognize or know when you need to contact an architect or designer.
Architects:
While many think architects only work on new properties or full remodels only, that couldn't be farther from the truth. In many cases an architect should be consulted or utilized when one wants to change the look of the exterior, traffic patterns inside a house, or adding a large addition. Architects are known for creating what many call Blueprints where every detail of the structure & it's components is shown. To illustrate what should be considered & the details an architect should get into, we would love to point you to this article by Bob Borson of Texas & just one his detail sections utilized in this article. (Thanks Bob for allowing us to use the picture)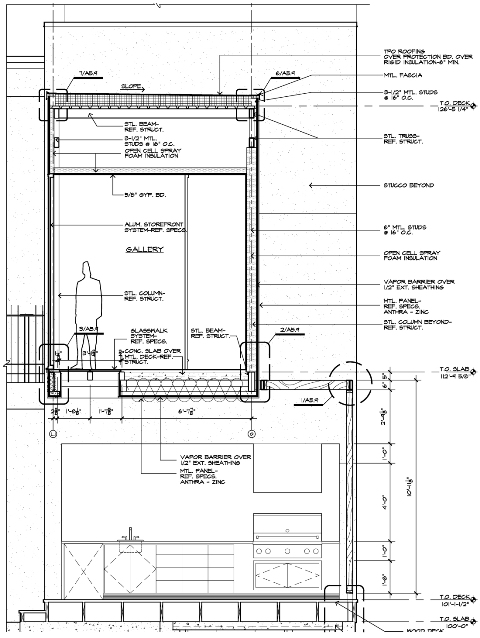 Ahhh, the fun part – should you let an architect GC or "run" your project. In many cases, I would urge some caution. While an individual maybe a great architect & draw the best blueprints around, it doesn't mean that they can successfully manage a project. With that said, I have worked on some great projects where the architect was running it, and many where we were collaborating on the project.
Designers:
Wow, talk about a range of titles with six of the most common ones being; Interior, Lighting, Landscape, Kitchen, Bath, and even Commercial Spaces Designer. While this is one of the most maligned groups out there, it really is too bad in most cases as they have a great way of tying colors, textures, and many other items together to make a space fit not only the house but also the family living or entertaining there. I think one of my favorite posts & pictures that exemplify this was done by Cheryl Kees Clendenon of Florida, as I really can't see many architects or GC's that would ever have come up with this solution. (Thanks Cheryl for allowing us to use this picture)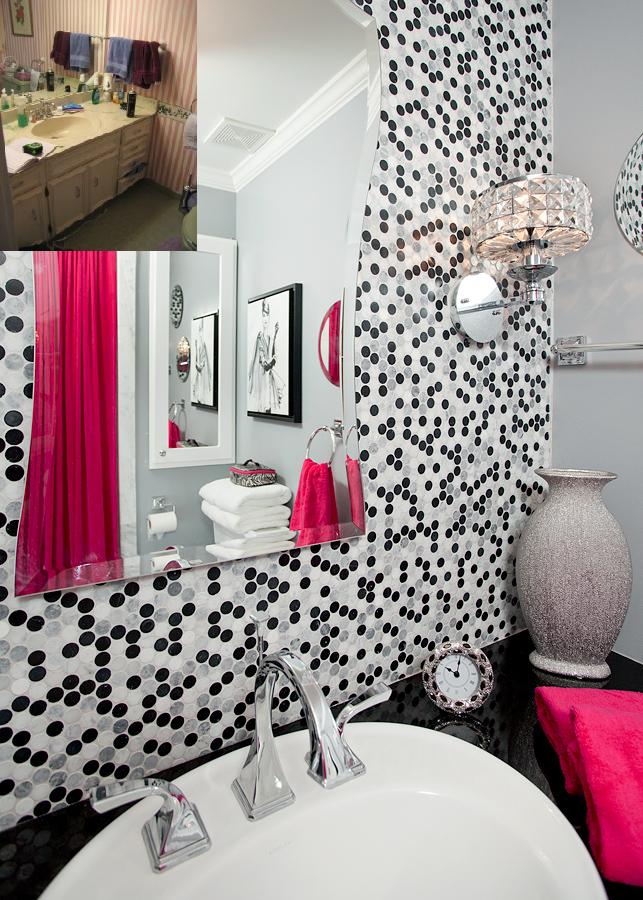 While many people will quickly assume a designer should never run a project, I would have to fall back on a familiar line of "never say never" with the same stipulations as above. While I have not worked on any projects where the designer is the lead, I could see some of them successfully being able to pull it off.
In closing, I would like to reiterate, this is just one factor to start considering when you are looking for someone to get your project from just a thought, to reality. In many cases, you could benefit from at least two, if not all three groups working together from the start, while in others, one party maybe more than adequate for your needs.