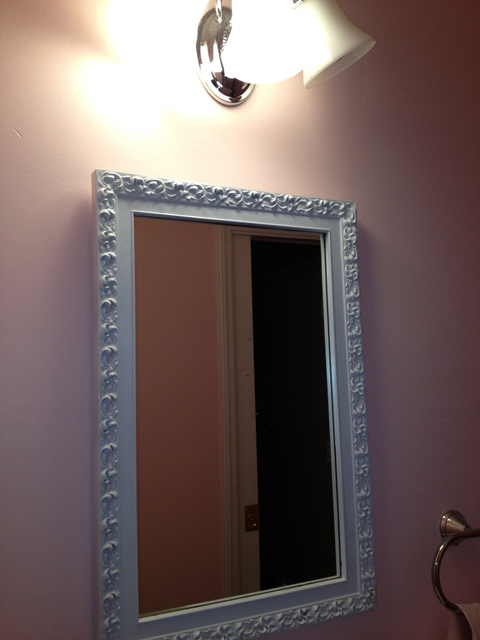 Just as a reminder, this is the second part of a guest piece by Jay Preston on: A contractor's oversight turns into my first big project? When we left off last week, the dreaded while we are it disease kicked in & besides rerunning the vent line, he had also decided to swap out a regular door with a pocket one. So with no further ado …
So I got to replace the vent, install a pocket door and of course finish the new drywall…  Okay, not too bad as far as projects go.  Although I had never installed a pocket door, I felt like it would be a fairly easy project.  But wait, it is an old bathroom; I'm going to replace a couple of things anyway, so why not replace the toilet and sink while I was at it?  Oh, and of course the light fixtures and the exhaust fan makes a funny sound, so that should be taken care of as well.  The floor was a little uneven as well, so pulling up the old linoleum should be added to the list and I will install some tile. Its funny how one thing leads to another like that and my weekend project just turned into a multiple weekend project.
Getting started:
So I tore out the drywall, gutted the bathroom and installed the new ductwork that I had already bought, ran it across the ceiling. Pretty straight forward, and I am still not sure why the contractor hadn't done it that way in the first place.  Now I went to the home improvement store and picked out the pocket door, a new toilet and sink and the other fixtures that I needed and some drywall supplies.  Loaded down in the minivan, I felt like I had the project under control.
Before the drywall:
I installed the new exhaust fan and all of the wiring that needed to be replaced, including replacing the old outlet with a new GFCI outlet next to where the sink would eventually be installed.  I next installed the pocket door, which had a thicker book of instructions than I would have imagined, but I was ultimately successful.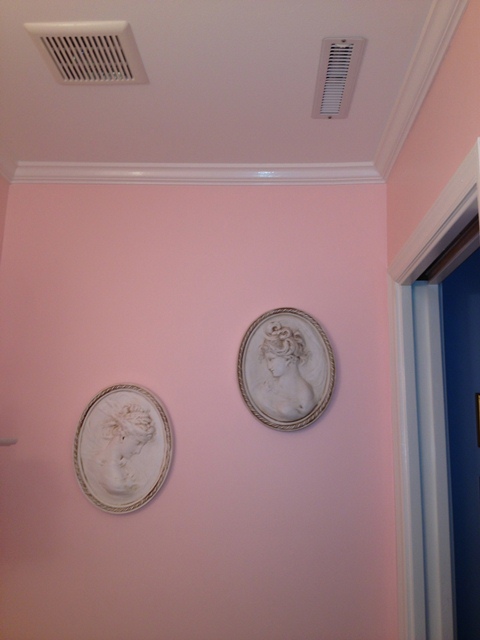 Whether he knew he had to do this because of pulling a permit or not, I am glad to see he did install a GFCI outlet. As this all got started because of one vent, I would be remiss in not bringing up another ventilation issue… Per M1507 – Exhaust air from bathrooms and toilet rooms shall be exhausted directly to the outdoors. Exhaust air from bathrooms and toilet rooms shall not discharge into an attic, crawl space or other areas inside the building. Not only does this take care of the smell issue but also helps eliminate moisture issues.
The finishes
Next, I hung all new drywall on the walls and the ceiling and finished it over the next couple of weekends. Drywall is not my favorite project I have learned. The bathroom is small, so it wasn't too bad and I got through that part of the project.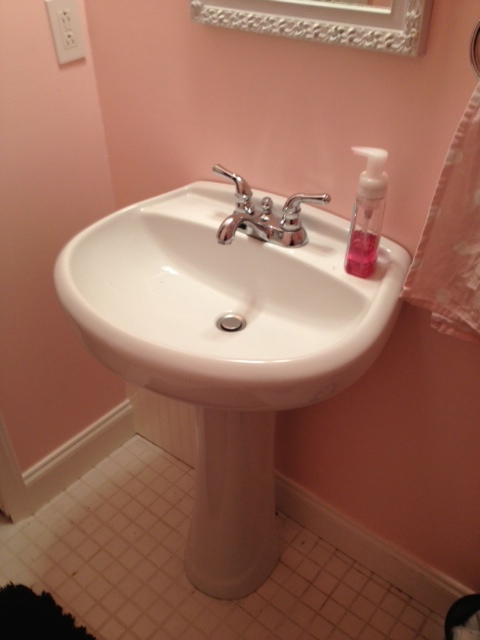 Is my bathroom large enough? Per 307.1 the minimum width a 1/2 bath can be is 5' which includes 30" for a sink & 30" for the toilet. The minimum width is determined by the fixtures you choose as you must have 21" from the lip of the toilet & 21" from the sink edge to meet codes – as most toilets run 28" you are looking at a minimum depth of 49" but you should count on 50" just in case the wall finishes intrude just a little..
After leveling the floor, the tile went down next. We went with a simple 2"x2" tile, in 12"x12" squares. The nice thing about the small squares is that you just have to snip the joints in order to make the pieces fit, you don't even need a tile saw. The bad thing about this kind of tile is that you have a lot of grouting to do. Again, lesson learned. The toilet and pedestal sink went in last and fit the room well. We finished it off with a nice pink paint color on the wall and crown molding.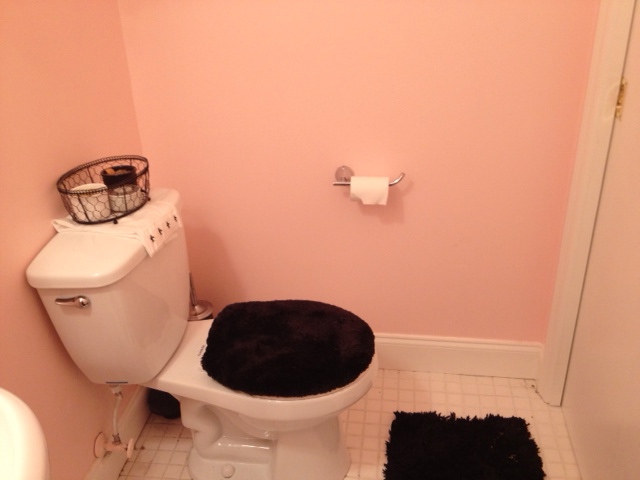 Just as a reminder, make sure when you do use tiles that small you need to use an un-sanded grout which makes it easier to fill the grout lines. As for the amount of grout lines & cleaning…
The Result:
The space is much nicer than it was, and doing all of the work myself, I really saved some money.  I even reused the existing gold framed mirror by just painting it white to match and re-hanging it above the sink.  My total out of pocket expense was around $600. Although the project was not planned and I hadn't done most of this kind of work before, I was very pleased with the results. Now the question remains, now that the bathroom is done, what should I do about that hole in the ceiling back in the den?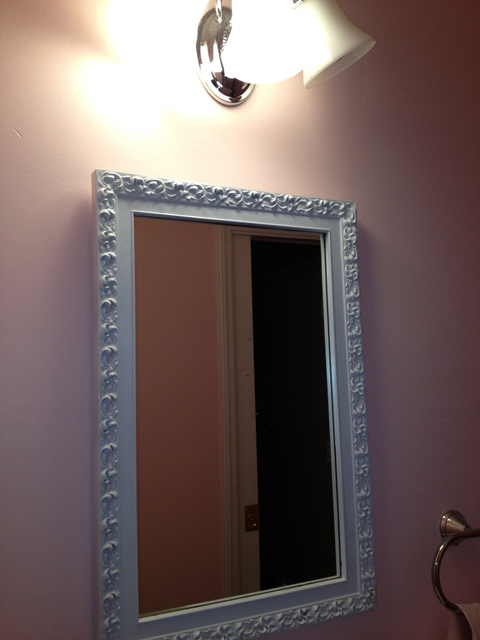 Oh the dreaded, I just did my bathroom for only $600, (or I saw this project on…) which is the bane of many contractors… Well that $600 is probably also going to be the same amount a contractor would spend on materials, which means that the rest of the cost is essentially labor (plus OH&P). This leads us to one question to consider and that is just how much is your time worth, not including the disruptions caused by doing this over several weekends instead of having this dealt with in a week or less?All told I have nothing against people doing the work themselves (and Jay did a pretty good job) but just urge them to consider all that is involved first. If you think you have what it takes, take a few minutes and answer these simple 17 questions which can help you make sure your project comes out a success.
Once again I would like to thank Jay Preston for not only sharing his project, trials & tribulations he endured but also for allowing us to his project to help draw a few lessons out as it relates to industry standards & codes. When he is not busy working on his house or spending time with his family, you can find him at his day job where he works as a blogger and Brand Manager for ToolHQ "Australia's leading online tool supplier".