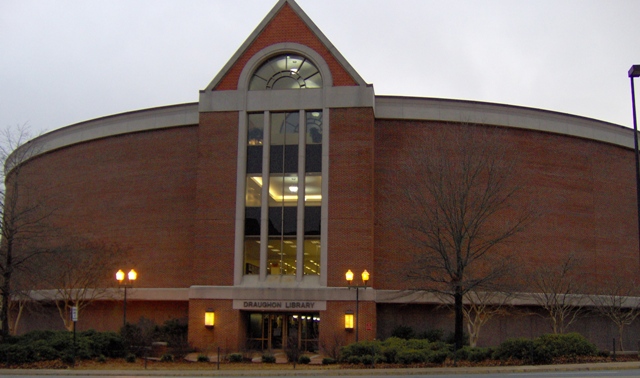 Talk about flying, whereas yesterday we only covered three chapters, we knocked out five of them today and finished early. The bulk of these chapters all dealt with the Heating and Cooling of the building, with a crash course on motors and drives thrown in the middle. As a quick FYI – the picture above is the Draughon library located just across the street from the hotel.
I think one item I like the best about this course and the instructor, is they do not try acting like this is all you need to know, but state that in numerous area's – this table is for rough estimates, make sure X is performed by a qualified professional. It's to bad other organizations cough-BPI-cough cannot figure that out. Alas, this is supposed to be about the training, so here we go.
Today we started on Commercial Air Cooling systems, including evaporative coolers. We covered the normal terms & formulas for SEER, EER, COP including approx. cooling loads based on the type of building. We covered the refrigeration cycle, basic operation, the components including the different types of compressors, and finished it off with Cooling Towers & Chillers.
After finishing off the Cooling system, I think you can figure out what is next – yep, commercial heating systems.   We started off by reviewing a revised conversion chart that included coal, wood & steam to the mix. We covered the many different types of boilers, distribution systems, furnaces, zonal and radiant heaters. We finished this off with a few fun exercises on figuring out the size of units & approx costs for different types of heating systems.  
After a lunch of tacos, fajitas & tamales, we moved into a quick review of a chart with 35 different types of electric motors that one might run across. With that out of the way, we moved on to the one type used 85% the time, which is the 3 Phase AC Induction, motor. We went through the basic components, calculating speed, the load, efficiency, and ways of calculating improvements. One of the key points stressed, was a slight smack leveled at a few sales representatives – if the load does not vary, replacing a motor with a variable speed motor will not save money.
Next, we covered Heat Pumps & Geothermal systems. This was quickly followed up by a review of the ventilation systems and the big differences between a residential design and the commercial side. Unfortunately, while the homework load was light yesterday, they decided to up the ante tonight so I need to go crack the books & get it knocked out.