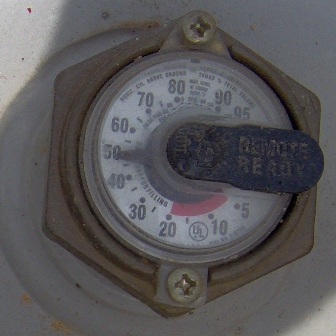 In our continuing series on reading your actually going to combine meters, we are running through the four main types of meters in use today (Water, Gas, Propane, and Electric) along with a few helpful tips for possibly troubleshooting that dreaded "this just can't be right…" Generally, if you live in a very rural area you will not have access to Natural Gas so you are left with two options for heating and cooking appliances; going all electric or installing a Propane Tank.
Unlike most other utilities, the bulk of the installed units do not have a meter that tells you how much you used, but instead it tells you how much is left in the tank. The reason for this is actually two fold; most companies don't care how much you used as they simply fill the tank up when you call & secondly it is to help prevent issues with the system if you run out.  
The Gauge & Capacity:
Talk about simple, it is a round gauge with big black numbers and a needle that tells you the percentage of gas left in the tank. The red area is to signify that you should call to have your tank filled up. As you can tell by the picture above, the tank is half-full. Now just because it reads half-full, does not mean that I have burnt up half the fuel in the tank. Due to the nature of propane, it expands & contracts based on the weather, so it is very rare that they will fill it up past the 80% mark to prevent any leakage or catastrophic failures.   
Figuring Usage:
Trying to figure your daily usage for most residential places will be hard as you may not utilize that much during certain parts of the year, and because of the expansion & contraction issues. In most cases, I would simply recommend checking it weekly for tracking your usage. In order to track your usage, there is a simple formula to convert what is left into gallons. It is;
TANK SIZE times %LEFT = GALLONS LEFT (In the case above 350 X .5 = 175)
So since our last fill up (we have a 325 gallon tank which holds 280 gallons @ 80%) we have used 105 gallons total of propane (280 – 175 = 105)
What happens if I run out?
Unless you are on a monthly fill plan, you have to call in when you are running low. They always seem to ask the same two questions each time, have you run out of gas & if not what is the percentage remaining? The reason they ask about the percentage remaining is to make sure anyone running dangerously low is bumped up the list, and topped off ASAP.  
The main reason this matters is that when the propane tank contains gas and everything is working normally, there is pressure in the tank and in the lines. These lines are joined together by a series of threaded fittings treated with a special pipe joint compound that helps prevent the propane from leaking out. Unfortunately over time, this compound starts to dry out and if the pressure is removed from the line, it can allow a gap to open up, which in turn allows propane gas to start leaking out. When this happens, they are required to do a Gas Leak Test to verify that there are no issues.
Propane Odor & Detectors:
In many RV's & campers (DOT Regulation?), you may notice a detector mounted low to the ground. This is a propane detector, which is used of course to help detect the presence of any propane (propane is heavier than air so it sinks). Just like Natural Gas, Propane in its natural form is colorless & odorless, so an odorant is added to it by the manufacture. Unfortunately, unlike Natural Gas, Propane can be stored for lengthy periods in tanks that may contain rust, water, or other containments that will actually neutralize the odor. While there are no current regulations requiring them in houses, they are recommended especially if one might have an issue smelling it.  
I might have a leak:
As mentioned above, propane is naturally odorless so the propane companies add an odorant to help people know that they have a leak. If you are just catching a slight whiff of it, you should check to make sure all the oven burners are off, and pilot lights are still lit (please see below). If the smell is overwhelming, go outside (leaving the doors open), turn the valve off on the tank, grab the propane companies number from said tank & call them immediately from a neighbor's house – if the number is unavailable then you should call the fire department.   
If a pilot light is out, shut the supply off for at least 5 minutes & let the place air out as you have no way of knowing how much gas has leaked

If the odor does go away & you feel comfortable with the directions posted on the appliance, relight it
If the odor does not go away, or you feel uncomfortable, please call your propane company who will generally be glad to come out
A word of caution:
Each year all propane-fired appliances and the venting associated with it, should undergo a yearly inspection and tune up by a licensed and knowledgeable HVAC contractor certified by the NCI or similar organization. While we feel that all houses should have a carbon monoxide detector in them, it is important that any house with a propane-fired appliance have at least one operable one in them.
 Additional Info & Websites: