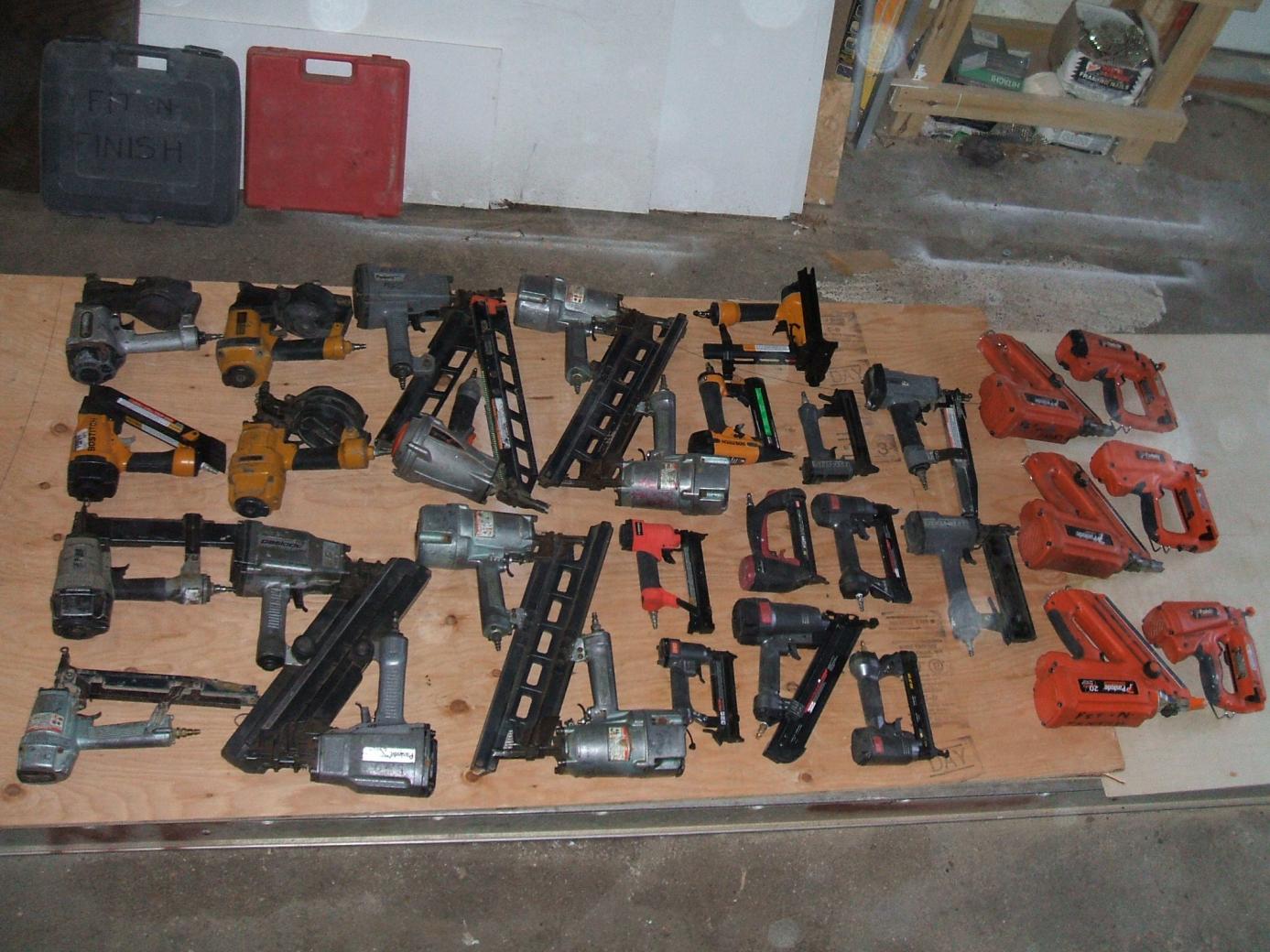 This last week, the alphabet soup of worker safety (NIOSH, OSHA, CDC, DOL, & DHHS) put out a new brochure on Nail Gun Safety . Overall they did a real nice job, especially describing the difference between the firing mechanisms, and an extensive list of do's & don'ts. One of the most interesting items I saw, was a study they did of the union shops & their apprentices; where 40% were injured using a nail gun during their 4 years of training, of those 20% were injured twice and an additional 10% were injured three or more times.
Based on this same study, over 50% of the reported nail gun injuries were to the hand and fingers, 25% of those hand injuries involved structural damage to tendons, joints, nerves, and bones. After that the next most often cited injuries occurred to the leg, knee, thigh, foot, and toe areas. While I have not seen a study for non-union shops, I would surmise that the overall rates would probably be lower, whereas the affected body parts would probably remain about the same. So in that light, here are the top ten safety rules for using any air driven nailer, stapler, or other such device.
The most important rule – wear safety glasses. Little pieces of plastic or fasteners are ejected with great force & all it takes is one little piece to ruin your site. Even the release of air pressure when the tool is disconnected can cause dirt, oil, or water to blast up at you.
…. Just like a firearm, a nailer is very similar; do not put your finger on the trigger until you are ready to shoot. Make sure of what is behind your target. If you are nailing off the sheathing on a second floor, you do not want somebody working below as the nail could miss the joist &/or blow threw the material. Never point it at someone or yourself, you might not like the consequence if it accidently goes off. (Sorry but credit for the picture is an unknown)
If this is your first time, or it has been a while – read the user's manual to learn how to operate and maintain the tool safely. Not only is this extremely important, but it also contains info on the settings (depth of drive, switching to different triggering types, maintenance required, troubleshooting, and maximum CFM requirements so the tool doesn't blow up in your hands) & for those nail guns that have multiple trigger settings, how to set them.
Examine the tool & compressor before use, making sure they are not only in proper working condition, but that the CFM setting is correct (see above). Add oil to the tool or compressor as required before starting the day – forgetting to do so can lead to problems with the nailer.
Do not modify the safety settings by disabling them.
Check lumber surfaces before nailing, looking for knots, nails, straps, hangers, etc… these can cause the nail to ricochet, wrap back at you, or cause a bigger recoil making you lose your balance.
When using the nailer, you should keep your hands at least 6 inches or more away from the nailing point – while it is common to use your hands to help hold the two pieces just right, using a clamp is a better option.
Like firearms, each nailer has its own recoil which can be just enough to knock one off balance if you are stretched out or on a ladder. Another area to be careful of is in enclosed spaces, so while you should keep your hands 6" away, all parts of your body should be at least 12" away from any part of the gun.
Put the muzzle of the tool firmly against the work piece when firing. If a blockage occurs, or you need to make an adjustment disconnect the tool before trying to correct or adjust the problem.
Use the nails / staples / brads designed for the nailer – trying to jury rig, or using the improper type can lead to more than a higher amount of misfires or jams.
Bonus Tip: The Air Hose
The air hose is the lifeblood of the nailer; do not carry the tool by the hose, do not yank on it trying to get it past an obstruction; and be careful of what is near or by the hose so you don't knock something over, trip someone, fall, etc… When disconnecting the hose, make sure you have a firm grasp on both the nailer & the hose connector.
The Picture:
I would like to thank Riz aka the LoneFramer for allowing us to use the photo of his "small collection of nailers." While I occasionally like to give him grief for all the photos he posts of his work, I would have to say I don't blame him in the least for showing off his mad skills. If I had a project up in his neck of the woods, nobody else need apply, as he would be my first choice for the rough & finish carpentry.