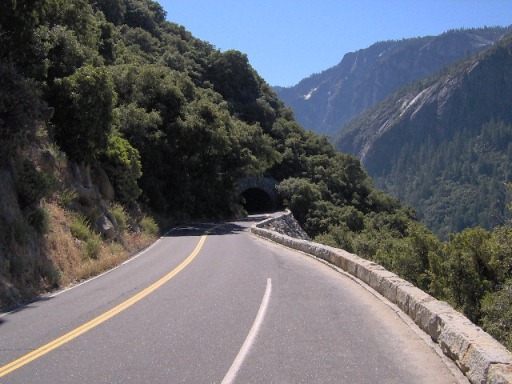 As the Star Trek transporter still has not been invented, many vacationing families & others start looking to RV's due to their many benefits. Can one say no TSA checks, bag check fees, or as many of the dreaded "are we there yet? One of the biggest questions most often asked (after the price) is what type of mileage will I get.
Unfortunately there is no good answer to that question. Not only does the EPA not require a MPG sticker on RV's or most trucks, but even if they did it would be pretty worthless. Unlike a car, these vehicles are designed to carry heavy & dynamic loads. When I had my RV, my mileage could vary by almost 6 MPG simply based on the load, the road, and how I was driving it. So with that, here are some of our tips for maximizing your mileage and vacation.
Maintenance Related:
Use the proper grade of fuel – the manufacturers will suggest the best type of fuel based not only on the engine, but also the computer programming
Speaking on manufacturer recommendations – follow the recommended maintenance schedules & check the tire pressure every day you are on the road
Weight Related:
While RV's are designed to carry some weight, they do have limits which include passengers, so be sure not to overload it. Many truck stops, repair facilities & others do have scales that you can use to check the weights.
When loading, remember to distribute it evenly (side to side & from front to back) while being mindful of appliances, passengers, or other items that maybe stacked up on just one side
Unless you are heading directly to a "dry" camping location don't fill up the fresh water tanks as each gallon of water adds 8+ pounds of weight
Certain items like firewood should be bought at the campground & not carried.
Be sure you dump & flush your grey & black water holding tanks properly before leaving for your next destination.
Driving:
A good piece to review is the "Jettisoning them bad driving habits" especially in regards to idling, starting, stopping, driving slow, and especially going with the flow.
Smooth & gentle is the name of the game for not only your mileage but for other drivers sanity; so if you happen to be on a three lane highway and can go at the speed limit, enjoy the middle lane.
Watch your temperatures – while a gas engine can generally recover from an overheat without damage, you have probably just done some real damage to a diesel
Overdrive & Cruise Control are your friends ONLY if you are on a nice flat stretch of road — beyond that neither should be on. Most truck manufacturers will tell you flat out to turn the over drive off if you are towing for good reason.
You're Route & Stay:
Check into trip planning services offered by places like Good Sam's Club which will point out & might even find better routes around trouble spots like road construction & mountainous terrain.
If your RV gets better gas mileage at lower speeds, consider enjoying the back roads as compared to the freeways.
In the summer months consider traveling earlier in the day when the weather is cooler – this helps cut down on the need to use the vehicles air conditioning.
Watch your times – nothing beats trying to drive through rush hour traffic especially when they play interstate merge & lane swaps. While some locations have great bypasses, others can cost you dearly so a little research or utilizing a trip planner is a good idea.
Don't try to cram to much in; enjoying places closer to home & enjoying longer stays will leave you feeling more refreshed & just in case you see someplace you might want to check out, you won't feel locked in by a hectic schedule
Diesel vs. Gas:
I have to admit, I like diesels for numerous reasons, even with the price of fuel going sky-high lately. Generally what you will find is that while the maintenance costs for diesel are more, they are not required as often. Diesels generally hold their value longer, have better gas mileage, and are well known for their longevity.
The biggest issue generally comes down to initial cost & you reconsidering how often & how far you will be driving it. I found this article by an R Sanity RV Adventures a good look at the different pros & cons though I would remind you that the two RV's he is comparing mileage to are vastly different.
Trailer Vs. Class A, B, C:
As for the what type of RV should I get, well that is one that I recommend you do a lot of research on as there are numerous pros & cons to both. For me I have been in and used nearly every type up there from pop-ups to Class A's. When one is looking for that home on the road feeling, Class A's take the cake. In the trailer category I would definitely look more towards a 5th wheel due to the handling characteristics. Pop-ups are a good starter for many with some being able to be towed by car. With a pop-up or regular tow behind, I would highly recommend getting a weight distributing hitch with sway control.
Misc. Thoughts:
While I skewered many of the aftermarket pieces for cars, many of the ones offered by Banks Power, Camping World, and other respectable outfits can dramatically improve the performance of your RV / tow vehicle.
Speaking of add-ons & conversion pieces – if you have a diesel engine you may consider converting it to dual-fuel use which can not only increase the mileage but power.
Before buying a used RV, make sure you Google not only the actual unit, but the engine. With so many RV'ers & engine enthusiasts out there participating on numerous forums you can get a good feel for any potential issues you might be facing.
As a Life Member of Good Sam's Club, I can definitely say it is worth it just for the gas savings, which doesn't even begin to touch on their Roadside Assistance Program, campground guide, extended warranty program, and their trip planning service.
Don't forget to checkout our RV Toolkit & Camping Checklist