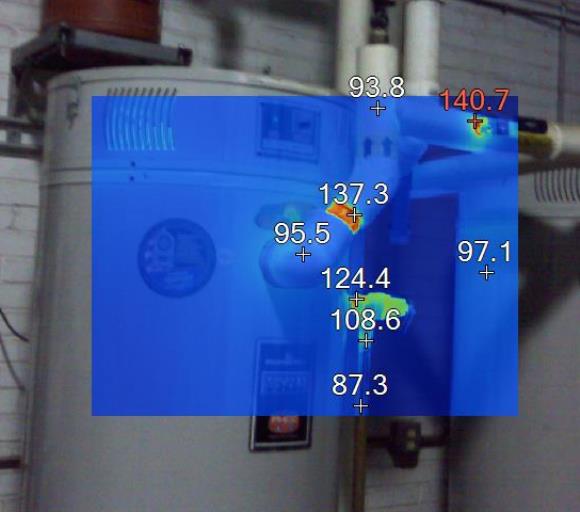 As many of you know, last week was "Fix a Leek" week which was the primary focus of KB Tribes weekly Twitter chat (Group of Kitchen & Bath designers, builders, and manufacturers). During this chat on saving water, our friends @PfisterFaucets said "In the bath or anywhere – insulate your pipes. It saves." Yep you might have guessed it; my reply to that was "I hate to say this – but no, not really…"
Needless to say this elicited some comments & questions;
@PfisterFaucets "In our experience it depends on the circumstances and equipment, but could work"
@TheDecorGirl "It depends on the situation – always do your research first…"
@cabinetmakers "Let's hear why Sean. #kbtribechat (insulate pipes or not?)"
As Twitter is not the best of mediums for in depth discussions, I simply punted & said to look for a blog article later. So keeping my word & to help clear up confusion one might run into while "researching" this…

This article was originally written back in 2013 & while the information is still accurate, times have changed. For extensive remodeling & new construction projects you are required to follow the current codes which will necessitate one to insulate one's water lines with some exceptions. The 2012 version is listed at the end of this article though you may be on a more current version. We recommend you check with your AHJ to see if your project is required to & what specifications they have adopted.
Faster Hot Water Delivery?
One of the biggest reasons used to promote insulating your lines is so that your hot water heater doesn't have to work as hard &/or the hot water will arrive at your tap faster. Well I hate to say this but someone needs to study up on hydrodynamics. In order for hot water to arrive at the tap it basically must push all the water already in the line out.
This principle is what allows for all the different types of fuel we need (cars, trucks & planes) to be delivered through a single pipeline instead of requiring multiple pipelines. For those with "instantaneous / on demand" hot water heaters, they will definitely know about this if they have ever had the dreaded cold water slug. If you really want water to arrive faster (without wasting it) you either need to shorten the run, or install a recirculating pump.
Raise Water Temperature?
"Insulating your hot water pipes reduces heat loss and can raise water temperature 2ºF–4ºF." Really, just how exactly is a material made to help resist the flow of heat outward or inward magically going to heat the water aka raise its temperature? Yep it isn't going to happen

Yes I do know where some people get this idea, and that is because they have copper lines that seemingly run for miles in their super cold basements. As the water is rushing through the lines it is giving up a bit of its heat. In this case when you are dealing with major temperature extremes, it can mentally & maybe even materially pay off to insulate your pipes. A better option though is to fix the placement issues if at all possible. Of course if your pipes are located in a super cold basement, they should already be insulated as mentioned below…
Reducing Heat Loss:
Ahhh finally we have hit one that has some merit. The simple fact is an uninsulated ¾ copper line loses anywhere from 22 to 34 BTU's per linear foot an hour & that by properly insulating it you can drop that loss by a third or more. Shoot that sounds pretty good & by plugging some numbers into one of DOE's programs (assuming 700 hours of hot water usage a year) I would see that I could save 16¢ a LF (a year) by installing it. If I was to top it off with the infrared picture below, I bet you I could probably sell you on it. There is just one small issue with this & that is frequency of use.
If you do insulate a hot water line in a house, then the heat of the water in that pipe will simply be retained longer. The catch is that time period is limited.
Just to use a simple example, let's say that an uninsulated line reaches ambient (room) temperature in 10 – 15 minutes. Being nice, let's say that the heat loss is reduced by half because you did an awesome job insulating it… Well what happens when you turn that faucet back on 30 minutes later? Oops it would be the same temperature as is I hadn't insulated it. Now to take this one step further, what happens if you turn the same "insulated" faucet on 15 minutes after the last time? Well while the water will be warmer, you will still need to flush out the line for it to get up to that "hot" temperature you are looking for.  So much for that "16¢ a LF" savings.

If you really want to cut down on heat loss, consider lowering the temperature of the hot water heater. For example a ¾ copper line with 140° water continuously running through it will release 34 BTU's per linear foot. That same water line with 120° water comes in at 22 BTU's per linear foot. Of course, in most cases the water lines never reach the water temperature because we are only running them for a minute or so while we shave, or 5 – 10 minutes for a shower.
Noisy Lines:
There is one other main selling point that some like to add to the "savings" & that is reducing the noise as they expand due to the heat gain. While it is true that pipes do expand as their temperature increases you have some other issues that you need to address & not try to muffle or hide if this is ongoing.
When to consider insulating:
Continuous Use: In the case of the two water heaters shown above, that is for a commercial building where the water is constantly being circulated. In most homes not only would that be foolish but any perceived water or heating savings would be lost. With that if you have a line running directly to a hot water air handler, to a radiant floor run; it would definitely be worth it.
To help prevent the water lines from freezing: In unconditioned areas make sure they are insulated, protected from drafts/ winds & if need be install heat tape.
To help prevent condensation from forming on cold water lines: This is generally limited to very high humidity areas coupled with cold incoming well water.
The first few feet: As you can see by looking at the safety valve heat does travel. While the savings might not be much, by insulating the first foot or two, one can help keep that heat from spreading out to the rest of your house
Underground lines: I really shouldn't even have to mention this but if you are building new or remodeling  – if you have lines running under a slab they should be insulated & protected to help extend their life.
You want to save every cent possible

My friend David Butler of Optimal Building Systems in Arizona reminded me that the 2012 IECC (Section R403.4.2) calls out a number of situations where R-3 is required. So with that in mind, here is the applicable section;.
Piping larger than 3/4″ nominal diameter
Piping serving more than one dwelling unit.
Piping from the water heater to kitchen outlets.
Piping located outside the conditioned space.
Piping from the water heater to a distribution manifold.
Piping located under a floor slab.
Buried piping.
Supply and return piping in recirculation systems other than demand
recirculation systems.
Piping with run lengths greater than the maximum run lengths for the nominal pipe diameter given in Table R403.4.2.
All remaining piping shall be insulated to at least R-3 or meet the run length requirements of Table R403.4.2.
TABLE R403.4.2 MAXIMUM RUN LENGTH (feet)
3/8″ – 30 feet
1/2″ – 20 feet
3/4″ – 10 feet
>3/4″ – 5 feet