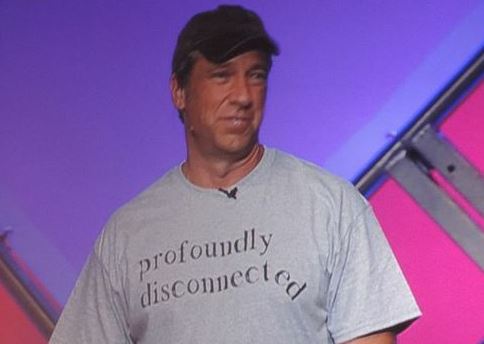 A little over a week ago, Mike Rowe was the keynote speaker (if your pressed for time – scroll to 14:35) at the Skills USA Opening Ceremonies. It is a pretty good talk about the Skills gap, 3 million unfilled jobs, why this is the greatest country, and his new project to help solve this which is called Profoundly Disconnected. (2013 HTRC Recap)

After Mike Rowe's epiphany back in 2008, he started fighting back on the war on work and asked many of his fans on the Dirty Jobs forum at Discovery to help him create a resource center for those looking at getting in the trades & succeeding in them. Labor Day 2008 mikeroweWORKS website & soon afterwards the foundation was launched. He soon added the Trades Hub which is a compilation of some of the best industry bloggers around dedicated to helping the trades. (Yes I do count myself fortunate to be one of them along with being an mrW Tradesmen.)As time went by he kept to the same message but started looking for other ways to reach more people, which includes Facebook, a personal site, and now the Profoundly Disconnected  & a Lessons from the Dirt sites. While this is all & good, there is actually one huge Profoundly Disconnected issue, none of these sites really point out the others. That's great that someone found out about the poster & the message, but what if they do want to get into the trades… Oops, hopefully this disconnect will soon be fixed
Work Smart and Hard:
I have never really liked the term work smart NOT hard as most people seemingly forget that no matter what you are doing, hard work is generally involved & required. I have always turned it around to Work Smarter not Harder, as the opposite is also true in many cases, they fail to think ahead, make life harder than it has to be, etc… As brought out in the keynote one needs to first off learn what they need to do, master it, & work their butts off if they wish to truly succeed.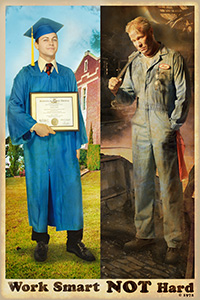 This is a picture of a poster similar to one used by colleges back in the late 70's & early 80's which was recreated. I love how they depict the college grad as happy and the poor old plumber, when in fact most of those that do work in the trades are generally better off financially & more happy then those that didn't. Granted there are exceptions but I'll touch on some of that below.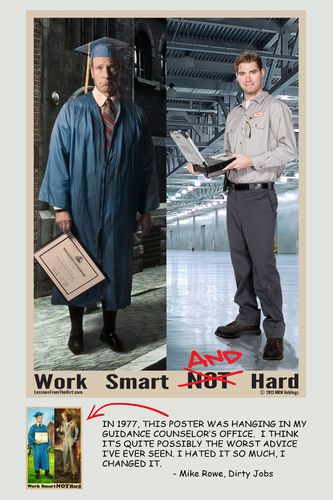 Below is the remake – Work Smart & Hard. Really anyone that has heard Mike speak or read his writings, well that is tough to beat so forgive me for simply punting… http://profoundlydisconnected.com/poster

While some of the tradesmen are big fans of Dirty Jobs & have probably never missed a single episode, I have actually seen more of the "Down Under" season than I have regular episodes… Yes that's right, he only did 4 in Australia. So why am I fan – from my own travels around the country, talking with others, seeing the problems, I got to quite simply say the message does resonate & needs to be heard.
Speaking of Disconnected: The NAHB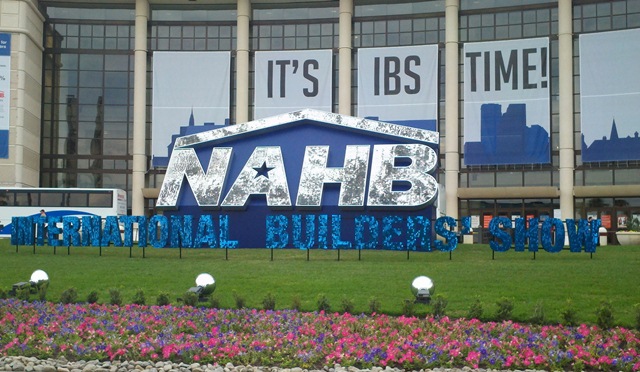 I remember going through the 80's & 90's where the term "global economy" basically meant buying Japanese goods, then the Chinese which both cost us numerous manufacturing jobs. If that wasn't enough we soon started to outsource many jobs oversees to China & India. For some in the construction industry they just shook their heads & went, I'm not worried as they can't outsource ours…
Nope, but we sure can seem to import lots of workers – now while I have no issues with legal immigrants, work visas, etc… I do have an issue with illegal workers & lets be perfectly frank – while many are great workers, there are bad conditions at home, etc… they are here illegally & those that hire them are also doing something illegal.
Unfortunately one of the biggest cheerleaders / enablers of this has been the NAHB. (Yes, there are other organizations to, but I don't know them as well & would hate to name one unfairly) One would have thought they finally turned the corner (which is one reason I finally joined) with the last major contraction in the industry when so many of their members nearly did or did go under. Nah…
Well fortunately it appears not many in the industry are as hoodwinked of their wording from their latest "members only" immigration reform plea… (From one of the NAHB boards with slight edits for readability)
Has the NAHB lost it mind? They want me to call my US Senator and ask him/her to support ILLEGAL IMMGRANTS TO WORK IN THE HOME BUILDING INDUSTRY?

Too late… When it is time to renew your dues, I would refer you back to this thread to help you make your decision on should you or should you not. (SLS Side note – Nice timing by the NAHB on the initial request as my renewal paperwork & check that was going in the mail that day got shredded after seeing said "request." This was more of the final straw after their Code Piece & what they are doing to this State's Plan)

When I read this email from NAHB I thought I was in a deep coma having a bad dream. If this is what my dues are going to support I guess I will have to pull back after 30 years of membership….
The Construction Industry: Training
Very quickly though the bigger issue came out "All valid points so far… I would like to know how many of us old-schoolers are training our replacements or have an apprentice in any trade?" Ahhh bingo
While it is easy to blame Congress, the NAHB, school counselors, the market, whomever… we are all in a way responsible not only for the mess, but fixing it. But how, the mess is so large…
Have you brought in someone new and helped train them as an apprentice, not just as a broom pusher? Looking for help when you are really hurting is too late, having a laborer who can move into a higher position when needed, almost priceless.
Volunteered or checked out your local schools program for how you can help?

List of State Directors for SkillsUSA (used to be VICA)
Seen about summer internships for High School students – waivers are available allowing them to use many tools
Checked out local Trade Schools or High Schools for not only people to hire, but to also help them develop the type of workers that are needed by you & others – most of them really do want the help
One thing Mike & I do differ on is the complete high school & go to a trade school – I will give him that might be necessary in some of the trades, but in the construction industry is where a large percentage of not only top employees but also owners are high-school dropouts… (Please note, I am not saying drop out of high-school, but if you are willing to work hard, able to learn & master a skill, there are companies out there needing someone like you)
The biggest issue I see is we have stopped bringing in others & trained them up, instead turning to Craig's List or other sites looking for that perfect candidate… Well you may get lucky, but the perfect candidate is generally not going to be found on those sites. As for the I can't find motivated youngsters, well stop fishing where the carp are & go to where the bass are – you target customers, so must you target potential employees. Remember work hard & smart applies to every facet of what we do.
One other major issue, especially in Texas, Arizona, & other locals spread across the nation is that construction requires communication & when "No Hablo Español" means you can't read the directions left or talk with anyone / can't get hired, that pretty much clinches it for most & they will go elsewhere. I met a gentleman at my son's graduation, completed the High School trades program & went into the military as a Mason/Framer – current career – Roadside Flag Holder. Yeah he is happy with his job, but…
Me, The HTRC, & SLS Construction & Building Solutions: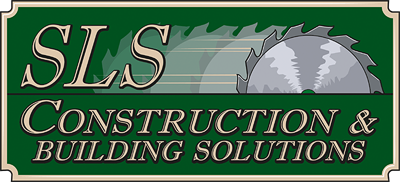 It can be eye-opening when one steps back & looks at the their own business. I did this about a year ago which resulted in numerous changes being made… UPDATED: as they say life can come at you fast & much of what was written no longer applies so… What a Summer – Updates & Happenings