Todays post is from Devyn Earls of Orlando's A-1 Quality Roof Cleaning and Restoration company. They have been in business over the last 20 years specializing in low pressure cleaning with hundreds of satisfied residential and commercial customers both large and small. So with no further ado; Why mold & algae grow on your roof and how to remove it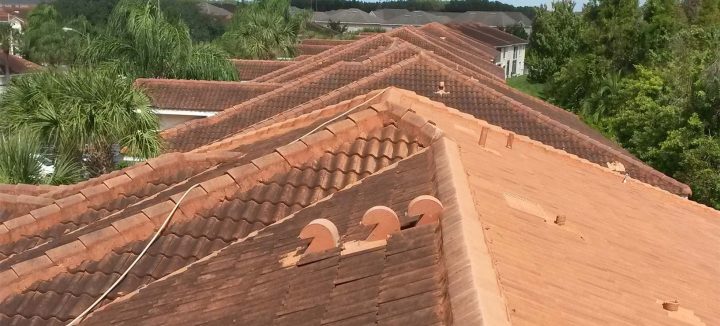 Your roof is important to the integrity of your home & the lifespan of your roof is highly affected by the weather and its environment. How about the roof that seems like it gets dirty really quickly. If you're in a humid part of the country, you know what it's like as it appears almost overnight to be covered in black stains, discolored streaks and/or green mossy growth. Here in Orlando, FL, we have seen new roofs completely covered by the problem in less than four years.
Algae Growth
The black streaks on your roof don't appear for everyone – they usually only appear on roofs in humid parts of the country. Known as black algae or roof mold, Gloeocapsa Magma is usually blamed on dirt accumulation, mold and mildew or defective shingles. It's actually just a blue-green algae spread by airborne spores.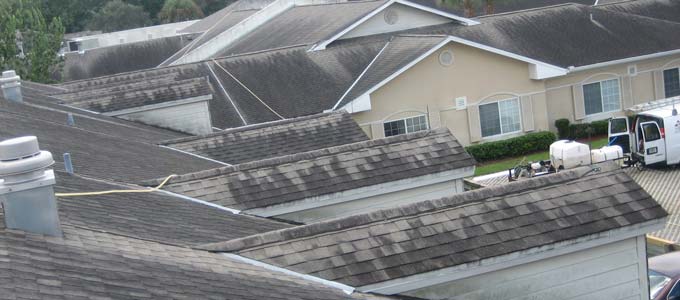 It is easily spread and causes those colorful stains on so many roofs.  It needs heat, moisture and nutrients to grow. The sun and the humidity on your roof give it the first two. The third ingredient, nutrients, is gained when the spores begin to eat the limestone filler in your roof's shingles. Feeding on the inorganic materials of your roof's materials, they'll continue to spread and darken until you get rid of them.
So a mossy alga that eats your roof doesn't sound too bad on its own. But that's not all that it is. It doesn't just affect the appearance of your roof; it affects the structural aspect of it as well, which can lead to structural damage to your home. When the limestone and other granules are digested out of your shingles, it makes way for more problems. Moisture and water can get in to your home through the holes in your roof and down to the wood underneath.
Mold and Mildew Growth
As you can see, the alga gets on your roof easily enough – the wind just has to blow in the right direction and there it is. Just as easily, mold and mildew follow. The standing water and humidity, the rapidly growing spores and wood rot, these are quick and fertile breeding places for mold. This can be expansive, and as a result, expensive. Often the damage is done well before it's discovered, as mold on the outside of the house is usually indicative of mold on the inside of the house.
You can't prevent spores of algae and moss or mildew from landing on your roof. But you can prevent growth. Obviously the best care is preventative care. With regular cleanings you can get rid of the algae before it even becomes an issue, and definitely before it gives way to rot, mold and mildew.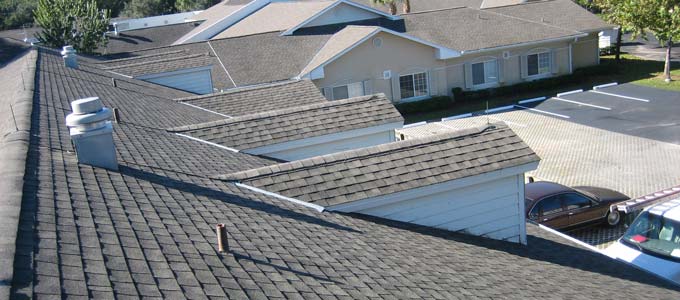 How to get rid of algae and mold?
If your roof is super bad, make sure you consult someone professional before taking action. Why spend money cleaning a roof when it needs a repair. In that same vein, why repair a roof when it just needs a cleaning? But luckily (especially when paid attention to) most of the time to remove algae and mold your roof will just need a good, thorough cleaning.
One way to clean the roof of algae and moss is with a brush and a little grunt work, scrubbing and separating the greens from the roof. Brushing should start at the top and work down, as going up could mess up your shingles. Bleach shouldn't be used either because it can damage your roof. You should use an environmentally friendly and safe roof cleaning solution.
How can I stop it from happening?
Well, you can get zinc strips if you're concerned about stopping the algae from growing on your shingle roof. However, if you're in a humid area and have a different type of roof, you really can't stop it. It is advisable to trim trees back if they're close to your roof. Not only will this stop small branches from falling off your roof but it will not give the algae a place to grow easier.
Can I clean my roof myself?
Yes, but it's dangerous if you don't know what you're doing. A basic bleach formula is:
1 quart bleach (6% sodium hypochlorite)
1 gallon water
1/4 cup TSP (trisodium phosphate) or other heavy duty cleaner
Do NOT use a cleaner that contains ammonia or is not recommended for mixing with bleach. It can result in chlorine gas, which is poisonous. If you are unaware of why you shouldn't mix bleach and ammonia, skim this article. This mixture may hurt your vegetation nearby, so be careful when using it. A professional roof cleaning company uses a mixture of chemicals that can be eco-friendly.
After you have your solution into a sprayer and you begin spraying your roof, it'll become wet. Wet algae can be slippery, even more so than just a wet roof. If you plan to clean your roof by yourself, take extra safety precaution throughout the entire process.
Professional roof cleaners can tell you from the beginning, before any unnecessary work, if your roof needs to be replaced.  And if that's not the case they can get your roof cleaned and back to a brand new state, free of algae and any other growth issues. The important thing to remember is to keep an eye on your roof and get regular cleanings to prevent bigger problems from arising. Once it's there it can be taken care of, but why let it happen in the first place.