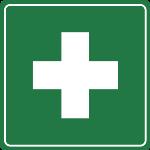 In the Army there is a saying – you take care of your feet & they will take care of you. In construction this is well worth remembering and for most it starts with what boots you wear & when. In that vein we have a guest post from Michael Pierce. Michael describes himself as an outdoor enthusiast and footwear fanatic. When he is not hiking, working or writing about work footwear, you can find him spending time with his family.  He runs two websites dedicated to quality footwear – MyBootprint.com with focus on work boots, and ShoeMatters.com – a site focused on comfortable footwear for different activities. So with no further ado…
Staying safe at work is an absolute must, especially if you work with heavy or dangerous instruments and machinery, with heavy materials and items, in slippery conditions, or in places where there is danger of running into live electrical currents.
There are safety precautions which need to be taken at all times, and wearing the proper safety work boots is one of the most important ones. By wearing suitable boots you can save your feet and yourself from mild to severe injuries on the job.
When you are buying safety work boots, you need to first identify the exact type of footwear you are looking for. If there are safety instructions and requirements at your job – please follow them closely! If not, ask your HR or Safety Manager about the types of boots you should be looking for. Here is a quick guide to the work boots symbols: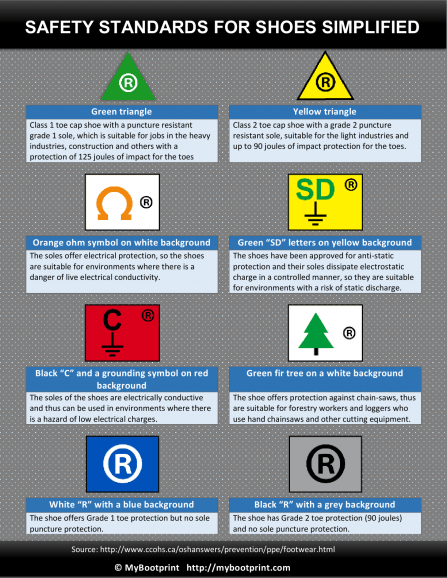 If you work in construction, as a plumber, welder, logger or any other profession where there is danger of falling and rolling objects and machinery, you should definitely be looking for boots which provide safety for the toes. Safety boots can have either metal or composite toe caps. Steel toe protection is the most popular type of protection. Steel is strong and can withstand huge impact. The steel caps are the smallest type, but do conduct heat and cold. Aluminum toe caps are lighter but are bigger in volume. Composite toe protection is light but is the biggest option of all. If you work in extreme cold or heat, you may want to stay away from metal toe protection, and choose composite toe caps instead. The plastic or Kevlar caps are also a great choice for people who pass through metal detectors at work. In the US, OHSA has specific safety guidelines that must meet certain ASTM & ANSI compliant standards.
Some professions require additional protection for the feet. There are safety boots which provide metatarsal protection, to keep the thin metatarsal bones in the feet safe from breaking due to falling items. This type of boot is suitable for loggers and other similar dangerous professions.
Boots for firemen and other people, who work near open flames, should have Kevlar shoe laces and stronger, abrasion resistant uppers for added protection for the feet. Kevlar has a strong resistance to fire, so there is no danger that your laces will melt or burn when heat is applied.
People working in oil fields, landscapers and anybody working in conditions where there is danger of slippage, should consider purchasing work boots which have slip and oil resistant outsoles. These soles which are usually made of durable rubber provide excellent traction and will help prevent injuries due to slipping at work.
If working near electricity, boots with electrical hazard protection is a must. If there is a danger for you and the electronics you work with at your job – choose anti-static boots.
If you work with chemicals, then look for boots which feature chemical resistant outsoles. TPU soles are a perfect choice, when it comes to slip, oil and chemical resistance.
It goes without saying that your work boots should be waterproof, especially if you work outdoors. Leather and other modern tech materials are used to ensure that your feet remain dry and comfortable during work. Remember that even though your boots are water resistant, you should impregnate them for addition protection periodically.
In order to stay comfortable and to decrease fatigue and soreness in the feet, legs and lower back, choose work boots which provide sufficient cushioning, shock resistance and foot and arch support. You should choose work boots which feel comfortable as soon as you try them on. They may need a break in period, but still – you should ensure that they are the proper size, and have enough space for the toes. A rule of the thumb is to choose boots which have about half an inch of space between your toes and the front of the toe box.