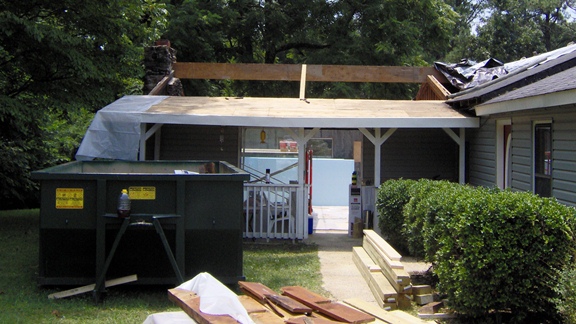 Another day & another job site; while no one plans on anything bad happening, stuff does happen occasionally. In most cases "lives saved" are generally credited to quick thinking, fast response, & good training. Some that have been injured just shake their heads at such a fluke event happening, count their blessings as it could have been worse, or talk about some fortuitous timing. While there is no way to eliminate risk all together the Boy Scouts, OSHA, and common sense will tell you that being prepared is a smart thing.

The problem with most "Safety Plans…" is that some safety guy (who is probably sitting in a cubicle) drew & laid everything out before the job was bid, and it is just left sitting inside a binder in case OSHA shows up. Sure the PM might know where it is as he might have to take care of a few things, but hardly anyone else knows about it. On the flip side as a small remodeler who might be worried about OSHA showing up, they grab one of those templates sitting out there & can quickly get lost & bogged down in minutia that doesn't apply so they don't take it seriously &/or they also forget to let others know.
The Checklist:
As an FYI, OSHA does require a "site specific" safety plan available on site, no matter the size of your business. In most cases you already have or know most of it as it is in your contract (with the homeowner or GC) &/or in your preparation / bid documents. For most projects all you need is a page or two worth of information which should be shared with everyone. The rest of the information required like "respirator use," MSDS, etc… doesn't generally change from site to site. As each site & trades is different you should review OSHA's requirements for yourself but this should give you a good basic checklist to start from.
It never ceases to amaze me how many people do not know the address where they are working. I can just imagine the 911 call especially as many 911 centers still are not GPS enabled
Utility providers names & emergency contact numbers
Emergency phone numbers (Police, Fire, Hospitals, Poison Control, Property Owner or Agent, GC or PM's emergency number, etc…)
List of nearest hospitals & urgent care centers with directions
Site map: location of dumpster, material loading / unloading & storage areas
Site map: location of work areas & location of barricades – if homeowners are still living there, safe travel paths & times
Site map: location of main power, gas, & water disconnects / shut-offs
Site map: Call 811 to locate services to the project & document on site map
Site map: Location of first aid kit, & fire extinguishers
These items can be located in your truck as long as it is adequately labeled, always accessible & the truck is there while any employees are on site. In many cases a trailer or storage area would be better as long as the criteria above is met
Site map: location of PPE, specialized rescue gear, and MSDS sheets
Ensure any required PPE is on site (respirators, safety glasses, fall protection, hearing protection, etc…)
Ensure sufficient medical aid supplies are available on site & based on probable needs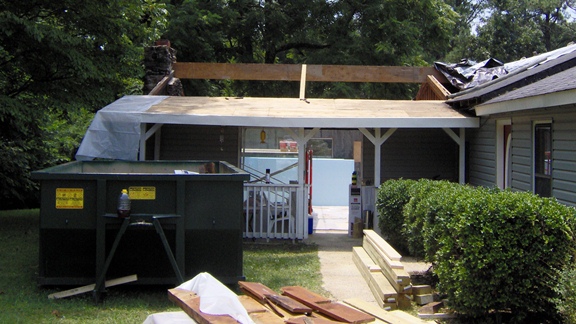 Large Sites:
As you can imagine, a site like this one below or a commercial development has a lot more requirements. For example would you like to be the one waiting for a fire truck to drive through that mess? That is one reason why you will generally see a separate entrance that is labeled for fire truck entrance.

This video comes from our friends at KC Remodeling where it appears that business is picking up across the board for many companies in their area which is great to see.