Why is it so hard to open or close my bi-fold's? I just bought new, or am replacing my bifold door, where should I place the knob(s) & how high? Heh, should I measure from the top of the door like others or the bottom? Well let's dig into this, but first make sure your doors are in their final spots (hung properly, height set, reveals the same, etc…) or what you do will be off.
Knob Height: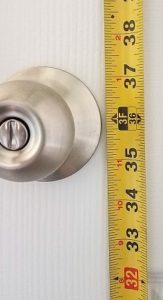 This is generally the easiest – most standard ones are placed around 36″ off the floor / level with all the other knobs in the room. This may change for taller doors but generally not. The best method is to actually use a laser level as not all floors all level and I have seen rooms where you can see the slope. If you don't have access to a laser level, a good old fashioned tape measure will work and then cheat it if necessary to make it look right…
But wait, this measurement isn't dead center between two panels and won't that look off? It might depending on how you are looking at it / is this area a focal point? One trick is to place a small piece of blue tape where you think the knob height should be to verify how it looks.
From the floor not the top of the door?
The reason for this is simple, the doors are adjustable (no all openings are perfectly lined up) & if you have more than one set you could be off. Thus make sure they are all set first & then go off a point that is not liable to move.
So which door & where should I locate the knobs?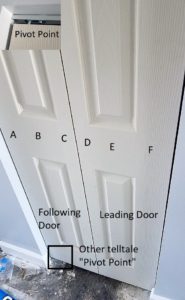 Here are 6 "typical" locations I generally see knobs placed along with some common terms. The issue with just going with what you think might look best doesn't mean it is. Besides the normal why is my door so hard to open or close, I have seen plenty where the door is falling off due to the strain used to open or close them. The dreaded pinched fingers from grabbing the door up high (heh  is another common complaint.
The first thing is to find out which door (aka leaf) the pivot point is located – that door is called the "following" door (aka fixed or pinned) & the other one is called the "leading" door. So in the picture on the left the "following door" is on the left. It could just as easily be on the right which might be a better location say if there was a wall right next to it (who wants the knob right against a wall). For a double set of bifold doors it would typically be Jamb – Following – Leading – Leading – Following – Jamb.
The quick answer – Location E: AKA Leading Door – Center: This is deemed the best compromise position for smooth opening and closing while keeping friction on the track guide pins to a minimum. The reason it is a compromise is simple physics, while there might be better opening or closing spots there is generally a trade off making one harder than the other. For more on this lets look at the other positions.
Location A: AKA Following Door – Pivot Location: This position is essentially worthless as it doesn't allow you to open or close the door easily & depending on how far the door is pushed back in the opening it can allow the knob to bump against the wall preventing it from opening.
Location B: AKA Following Door – Center: This is a popular location as it makes life easier to open but closing can be more difficult. The only time I would choose this location is when you want a knob on every door. Be careful also if you have a wall that the knob might smack into
Location C: AKA Following Door – Hinge Location: This also makes life easier to open & a little less difficult closing it but it is harder on the pin holding the leading / free door in place
Location D: AKA Leading Door – Hinge Location: This is the 2nd Best compromise position which might put a little more strain on the pivot points but is a better alternative.
Location F: AKA Leading Door – Outside / Free Edge: Easiest to close door but near impossible to open
But wait: My door is fully louvered or…
While location E might be the preferred location, it won't work on all doors like fully louvered ones or those with a glass insert. In this case you should place it in location D – closest to the hinge on the leading door. As mentioned above while it might produce more strain against the pivot point you do have two of those as compared to only one guide pin.
For Contractors:
You know the best location – yep it is the one that the homeowner agrees to before you do the work. Granted as mentioned above there are a few no-go spots, but if they want it in say spot C, simply tell them why the other spot might be better & then do as they want. Location A or F, here is a waiver to sign…