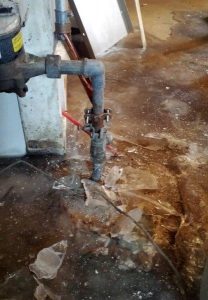 It's that time of year where many of us are pulling together all our tax documents, so why not take a few minutes to look over your home insurance policy while you're digging through all those papers that were just thrown in a pile? Those few minutes spent can save you more time, money, & aggravation then your taxes cause if the worst happens. If you spot something off or are curious if you have enough, contact your agent to get this fixed.
One other big reason to check this now is most of the country gets hit with spring floods, tornados, or other events pretty much like clockwork. One such reminder went out yesterday from the Army Corp of Engineers about abnormally high water building up in the upper Mississippi. As a reminder, if you happen to live in a flood prone area, you need to have coverage in place for at least 30 days in order to be covered (Flood Smart FAQ's).
The Basics:
Dwelling: This covers your main house & all items considered part of it like cabinets. You want to make sure the price listed is enough to cover the cost to rebuild it. For most this isn't an issue but if you insured your property 5, 10, 15 or more years ago & this amount hasn't changed you should definitely look into raising it
ACV only policy? Watch out for ACV only policies or Allstate's newest item – the RPS policy – where they basically only have to pay you what your roof (or other items) are worth now – not what it costs to fix them. To make things even worse, not only do you have to pay that difference, but you also still have to pay your deductible.
Deductible – Careful on this as it basically is what you have to cover if the worse happens. If you have a $500 deductible it might not be so bad, but those policies are basically being eliminated & replaced with % based policies. So if you have a 1% policy on a house listed at say $250,000, it means you are on the hook for $2,500 – 2% would be $5.000. Remember this is based on the "Dwelling" amount so you want to have it dialed in some as to low means not enough coverage while to high means you are paying too much.
Other Structures: Detached Garage, Sheds, etc… This generally is listed at 10% of the main houses value which is fine for most. But if said detached garage is a fully tricked out man cave or "she shed" this might not be close to being enough & you might need to see about bumping that up
Personal Property: This one also is generally based on your houses value. Again the amount will probably be more than adequate but watch for limits placed on items like tools, electronics, firearms, collectibles, furs, & jewelry. You will have to specifically get a rider aka endorsement to increase those values if they don't cover what you might lose.
Riders, Endorsements, Options: These are additional features, for example electronics may only cover $5,000 in the standard policy but you have $20,000 just in your home theater setup – in order to be paid in full you have to extend your policy to cover that additional amount. There are quite a few out there but some basic ones to check are listed below…
Key Items to Check / Have:
Code Compliance Coverage: Even if you have a newer home there may have been new code updates that any new construction or reconstruction in this case must be done. Some common ones are Fire / Smoke Alarms interconnected for any job, CO detector, Ice & Water shield, Tamper Resistant / GFCI outlets. In some locations you have seismic, waterproofing, insulation & the list can go on
Business Property: Use your home as an office, watch out. Got a bunch of tools used for work…
Water Backup / Sump Pump: I can't really believe that an insurance policy is allowed to specifically exclude an item that is so common in many homes (based on location) but it is now common. One big warning on this is the limit they apply. Many are set at $10,000 to start with, which in some cases might only cover the mitigation costs (generally average $3-8,000), and maybe some of the rebuild or contents costs leaving you holding the bag for the rest.

Be sure you know the difference between an Ejector Pump & Sump Pump – your Ejector pump fails that is considered part of your plumbing system & is a covered loss at regular values

Personal Property: We pretty much covered this above, but well worth checking over
Beyond that there are other items you might want to look into like Identity Theft, Personal Liability, etc… but that is something for you and your agent / lawyer to consider. You don't want to go crazy overloading your policy for something that might happen (volcano coverage anyone?) In many cases especially for those that use their homes as an office, there might be better options like business insurance, general liability, or… Hope this helps and we hope you don't ever need to use it, but if you do at least you will have it and not add to the stresses that come with it.