This week we have a great piece by Nolan Wright. Mr. Wright is the Director of Sales and Marketing at Trilogy Restoration which primarily works in the Austin / San Antonio areas. He has been working in the restoration industry for several years and enjoys educating people on the home restoration industry. He is an avid writer & covers topics on everything from water damage and contents restoration to the latest and greatest restoration tools and equipment. So with no further ado…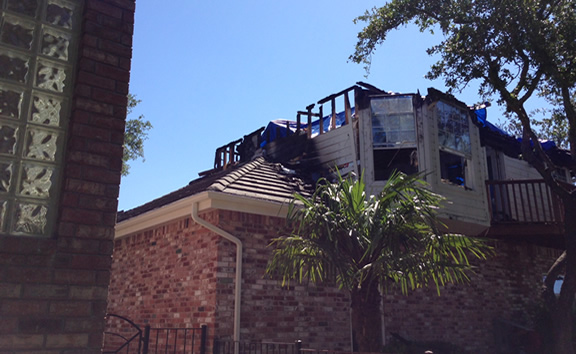 Water & Fire Damage Claims –Things You Need To Know
A natural disaster or accident that causes serious water or fire damage to your home is understandably going to result in a lot of stress and anxiety. However, once you have ensured all your family members are accounted for and that there are no serious injuries requiring medical attention, it is important to think clearly and act quickly to prevent further damage to your home or place of business.
In order to act quickly and take the proper steps to prevent further damage, it is important to understand some important things about water and fire insurance claims.
You Don't Have to Wait For Your Insurance Company
Although you're going to work with your insurance company to cover the cost of needed repairs, it is ultimately your responsibility to call in the help you need to address the problem. If you have a real emergency, you do not have to wait for or try and track down your insurance agent or use their preferred vendor.
Sure, your insurance provider will try to get you to use their preferred restoration company, but don't assume this is your best option. It is very possible you can get better overall service with your own restoration company of choice. Ask your own friends or family members for a referral or find a good restoration company online by reviewing their website and checking out their online reviews.

HTRC: Please remember that time is of the essence in many of these claims & your first call should be to your insurance agent letting them know exactly how you wish to proceed &/or think needs to be done in order to be covered. If you delay too long looking for that perfect company & more damage occurs it can be on your nickel. With that I strongly recommend you keep your ears open for good companies (hoping you never need to call them). For example. one company Nolan recommends & works with in his area is Dry Time.With that said, don't just assume that because you or someone used one before in another city, another franchisee is just as good. For example; ServPro is one company that uses franchisees & I got to say some are really good, while others… Along the same lines I have worked with numerous independents before & many are top of their game. Some though can leave both you & your agent shaking your heads as they turn what would have been a simple job into a nightmare.
 Repair Costs Are Determined by Third Party Software

Most insurance companies will determine the amount they'll pay for needed repairs to your home through a third party estimating software program called Xactimate. Most professional restoration companies use the same software program when working up quotes for needed repairs because it helps eliminate potential pricing conflicts & delays among all parties involved. To help keep repair quotes in line with what your insurance company will actually reimburse for, be sure to choose a restoration company that uses XactiMate. (HTRC piece on XactiMate)
You Should Inventory Everything You're Claiming
Unfortunately, an insurance claims means a lot of paperwork and one thing you will need is a detailed inventory of every single item you're making a claim for. In the event of fire damage, the item may no longer even be in existence, but it's still important to list it. This is one of the most challenging parts of the insurance process, but also one of the most crucial, especially if you want to be fairly reimbursed for your content damage. As a side note, you can hire a professional public adjuster who can advise you and guide you through the entire process if you'd like.
You Shouldn't Start Fixing Things Yourself
Don't make the mistake of thinking you can handle the situation yourself. Even what appears to be very minor water or fire damage can result in much more damage that is initially visible, and you should call in a professional restoration company that has the proper equipment and experience to quickly assess the damage and determine the best course of action to mitigate further damage. Furthermore, doing work yourself can lead to unnecessary problems and delays with your insurance company and could result in you paying for repair work out of your own pocket.

HTRC: Well in some cases this depends on the issue – should you start doing repairs or clean up (see next section), the answer is no. If you have a hole in your roof & you need to get it tarped, well then the answer is yes you should or at least hire someone to do it. If you do make any types of repairs to stop further damage make sure you document your time, take pictures, & keep receipts of materials purchased.
You Shouldn't Throw Anything Away
One of the mistakes that many people make is that after suffering a fire or severe water damage, they begin to cleaning up the mess and throwing things out. While this is understandable, it could again invalidate your insurance, especially if things like receipts are needed to validate the existence of certain items. Don't throw anything away, no matter how insignificant it may at first seem. Instead, it's best to wait until your insurer gives you the authorization to do so.
Temporary Accommodation Are Often Reimbursed
Most insurance providers will reimburse for temporary accommodations while your property is being cleaned up and repaired. You will likely first want to find a local hotel to stay until more long term temporary accommodations can be arranged. As a general rule of thumb, the type of accommodation you seek should be similar to your existing property. For example, if your damaged property consists of 4 bedrooms and two bathrooms home, this is the type of property that you're entitled to rent until you are able to move back in to your existing property.
You're Responsible for the Deductible
All major insurance policies have a set deductible. The deductible could be something like 1% of your property value or simply a set amount such as $2,000. This is the amount you'll be responsible for in the total cost to clean up and fully restore your property to its pre-loss condition.
Remember, everything you say or do following such a catastrophe can have a big impact on your claim, so it's important to get it right. By keeping these important insurance facts in mind after you've experienced water or fire damage to your home, you should get the money you deserve from your insurance provider and get your home repaired quickly and properly by an experienced restoration company in your area.
I would like to once again thank Nolan for his time & this piece. I would like to make two quick points & the first relates to you being responsible for the deductible. That is fully correct, you are responsible for it & if a company says we will cover it, it is breaking the law (in every state I know of). As the saying goes, if it sounds to good to be true… The second is that you do not need to use a contractor that specializes in restoration, you can hire a remodeler or even piece it out. Either which way, just like mentioned above, do your due diligence & remember that they are only supposed to return your home to the way it was.