UPDATED: Yes this event has happened – to see video of it: Accolades / In the News » SLS Construction & Building Solutions LLC
We invite you to come join us January 12th as we take part in the first Illinois Residential Energy Code Panel Discussion presented by SEDAC.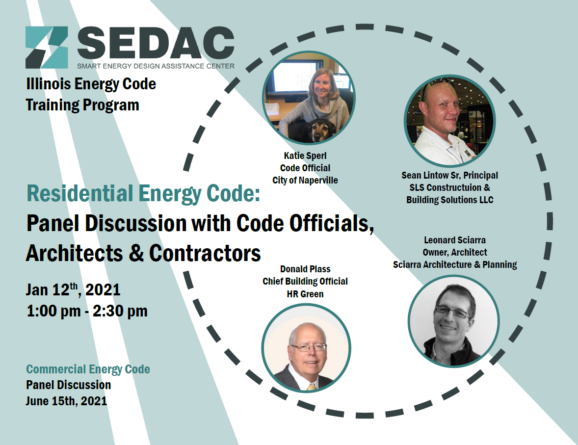 Got questions related to Existing Homes & how / when the Energy Code applies, just a general question on the code, or even some of what might be coming down the pike with the 2021 version? Those are just some of the items that will addressed by a good mix of individuals & we would love to answer your questions. To register just follow the link: Illinois Residential Energy Code Panel Discussion
Curious who or what SEDAC is – well they are part of the University of Illinois & were tasked / funded to perform the mandatory training that is required under 20ILCS 3125 – the EEB (Energy Efficient Building) Act by the Illinois EPA Office of Energy. This happened as part of the 2018 rollout.
In their words, "The Smart Energy Design Assistance Center (SEDAC), in partnership with the Illinois EPA Office of Energy, provides training to increase awareness of the Illinois Energy Conservation Code and to improve the energy efficiency of new construction and renovation in Illinois."