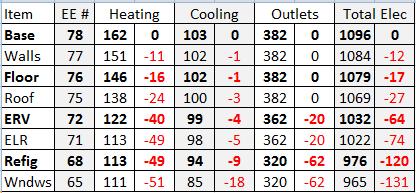 In this series on Looking Back & Looking Forward, we are reviewing a green home we built over 2 years ago, the lessons learned and more importantly, how we can utilize those lessons on future builds. As everyone knows, you don't start building without a plan (hopefully I can find that file soon). While this double Mother in Law Cabin had some interesting requirements, there is no way we could cover everything in this article. As we mentioned in a prior article one of the main issues was that the ongoing costs of ownership had to be minimized. One of the largest costs in any house is the ongoing utility costs so let's take a quick look at how we tried to minimize the electrical costs & model a few changes to see what the savings might be.
The Specs:
There is 706 SF of total floor space (15' 4 x 46') and we built this house on a pier system. We utilized 11 7/8" I Joists 16" on centers for the floor, 2×6 framing for the walls, and trusses set 16" on center for the roofing. We also utilized 4" of Closed Cell Heat-lock Soy from Demilec in all the wall cavities, under the subfloor & under the roof sheathing. Based on one my favorite sayings "there is no such thing as a house built to tight, just an under ventilated house" we installed the smallest ERV we could find, which runs 24 x 7. The 129 SF of windows were ENERGY STAR® .4 .4 vinyl windows with a built in J Channel. We also utilized a 14.5 SEER Split Ductless Heat Pump so each unit could adjust the temperature to their liking. To top that all off, all the lights are CFL (Compact Fluorescent Light bulbs).
The Results:
The house as built and tested, scores a 78 on the HERS index which is 2 points better than an ENERGY STAR Rated house requires. The blower door test came in at 410 CFM of air leakage @ 50 Pascal. The total predicted cost for electricity is 1096 that we have broken out in the chart at the very end of the article. Included in the total electric cost is $180 of Service Charges & water heating costs of $269. It appears we managed to hit all the low hanging fruit (cheap easy Energy Efficient measures) and did a great job on all the basics.
What is modeling?
Modeling in its simplest form is entering the existing specs and then changing the components to see what the results would be. Many green building programs, or retrofitting programs require energy modeling to be completed to assess the energy use of a building and / or to quantify the savings attributable to the proposed design. Used properly one can prioritize or figure out which strategy will have the greatest effect on the building's energy use based on the budget or funds available.
Modeling Changes:
Seeing we already exceeded ENERGY STAR's requirement, let us see if we can hit Building America's Challenge by getting a rating of 70 or less, on a new building, with a budget increase of only $3500 or $5 a SF. The first item that comes to mind is to eliminate the Thermal Breaks between the interior & exterior of the building. For the floor* & walls, we can eliminate the Tyvek & replace it with an R-5 continuous insulation on the exterior. Cost – $1000 Rating 76 with a savings of $17 a year
Ahhh, the roof – let us try the same thing, adding R5 continuous insulation. Of course, by doing this – we will need to add another layer of OSB on top to have a nailing surface for the roofing. Cost – $1500 Rating 75 with an additional $10 savings a year
Hmmm, ok that has only saved $27 on the HVAC costs, but has not affected the lights or outlets. Ahhh, the ERV is running 24×7 but based on the numbers it only needs to run for 10 hours a day. Let us see if we install a $50 timer I bet that might help some – yep we now have a 72 rating and additional savings of $37 a year.
You know I bet with those changes above for the Thermal Bypass would cut down on the air leakage numbers. Cost – already paid for Rating 71 with an additional $10 savings
Hmmm, almost there, let's see I wonder what would happen if we upgraded the refrigerator for around $200 – cha-ching we have a rating of 68 with an additional savings of $46.
Ok we still have $750 dollars left & seeing the ENERGY STAR label requirement has improved since I built this place, let's see what happens if we upgrade to the newest .30/.30 version. Cost – varies by brand but $750 should cover it. Rating 65 with an additional $11 in savings
Reviewing the Results:
* As an FYI – you can eliminate the floor upgrade as written, because foam board only under the floor joists is not good building science much less allowed without a fire resistant covering – though I sure have seen enough people do it…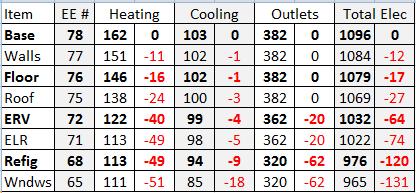 Based on the base model, with the newer design we can see that we improved the efficiency of the house by 13% (was at 78, now at 65). We shaved $51 off the Heating Costs, $18 off the cooling costs & saved $62 in the outlets & light category for a grand total of $131 a year savings. Even though some would balk at the ROI, if you were planning on adding in Solar, going after LEED Certification, Building America challenge, or simply trying to lower your consumption to be as low as possible, I could see doing it.
Final thoughts:
If I had to build this house all over again, would I make those changes? With the exception of the floor as written, yes I would, as it is a new house. As for the existing one, there are only two cost beneficial changes that can be made. The refrigerator has already been swapped out (Amen – sorry, that is one item I didn't have a final say in) & a timer will be installed shortly to reduce the amount of time the ERV runs.
As you may have noticed, the savings start to get harder to come by as you keep tightening up the house. If you may recall in our RESNET articles, we easily took a house 3 times this size from a 111 to an 82 with a projected cost of $6000. As I mentioned in that article "While there are options available on that last area (remodeling or retrofitting an existing house), if you are getting a new house built, it really pays, to make sure it is built properly."