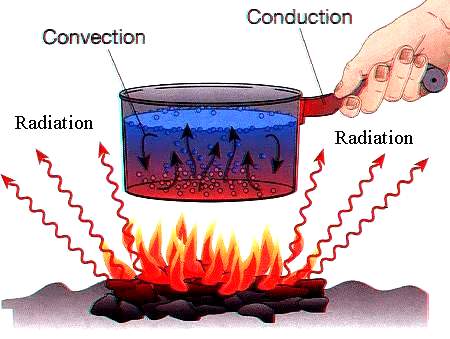 Heat is energy and refers only to the transfer of this energy between or through items and not the stored energy of the item (aka its temperature). While this difference might appear to be subtle, it is very important to understand the distinction between the two, & how this transfer takes place.
One other important piece to keep in mind is the second law of thermodynamics which basically states that heat only flows one way, and that is from hot to cold.

Sir William Herschel first discovered the Infrared spectrum, back in the 1800's. He was measuring the temperatures of sunlight passing through a prism. As any typical scientist would do he had a "control" thermometer & was surprised to find out that the temperature he saw was higher than he anticipated. He then realized that there must be another spectrum of light which we can't see & the field of infrared thermography was born.
Conduction is simply how heat flows through an item or items that are touching.  For example as the sun shines on a roof, the heat passes through the roofing material to the felt & then the sheathing via conduction. Certain items allow for heat to pass through faster than others which is where the "R Value" comes into play. The higher the R Value the slower the heat can pass through

Heads up – ASTM Standards all start with a single letter based on the committee's designation (A-G). ASTM STP's or Selected Technical Papers on the other hand are essentially conference presentations on the newest research available which doesn't always pan out & become a standard. Many companies like using some of these STP's to exaggerate just how well their products work.
There are three main tests for measuring an objects "R-Value" which does cover all three forms of Heat Transfer;
ASTM C 177 – The Guarded-Hot-Plate Apparatus.
ASTM C 518 – The Heat Flow Meter Apparatus.
ASTM C 976 – The Calibrated Hot Box.
Convective heat transfer is the transfer of heat in a gas (air) or liquid via currents from one region to another. This is generally pictured in a circular format; as an item heats up this warmer air or water rises to the top and as it cools it sinks.
Radiant heat transfer is simply the transfer of heat from one surface to another through space. For example you can feel this when standing outside on a sunny day or standing around a campfire.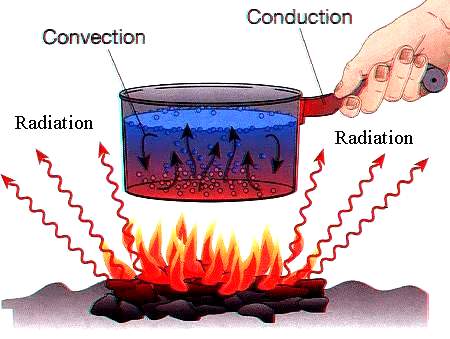 Picture credit can not be given as it is an unknown. Special shout-out to Neil Orme of Riverside Community College for trying to help out with our best guess at this time being the University of Wisconsin.

In order for a radiant barrier to work it needs  a gap from the next surface  in order to prevent heat from simply conducting through it. While some claim any space will work, a gap of an inch or more is preferred.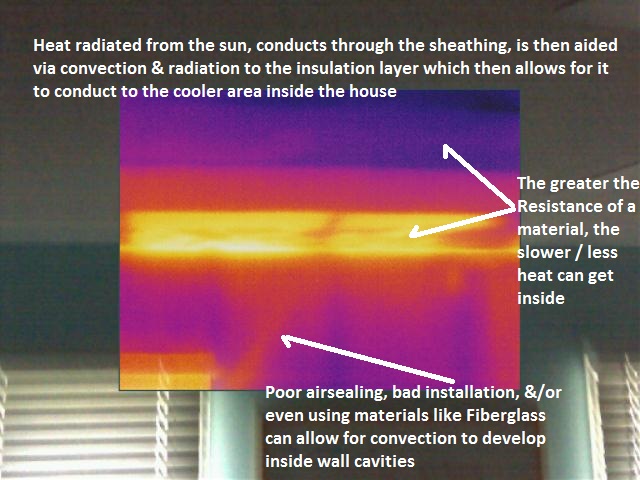 Q equals heat transferred
To measure Radiation transfer: Q = -hrA(Ts – T)
To measure Convection transfer: Q = -hcA(Ts – T)
H equals the heat transfer coefficient which is a "constant" number based on the medium (The R or C is used to define the transfer type)
A equals the cubic square footage (or other area measurement) of said medium that the heat needs to pass through
Ts  equals the temperature of the surface area & T equals the temperature of the medium
To measure Conductive transfer: Q = UAΔT
U equals the U Value of the assembly that the heat needs to pass through (U is the inverse of R)
A is pretty similar to above but instead of measuring the interior of an attic per se, we would be measuring the surface area
ΔT or Delta T is very similar to the Ts – T except it relates to the temperatures on both side of the medium (for example the difference between the indoor & outside temperatures)