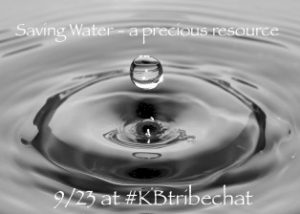 Every Wednesday at 2PM ET, I try my best to catch #KBTribeChat on Twitter where many of the industries best & brightest designers, manufacturers & contractors get together and take on a topic. This weeks is "Saving Water – a precious resource." Unfortunately I will be missing this weeks chat, but as I feel this is such an important topic, I thought I would participate via this post.
Recap /// chance to participate in future ones
Q1 – In the kitchen sink area, what can be done to save water?
A1 – The number one way is to install and use an ENERGY STAR® dishwasher – unfortunately the WaterSense® program doesn't list dishwashers. Other items that maybe considered are shallower sinks, WaterSense faucets, etc… but they may actually make things worse as one has to consider how the kitchen will be used. For example having a shallow sink or low flow faucet may make it harder to fill up the pots for spaghetti or the room needed for prep.
For those that like hand-washing dishes, consider using an on-demand hot water recirculating pump to avoid wasting water waiting for hot water to arrive.
Q2 – What water saving kitchen habits can we help facilitate as designers?
A2 – My top choice, eliminate the garbage disposal as it wastes nothing but water – add a compost collection spot instead.
A2 – See where their hot water tank is & if moving it maybe an option, do so to reduce the runs to the bath & kitchen for quicker hot water delivery. Insulating the lines can help in certain cases
Q3 – Can dishwashers save water or is it better to wash by hand?
A3 – It all comes down to use, but for most normal families the answer is yes as listed on ES site. With that if you rarely have dishes you can probably beat the average 6 gallons usage for older models or 4 for newer ones. For those with smaller loads, maybe consider a compact version or dishwasher drawer.
Q4 – In the bathroom sink areas, what can be done to help save water?
A4 – An on-demand recirculating pump & WaterSense faucets are the top two items. The next is just reminding people to turn the water off when not using it when brushing teeth.
Q5 – What water saving products and ideas are available for bathroom showers?
A5 – Be careful of gimmicks, go with WaterSense shower heads – they are not like the older water saving ones which never worked. Do I really need to mention on-demand recirculating pumps again – turn the faucet on & the hot water is already there as compared to letting the shower run for a minute or two.
Q6 – Does it use more water to take a shower or a bath? How much is the difference? Please explain!
A6 – Unless you take super, super long showers a bath uses more water. For example a 5 minute shower can use 7.5 to 15 gallons of water, while an average tub may hold up to 40 gallons (or more) of water. Granted one doesn't normally fill it up to the top so you would probably use 20 to 30 gallons for a bath. With that, sometimes a bath can't be beat for relaxing. To figure out how many gallons a tub holds;
Measure in inches the inside of the bathtub about halfway up (length time width) then multiply by depth (bottom to overflow hole)
Take this number & divide by 1728 to get the cubic feet of water that a tub can hold
Take this & multiply by 7.5 (gallons that are in a Cubic Foot of water) & you know have the total capacity
Q7 – What other ideas do you have to help client's save water in the bathroom?
I look forward to seeing this & many of the other answers – once again I encourage you to participate and if not possible check back later for the link to the recap…