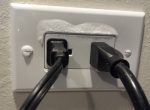 Congratulations, you are a new homeowner… well maybe the house isn't new but hey, it's all yours. Maybe it's only 5 years old, 10, 20 or shoot maybe even 100+ & now it is time to turn this house into a home. Maybe you have some big renovations planned like a new kitchen or floors, but don't overlook what a few changes can do. Personally I love this observation made by Bob Borson…
One of the very first things I tackle when I move into a new house is to take care of a bunch of small things. I am a big believer in addition through subtraction, and that means that you don't have to do big new splashy things to make something better … you can just fix the old little things and notice a big impact. Bob Borson – Life of an Architect: Being an Architect is Hell … My "New" House
Below is our list to help improve not only the look of a place, but eliminate some safety concerns along with some other things that can bite you.
The Locks: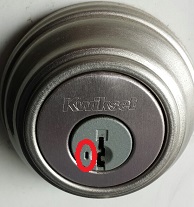 So you got all the keys to your new house, right? No extra copies floating around, or… Well there is one thing you can do, call out a locksmith to rekey your whole house or simply change all the locksets. In many cases the cost is almost a wash so I generally go with new keyed all the same. With that I try to make things easier for not only me but the next homeowner by utilizing Schlage locksets with their SmartKey feature (see red circle – if your locks have that then you do.)
Now instead of trying to find all these locksets with matching numbers or waiting around for someone to rekey them at the store, you can simply do it yourself in about 15 seconds… Better thing, say your kid looses a key, well you don't need to call out a locksmith as you can rekey them all in a few minutes. Speaking of kids or… say a baby sitter, cleaner, contractor… there are other locks available with push codes, blue tooth, to help keep you secure while allowing access to your house.
TIP: Speaking of ease of access, we strongly consider you check out lever style locksets for when your hands are full or lord forbid if you break an arm. For more – Common Sense Building: Designing for Everyone (Exterior Checklist)
Other Knobs, Levers, Hinges:
Generally this simply falls under the looks category, but it doesn't take much to change out your interior door knobs to match your exterior ones or color. Same with hinges, drawer pulls, etc… There are some other considerations to help make life easier also which can be found here: Common Sense Building: Designing for Everyone (Interior Checklist)
TIP: Not replacing items? Graphite powder is great for lubricating locksets & hinges
Outlets / Switches: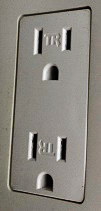 Outlets rank at the top of my list for not only looks, but also safety. While one can still buy cheep older style outlets, consider at a minimum buying Tamper Resistance ones or even better ones that have built in ARC fault / GFCI protection. Technically in many states you are required to install AFCI circuit breakers or receptacles when you do change out outlets but few enforce it. Good news, just like GFCI's all you have to do is install one at the first outlet in the line, it will cover the rest down line (then just finish up with the Tamper Resistance ones.)
Switches are another item high on the list but this is mainly for the looks category. Trust me just replacing the outlets & not the switches will make those switches stand out & not in a good way. The one exception to this is for bathroom exhaust fans where I strongly recommend one install a timer.

Wiring can be a big issue in older houses. Hopefully if you have knob & tube or aluminum wiring this was covered in your home inspection report. If you have either of those or screw in fuses I would recommend you have a licensed electrician look into everything & make any changes needed. One other item to watch out for  is Federal Pacific Electric circuit breakers which also should be changed out.
Bathroom Exhaust Fans: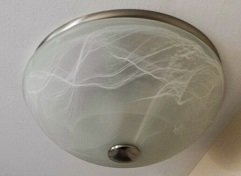 Speaking of bathroom exhaust fans make sure you pop the cover & vacuum it out. If it is real noisy, or doesn't pass the tissue test (or you just hate the look) you might want to look into getting a newer one. Yes the one pictured is an exhaust fan & works very well. You should also definitely make sure it vents outside.
Toilets:
I am not sure about you but the toilet seat is definitely one of the quickest items I replace. I also pop the lid & make sure there is no signs of issues & add a few drops of food coloring to see if there is any leakage.
If you have a home built before 1994 you might want to check to see if it is an older 3.5 / 5 gallon model. Not only does this cost you a ton in water, but it can also increase your sewer bill. Look for the newer WaterSense fixtures which not only use the least amount of water but have been tested to perform as good as if not better than what was in there before.
Faucets / Sinks / Lavatories: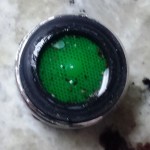 One item hardly ever checked or cleaned until there is a major issue is the aerator's / screens found on everything including shower head's. Pop them off & allow some water to flow out which does two things – anything in the line will be flushed out & this will fill up the P-Trap with water which can replenish what may have evaporated.
Want to save some water, you can purchase some lower flow versions or maybe even update the faucet to a newer WaterSense version. You never know, I have seen a few people just update the faucets, shower trims, the toilet & add a fresh coat of paint & decide that maybe they don't need to do the whole bath.
TIP: One other overlooked item is the P-Traps, but generally unless things are slow draining I am not popping it open.
Do the Walkabout / Misc. Items:
This comes from our January & July pieces in our Monthly Maintenance Checklist series:
Fix any missing or cracked caulking around the tubs, windows, etc…
If the house came with a washer & dryer – make sure you replace the supply lines & check the exhaust
Change out the smoke alarm & CO batteries Smoke Detector Maintenance

How old are the smoke & CO detectors – at 5 years we recommend replacing them
Don't have a CO detector, even if you are all electric you should have at least one

Check (or purchase) you're fire extinguisher charge, and if it is in the caution or dead area, mark it down for replacement
The Fun Stuff:
Ahhh now how about dealing with that terrible paint job, maybe replacing some window treatments, hanging some pictures, and… Yep now it is time to turn that house you bought into your home. Best of luck to you and getting all your stuff unpacked.