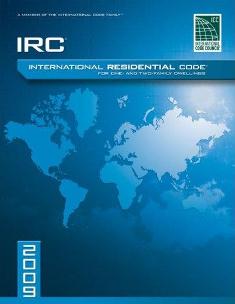 For numerous years the codes have required that all bathrooms either had a window OR a light & mechanical exhaust system be installed (see legal section below). The thought process was the homeowner could either open the window to remove certain obnoxious gasses &/or the excessive moisture or turn at least turn on a fan if that option wasn't available.

2009 IRC – R303.3 Bathrooms. Bathrooms, water closet compartments and other similar rooms shall be provided with aggregate glazing area in windows of not less than 3 square feet, one-half of which must be openable.Exception: The glazed areas shall not be required where artificial light and a mechanical ventilation system are provided…Quick reminder – R308.4.2.5 Hazardous locations (requiring tempered glass, etc…): The following shall be considered specific hazardous locations for the purposes of glazing: Glazing in enclosures for or walls facing hot tubs, whirlpools, saunas, steam rooms, bathtubs and showers where the bottom exposed edge of the glazing is less than 60 inches (5') measured vertically above any standing or walking surface. (exception granted for those 5' or more away from said item)
For those that were not located where a window was possible, (or for builders tired of callbacks with rotted trim) one might assume that most contractors would follow all the manufacturer's directions & vent the fixture outside…
Well, they would be sadly mistaken as the industry standard in most areas was to simply let it dump into the attic or even between the first & second floors. Part of the issue was that while the electrician had to install/wire up the fan, that was the extent of his involvement & the HVAC contractor was generally only hired to handle the Heating & Air Conditioning portion.

While the codes allow for either windows or mechanical ventilation in a bathroom, with today's tighter buildings, an exhaust fan should be installed on a timer in all bathrooms. There are not too many people that will open up a window when it is freezing outside leading to a ton of moisture being dumped into the house. The other issue is for those that do, is remembering to shut it later or shutting it too early.
The codes to the rescue:
Just like the dryer vents, duct leakage testing, etc… where the codes used to be silent on this issue; they now mandate that the Builder / Mechanical Contractor actually ventilate said exhaust outside.
R303 (Exception cont.) Ventilation air from the space shall be exhausted directly to the outside.
M1501.1 Outdoor discharge. The air removed by every mechanical exhaust system shall be discharged to the outdoors.
M1507.1 General. Where toilet rooms and bathrooms are mechanically ventilated, the ventilation equipment shall be installed in accordance with this section.
M1507.2 Recirculation of air. Exhaust air from bathrooms and toilet rooms shall not be recirculated within a residence or to another dwelling unit and shall be exhausted directly to the outdoors.
Along those lines & seeing common sense isn't so common they also state that;
R303.4.2 Exhaust openings. Exhaust air shall not be directed onto walkways.
M1501.1 Air shall not be exhausted into an attic, soffit, ridge vent or crawl space.
M1507.2 Exhaust air from bathrooms and toilet rooms shall not discharge into an attic, crawl space or other areas inside the building.

Sizing a bathroom fan can be somewhat tricky as the information out there is all over the place. Some are quite simply based on Square Footage, some account for volume, while others simply give you a set number for each item in your bath. Per the codes the minimum size must be at least 50 CFM for those controlled by a switch or timer.With that said, that only accounts for what the fan is rated for & does not account for the resistance in moving the air through & out of the exhaust duct. Along those lines most also don't take into account jetted tubs or steam showers which release a lot more moisture in the air which requires more air to not only exhaust it from the bathroom but through the line.So with that I recommend: (Width x Length x Height / .8) / Factor
Factor = 8 for most new & existing houses
Factor = 6 for steam showers, jetted tubs, etc…
So a 6' x 8' bath with 8' tall ceilings would require a fan with 60 CFM while one with a steam shower should be around 80 CFM. Ahhh but what happens if you have a true Master Bath (let's just say around 200+ SF) with a steam shower? Do you really need a 300+ CFM fan that can suck the towel off your head? The answer can be both yes & no based on the design & layout.
The Duct: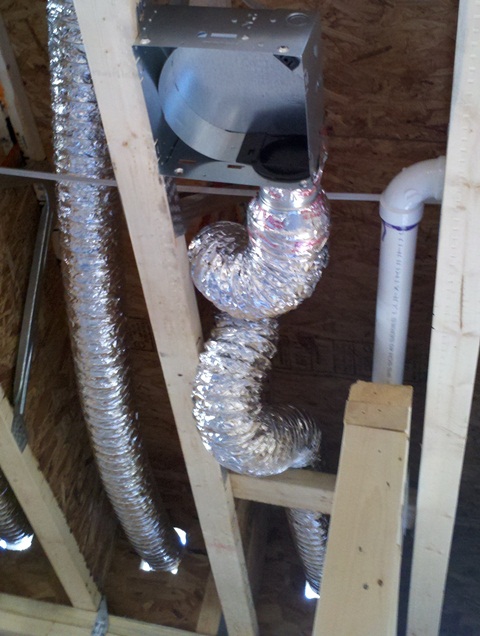 Unlike the "dryer vent" section the code is pretty quiet on what can be used & how it should be run. This leads to a lot of the nice pictures you have seen and some interesting "practices" from groups that should know better. The biggest concern is to make sure the water vapor & any possible condensation issues are directed outside & not allowed back into the house.
If at all possible the exhaust port on the fan needs to be pointing straight at where you are going to run & terminate the exhaust
Eliminate as many bends or fittings as possible – while some like using 90's to gain height or change direction, 2 – 45's will do a better job & not add as much resistance.
The most optimal location to exhaust the air is out the gable end (remember soffits & ridges are off limits as they can allow the moisture back into the attic)
Just like a dryer,  the smoother the pipe the better (I prefer PVC & yes the joints need to be glued)
If the gable end is over 16' to 20' away, the roof might be a better option (this generally also allows you to have the needed pitch without requiring a you to use elbows or fittings to artificially raise it.
Just like other ducts & vent-lines, it must be supported every 4'. (For PVC running directly out, simply grab some ½" foam board & cut in 2" x 6" wide pieces. Place one at the end & then every 4' in add in additional pieces – this will give you a 1/8" per inch slope in the line from the fan to the outside allowing any condensation that may form in the line to flow outside the building.)
No matter where you terminate the line, a louver, screen &/or other damper should be installed which not only prevents the wind from blowing in but will also help prevent insects & other creatures access.
If you wish to use insulated flex duct (not recommended) you should use 6" line with an adapter)
Any ventilation going through uninsulated / unconditioned spaces should be insulated to help eliminate condensation issues (not only that which may form inside the pipe / but also on the exterior)
If you do use metal duct with a seam, the seam should be facing up & taped with approved tape

One of the big questions is just how long should I let the exhaust fan run. As a general rule it should be running while you take your shower & 15 minutes afterwards. The biggest issue is getting the water vapor out of the air – so if you take cooler showers it may not require 15 minutes, while someone taking a very hot shower might need 20 minutes. This is just something you have to monitor & gauge for yourself. Another option is to buy one of the newer fans which includes a humidistat in it so it can decide when it needs to turn on & off. I got to say I am not fully sold on those yet. Ready for a real trip – who says you need to run the exhaust at all, especially during the winter months?
How about vent-less or recirculation types?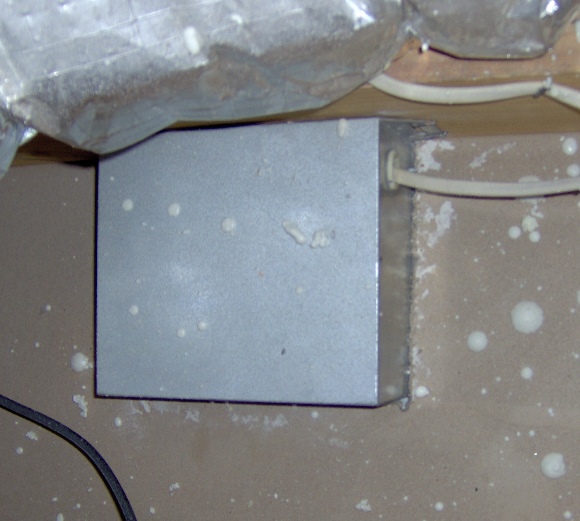 Seeing I popped this picture in this last weeks "Wacky Wednesday" series… the answer is they are not allowed. Per M1507.2 "Recirculation of air. Exhaust air from bathrooms and toilet rooms shall not be recirculated within a residence or to another dwelling unit and shall be exhausted directly to the outdoors." Just remember the goal of a bathroom fan is to exhaust obnoxious gasses & moisture resulting in a healthier, safer living environment. Heh, wonder how long until they figure that out in regards to Kitchen Exhaust?